People pessimistic and unhappy with Ma: poll
NOWHERE TO TURN: Despite leading the KMT in approval ratings, dissatisfaction with Ma did not translate into support for the DPP, with only 30.7% saying they supported the party
Most Taiwanese are unhappy with almost every aspect of the nation and are pessimistic about the future, as President Ma Ying-jeou (馬英九) remains highly unpopular, an opinion poll shows.
The year-end survey, conducted by the Taiwan Thinktank between Wednesday and Friday, polled people on a wide range of topics and the results reflected the "collective anxiety and pessimism" of Taiwanese, Citizen Congress Watch executive director Ku Chung-hwa (顧忠華) told a press conference yesterday.
A majority of respondents were not satisfied with the increasing wealth gap, with 89.1 percent expressing concerns over stagnant wages, while the tax system, judicial system and media reporting received unsatisfactory ratings in all five categories, exceeding 64 percent.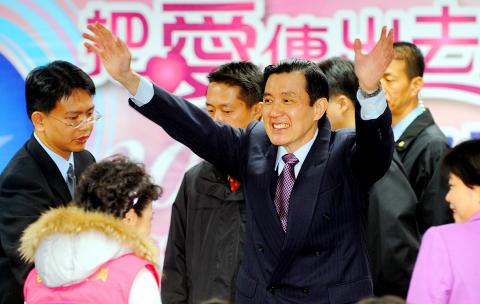 President Ma Ying-jeou smiles and waves during a Chinese Nationalist Party (KMT) philanthropy event at the party's headquarters in Taipei yesterday.
Photo: Lin Cheng-kung, Taipei Times
In terms of economics, 84.7 of respondents said Taiwan had experienced a bad year, with 68.1 percent saying jobs had been hard to find.
Most people, or 63.9 percent, were pessimistic about next year. Among eight profession categories listed in the questionnaire, civil servants, including military, police and government employees, was the only category with more than half of the respondents expressing optimism about next year.
"It showed that currently, Taiwanese have 'three noes' — no confidence, no trust in the government and no faith," Ku said.
The increase in fuel and electricity prices was named by 45.6 percent of respondents as the single incident with the greatest impact this year, followed by the year-end bonus for retired civil servants and the capital gains tax on stock transactions.
The Ma administration has failed to come up with any substantial measures to boost domestic demand and reduce unemployment in the last three quarters after a misreading of the year's economic outlook in the first quarter, National Taiwan University professor Kenneth Lin (林向愷) said.
According to Lin, the Ma administration's stimulus plan, which focused on lower-cost and labor-intensive industries, demonstrated a mindset that belonged to the government of the 1980s.
The solution should be assisting industries with automation and gaining technological advantages, he said.
The widespread discontent with the government was why Ma's high disapproval rating of 68.2 percent was not a surprise, despite improving slightly from the 70.5 percent in the think tank's survey last month.
The poll found that most respondents did not support Ma doubling as Chinese Nationalist Party (KMT) chairman, with 80.9 percent — including 58.7 percent of those who identified as pan-blue supporters — saying Ma should give up the post.
Asked who would be the best candidate to serve as KMT chairman, Legislative Speaker Wang Jin-pyng (王金平) received the most support with 28.2 percent, followed by New Taipei City (新北市) Mayor Eric Chu (朱立倫) at 22.1 percent.
Former EasyCard Corp chairman Sean Lien (連勝文), a son of former KMT chairman Lien Chan (連戰), ranked third with 16 percent.
However, the survey found that Ma's unpopularity did not translate into an advantage for the Democratic Progressive Party (DPP), despite 55.7 percent of respondents expressing support for a massive demonstration against Ma on Jan. 13 organized by the party.
While the DPP led the KMT by more than 10 percentage points in the approval ratings for political parties, the party garnered only 30.7 percent of support, with 57 percent of respondents saying they were not satisfied with the DPP's performance.
Only 18.9 percent of those polled said they still backed the KMT, while 73 percent of the respondents were dissatisfied.
The survey collected 1,073 valid samples and had a margin of error of 3 percentage points.
Comments will be moderated. Keep comments relevant to the article. Remarks containing abusive and obscene language, personal attacks of any kind or promotion will be removed and the user banned. Final decision will be at the discretion of the Taipei Times.