Parole for A-bian impossible: officials
NO GROUNDS: Media reports about the former president's case were incorrect and led to a 'misunderstanding' of the matter, resulting in calls for his parole, officials say
Calls by the international community that former president Chen Shui-bian (陳水扁), who is serving a prison sentence for corruption, be granted medical parole is a "misunderstanding" of the case, government officials said yesterday.
They said granting Chen parole is not possible, adding that they "cannot allow political or external factors to pressure" them to do so.
The officials made the remarks at an international press conference, called by the Ministry of Foreign Affairs (MOFA) and the Ministry of Justice (MOJ), in response to concerns raised by foreign politicians, international organizations and human rights activists over the treatment Chen has received in prison and which has led to health issues.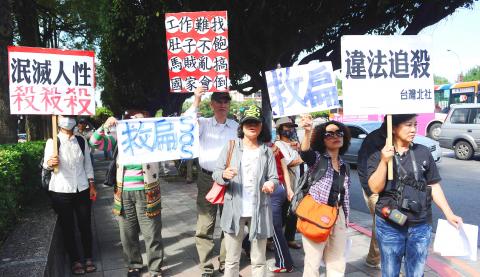 Members of the public hold up signs and criticize the government at the entrance of the Ministry of Foreign Affairs in Taipei yesterday, while calling for former president Chen Shui-bian to be released from prison on medical parole.
Photo: Chang Chia-ming, Taipei Times
Media reports about Chen's case were inconsistent with the facts, which resulted in a misunderstanding of the way the government handled the case, MOFA Deputy Minister Tung Kuo-yu (董國猷) said when he explained why the press conference was held.
"We aim to explain that former president Chen was accorded privileges in prison and appropriate healthcare, to clarify that he was not mistreated in Taipei Prison and to prevent the spread of false information, which could lead to political disputes," Tung said.
Deputy Minister of Justice Chen Shou-huang (陳守煌) read out a statement saying that Chen is serving a prison sentence for a criminal offense and that he is neither a political prisoner nor a prisoner of conscience, that his right to receive medical treatment were fully respected and that Chen does not meet the conditions required for medical parole.
Having served four years of a lengthy prison sentence after being convicted of corruption during his term in office, Chen was admitted to Taipei Veterans General Hospital (TVGH) in September. He was later diagnosed with severe depression, with symptoms of anxiety and somatization disorder. He has been on escorted visits to the hospital since then.
Paragraph 1 of Article 6 of the UN's Standard Minimum Rules for the Treatment of Prisoners states that "there shall be no discrimination on grounds of race, color, sex, language, religion, political or other opinion, national or social origin, property, birth or other status," Chen Shou-huang said as he began his remarks.
"However, being a former president, Chen Shui-bian has been provided the best living conditions and healthcare to the extent permissible by law and by the prison's current facilities," he said.
Chen Shui-bian "obviously enjoys special privileges," Chen Shou-huang said, citing several examples of the different treatments given to the former president and other prisoners, both in Taipei Prison and in hospital.
The former president has been able to receive effective, comprehensive treatment, even while under escort at a hospital, and so Taipei Prison believes that he, given his current state of health, does not meet the conditions for medical parole, Chen Shou-huang said.
He added that a few international organizations and individuals called for the former president's medical parole because they were "unaware" of the situation.
Under the country's law, ailing inmates can seek medical parole only if they are unable to receive appropriate treatment at their prison, on escorted visits to a hospital or at a medical prison, which was not the case for the former president, Chen Shou-huang said.
Taipei Prison must abide by the law and cannot allow political or external factors to pressure it to illegally grant Chen Shui-bian medical parole, he said.
"Otherwise, the prison would be subject to even more severe criticism by the public and the international community," he said.
"We hope that people at home and abroad will not give credence to one-sided representations and thereby fail to credit the long-term efforts Taiwan has made to ensure the human rights of inmates, thereby tarnishing Taiwan's human rights record in the eyes of the international community," Chen Shou-huang said.
The press conference, held at the Foreign Affairs Ministry building, was also attended by National Taiwan University Hospital physician Ko Wen-je (柯文哲) and two other physicians, Kuo Cheng-deng (郭正典) and Chang Yeh-sen (張葉森), who were at one point prevented from sitting in on the event.
The trio, who joined TVGH's medical team caring for Chen Shui-bian at his request, presented the press with the views on the former president's neurological condition offered by Chen Shun-sheng (陳順勝), an emeritus professor of neurology at Chang-Gung University, who was also a member of the team and did not totally agree with the team's diagnosis.
Chen Shun-sheng said the diagnostic report delivered by the TVGH and Taipei Prison on Oct. 17 tried to "marginalize or dismiss the severity of his [Chen Shui-bian's] conditions, ignore differences between the neurological diagnoses from different sides … and ignore the critical thinking of cause and effect to determine the true cause of the symptoms."
The consensus reached by TVGH's medical team of nine experts excluded some serious neurological conditions because either their causes have not yet been clarified or the panel failed to reach a consensus, Chen Shun-sheng said.
Comments will be moderated. Keep comments relevant to the article. Remarks containing abusive and obscene language, personal attacks of any kind or promotion will be removed and the user banned. Final decision will be at the discretion of the Taipei Times.