Defense minister downplays spy case
Minister of National Defense Kao Hua-chu (高華柱) yesterday downplayed a case of three former military officers being arrested over alleged spying for China, saying the information leaked was in connection with the military's plan to escort fishing vessels.
Kao was speaking at a question-and-answer session at the legislature when he fielded questions from Democratic Progressive Party Legislator Pasuya Yao (姚文智) and Chinese Nationalist Party (KMT) Legislator Chan Kai-chen (詹凱臣).
Kao said the situation did not pose a national security problem as was reported by the Chinese-language Apple Daily on Monday.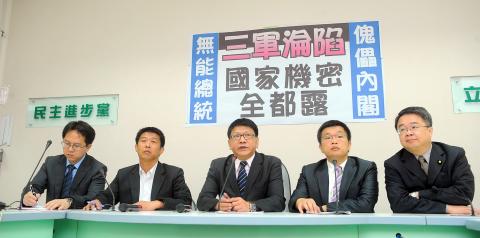 The Democratic Progressive Party legislative caucus holds a press conference in Taipei yesterday, calling on the Ministry of Defense to hold the military officers who allegedly spied for China accountable.
Photo: Wang Min-wei, Taipei Times
The ministry on Monday confirmed that three retired military officers had been arrested on suspicion of spying for China.
The report said classified information about the submarine fleet's nautical charts and marine environment data could have been leaked to China.
The paper said the submarine fleets may have been compromised.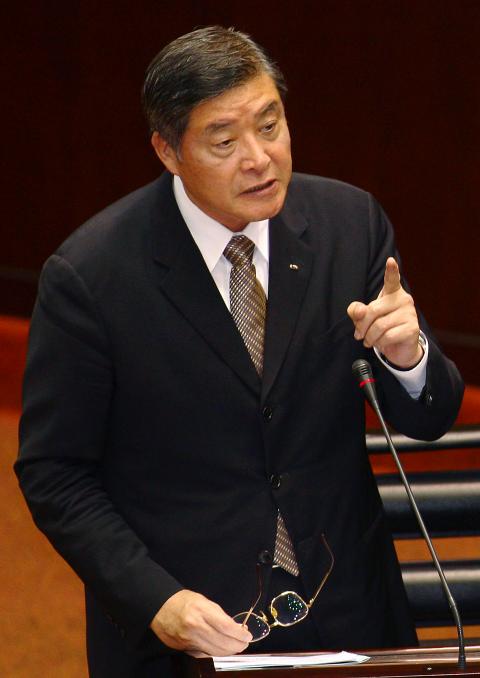 Minister of National Defense Kao Hua-chu speaks at the legislature in Taipei yesterday.
Photo: CNA
Kao said that the media report was "incorrect."
The records China received from Chang Chih-hsin (張祉鑫), the former director of the political warfare department of the Naval Meteorological & Oceanographic Office, and the other two suspects were about the ministry's plans to escort fishing vessels, which "were not classified as highly confidential," Kao said, but did not elaborate.
The incident highlighted the importance of concerted efforts to adopt counter-intelligence measures in the military, within the government and in society, Kao said.
Comments will be moderated. Keep comments relevant to the article. Remarks containing abusive and obscene language, personal attacks of any kind or promotion will be removed and the user banned. Final decision will be at the discretion of the Taipei Times.