Space shuttle makes its slow way toward LA museum
Slowly surmounting a key obstacle, the space shuttle Endeavour yesterday headed through the streets of Los Angeles toward its retirement home at a museum.
Endeavour's final mission began when it departed from the Los Angeles International Airport before dawn on Friday, rolling on a 160-wheeled carrier past diamond-shaped "Shuttle Xing" signs.
On Friday evening, it stopped as crews spent hours transferring the shuttle to a special, lighter towing dolly. Then at about midnight, it traveled over a bridge across Interstate 405, an especially tricky part of the complicated journey because of the size of the space craft and width of the bridge.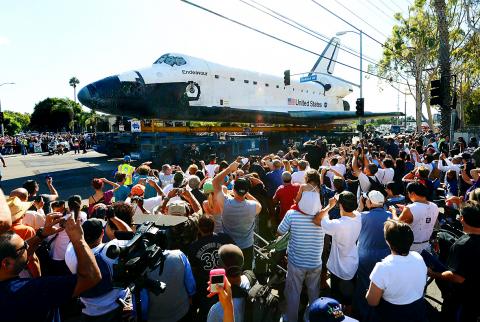 Crowds watch as the Endeavour is transported through the streets of Los Angeles, California, on Friday.
Photo: AFP
The shuttle was pulled across the Manchester Boulevard bridge by a Toyota Tundra pickup, and the car company filmed the event for a commercial after paying for a permit, turning the entire scene into a movie set complete with special lighting, sound and staging.
Police stopped traffic on the freeway below for the duration of the traverse, which took about three minutes.
Crews preparing for the crossing had to take down power lines, leaving about 400 residents of surrounding Inglewood without power for what was expected to be several hours.
On Friday, hundreds of camera-toting spectators, some with pajama-clad children in tow, gaped as the 77,000kg Endeavour inched by with its tail towering over streetlights and its wings spanning the roadway.
Over two days, it was to trundle 19km at a top speed of 3kph to its final destination — the California Science Center, where it will be the centerpiece of a new exhibit. It was expected to reach the museum sometime yesterday evening.
Comments will be moderated. Keep comments relevant to the article. Remarks containing abusive and obscene language, personal attacks of any kind or promotion will be removed and the user banned. Final decision will be at the discretion of the Taipei Times.