PRC-Japan tensions grow over islands
EMOTIONS RUN HIGH: Beijing warned Tokyo after two Japanese landed on one of the disputed islands, while three Chinese ships briefly entered the area
Anti-Japan protests reignited yesterday across China, the sensitive anniversary marking Tokyo's occupation of its giant neighbor, escalating a maritime dispute that has forced major Japanese brandname firms to suspend business there.
Relations between Asia's two biggest economies have faltered badly, with emotions running high on the streets and also out at sea where two Japanese activists landed on an island at the center of the dispute.
China reacted swiftly to the news of the landing, which risked inflaming a crisis that already ranks as China's worst outbreak of anti-Japan sentiment in decades. Beijing described the landing as provocative, lodged a complaint with Tokyo and said it reserved the right to "take further action."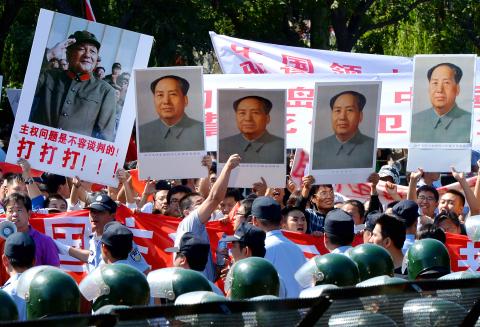 Demonstrators carry portraits of Deng Xiaoping and Mao Zedong during a protest over the Diaoyutai Islands outside the Japanese embassy in Beijing yesterday.
Photo: AFP
The dispute over the uninhabited group of islands in the East China Sea — known as the Senkakus in Japan and Diaoyu Archipelago (釣魚群島) in China — led to another day of protests that were smothered by a heavy blanket of security.
Japanese businesses shut hundreds of stores and factories across China and Japan's embassy in Beijing again came under siege by protesters hurling water bottles, waving Chinese flags, and chanting anti-Japan slogans.
Japanese Prime Minister Yoshihiko Noda urged Beijing again to protect Japanese citizens in China.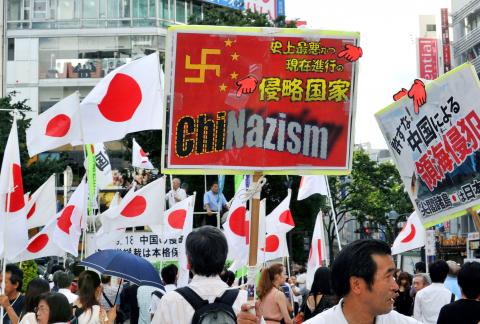 Japanese nationalists carry national flags and placards during a rally over the Senkaku or Diaoyutai Islands in Tokyo yesterday.
Photo: AFP
"Today is our day of shame," said a Beijing protester, Wei Libing, a waiter in his 40s. "Japan invaded China on this date."
"Wipe out all Japanese dogs," read one banner held aloft by one of thousands of protesters marching on the embassy, which was ringed by riot police standing six rows deep. Japan's foreign ministry said some embassy windows had been smashed.
For China, yesterday marked the day Japan began its occupation of parts of China in 1931. Rowdy protests sprang up in several cities, including Shanghai, raising the risk they could get out of hand and backfire on Beijing. One Hong Kong paper said some protesters in Shenzhen had been detained for calling for democracy and human rights.
"We still hope for a peaceful and negotiated solution to this issue and we hope to work together and work well with the Japanese government," Chinese Defense Minister Liang Guanglie (梁光烈) said after meeting US Secretary of Defense Leon Panetta.
Japan's coast guard said three Chinese marine surveillance ships briefly entered what Japan considers its territorial waters near the disputed islets yesterday evening, the second time since Friday when six ships briefly entered the waters.
Yesterday's brief landing by two Japanese nationals on one of the disputed islands has raised fears of a direct clash in an area being patrolled by ships from both nations.
"The unlawful landing of the Japanese right-wingers on the Chinese territory of the Diaoyu islands was a gravely provocative action violating Chinese territorial sovereignty," Chinese Foreign Ministry spokesman Hong Lei (洪磊) said.
The activists briefly landed on one of the islands, having paddled up to it in a rubber raft and swum ashore before returning to the boat, Japanese broadcaster NHK said.
Comments will be moderated. Keep comments relevant to the article. Remarks containing abusive and obscene language, personal attacks of any kind or promotion will be removed and the user banned. Final decision will be at the discretion of the Taipei Times.