New calls for medical parole for Chen
EXAMS AND SCANS: A DPP lawmaker said an MRI test found evidence of a stroke, but the justice ministry said there was just a minor wound to the brain
Former president Chen Shui-bian (陳水扁) has had a stroke and has a serious mental disorder, a group of Democratic Progressive Party (DPP) lawmakers and medical experts said yesterday, renewing calls for Chen to be released from prison for medical treatment and the immediate inclusion of a psychiatrist on Chen's medical team.
"Judging from Chen's declining condition and the obvious fact that the Taipei Prison had been dealing with his health carelessly, we think that a release for medical treatment is a necessity," DPP Legislator Hsu Tain-tsair (許添財) told a press conference.
Chen, who is serving a 17-and-a-half-year sentence for corruption, was sent to Taoyuan General Hospital on Wednesday night after complaining of pain when urinating, and was admitted for an extended examination.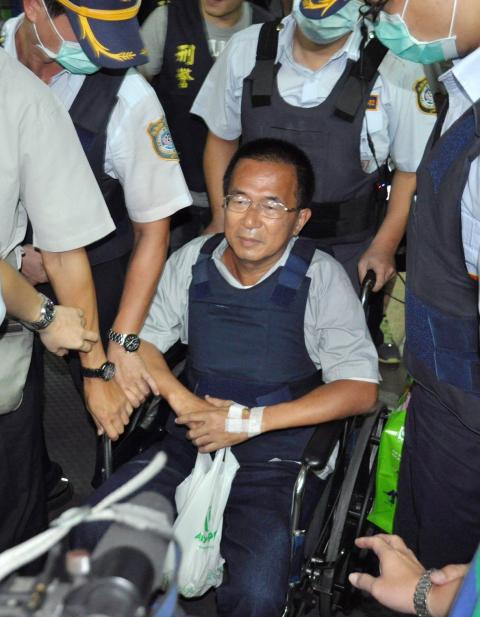 A frail-looking former president Chen Shui-bian sits in a wheelchair as he goes to receive medical treatment in Taoyuan County on Thursday.
Photo: Li Jung-ping, Taipei Times
A magnetic resonance imaging (MRI) test yesterday found that Chen has a 4mm by 4mm trace of a cerebral vascular accident in his right frontal lobe, Hsu said.
DPP Legislator Chen Chi-mai (陳其邁), who visited the former president in the hospital on Thursday, said the latter was also having speech problems, which could originate from psychogenic reasons, and appeared to be suffering from persecutory delusion, as Chen Shui-bian told physicians that he was bitten by hundreds of ants in his cell." The lawmaker also said the former president said that "some bad guys did that to hurt me."
Chen Chi-mai called for the inclusion of a psychiatrist on Chen Shui-bian's medical team to assess the former president's mental health.
According to physician Chang Yeh-shen (張葉森) and Taipei Veterans General Hospital physician Kuo Cheng-deng (郭正典) — both Chen Shui-bian's supporters who have met and examined the former president — Chen Shui-bian had experienced various complications, including breathing difficulties, ulcers and coronary problems, among others, during the past four years, but never received the appropriate care in prison.
While Chen Shui-bian had been escorted out of prison for medical examination at least six times, Kuo said the medical teams have always rushed the examination process, starting at 6am each time, so that the former president would not have to spend the night in the hospital.
The practice made it difficult for doctors to gain a clear and complete picture of Chen Shui-bian's health, Kuo said, but President Ma Ying-jeou's (馬英九) administration insisted that guarded hospital visits were enough.
Pan-green politicians and the former president's supporters have said that the Ministry of Justice and the prison's passive attitute toward treating Chen Shui-bian's condition is a politically motivated practice that reflects Ma's attitude toward his predecessor.
"Since Chen Shui-bian's release for medical treatment is a medical issue, according to President Ma, I wonder why the Taipei Prison, the Ministry of Justice and Ma had been the ones calling the shots, instead of the prison's medical team," Kuo said.
"As a physician, I would say that only a physician, not a politician, could question and overrule another physician's diagnosis," he said.
"The ministry has breached basic human rights values by continuing to ignore Chen's deteriorating health, which appears to be politically motivated and reflects Ma's hatred," DPP Legislator Kuan Bi-ling (管碧玲) said.
Noting Aung Sang Suu Kyi was placed under house arrest by an authoritarian regime in Myanmar and Chiang Kai-shek (蔣介石) placed his political enemies Chang Hsueh-liang (張學良) and Sun Li-jen (孫立人) under house arrest, DPP Legislator Huang Wei-cher (黃偉哲) said: "Ma is even worse than Chiang Kai-shek in the persecution and humiliation he imposed upon his political enemies."
Meanwhile, the justice ministry said the MRI scan did not find signs of a stroke or new tumors.
The images only found a 4mm wound caused by brain ischemia — a restriction in the blood supply to vessels — the ministry cited the hospital as saying, adding that Chen Shui-bian had been briefed by the hospital on the result.
Additional reporting by Staff writer
This story has been updated since first published.
Comments will be moderated. Keep comments relevant to the article. Remarks containing abusive and obscene language, personal attacks of any kind or promotion will be removed and the user banned. Final decision will be at the discretion of the Taipei Times.