Taiwan activists support 'anti-brainwashing' protests
Activists in Taiwan yesterday voiced support for the "anti-brainwashing" demonstration in Hong Kong and warned that Taiwan likely faces similar manipulation by the Chinese Communist Party (CCP).
Tens of thousands of people in Hong Kong have demonstrated outside government headquarters this past week demanding the cancelation of a plan to introduce so-called patriotism classes that promote the achievements of the CCP to school curricula.
Wang Dan (王丹), an exiled student leader of the Tiananmen democracy protest of 1989, told a forum hosted by the New School For Democracy in Taipei yesterday that the large turnout for the demonstration on Friday evening showed the deeply rooted dissatisfaction that Hong Kongers feel with the Chinese government. The size of the demonstration also signals that the "one China, two systems" model that has been in place in Hong Kong for more than 10 years is a total failure, he added.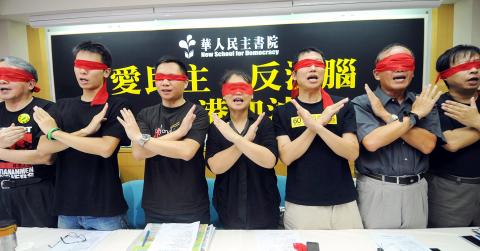 New School for Democracy Chairman Wang Dan, third left, and other participants in a forum hosted by the school in Taipei yesterday express their support for the "anti-brainwashing" demonstrations in Hong Kong.
Photo: Lo Pei-der, Taipei Times
"The people do not need 'national education' forced upon them by them government. The people can educate themselves on this matter; showing care and concern for society is a basic obligation for all citizens. This kind of civic movement is a re-education for the government," he said. "On Friday night, 120,000 people in Hong Kong have re-educated their government."
Wang said he is very optimistic about the outcome of the demonstration, saying it could force the Hong Kong and Chinese governments to make a concession.
"This same situation may happen in Taiwan because some people in Taiwan admire the CCP and are very close to the party," Wang said, adding that Beijing has attempted to launch "brainwashing" tactics in Taiwan as well.
Lin Fei-fan (林飛帆), a National Taiwan University student and one of the organizers of the anti-media monopoly alliance that has organized a number of protests against the Want Want China Times Group (旺旺中時集團), said at the same forum that while China had ordered the Hong Kong government to enact its thought-control policies, in Taiwan, an enterprise owner was using his media companies to implement the same tactics.
Chu Ping-tzu (祝平次), a professor of Chinese literature at National Tsing Hua University, said that Taiwanese who had lived under an autocratic government know that what was termed as "patriotic education" was in fact repression in disguise.
This type of "education" is not patriotic, nor does it teach anything, but is a method used by the ruling party to promote malignant nationalism to strengthen its grip on power and to get rid of dissenters, Chu said.
In Taiwan, the Chinese Nationalist Party (KMT) government's decision to proceed with the inclusion of the Four Books (四書) on the list of required material for schools echoes China's policies of repression and threatens the nation's democratic education, Chu added.
Taiwanese should be more concerned with how the KMT is altering the national curricula concerning the periods when it was in power and how the party is instilling KMT ideology into campuses, Chu said.
"If we cannot let our students reflect on the historical events that are closest to them, they will not be able to keep an open mind," Chu said.
Comments will be moderated. Keep comments relevant to the article. Remarks containing abusive and obscene language, personal attacks of any kind or promotion will be removed and the user banned. Final decision will be at the discretion of the Taipei Times.