SID suspects Lin of taking more bribes
PROBE: Lin's wife, Peng Ai-chia, was questioned for 11 hours yesterday before being declared a defendant in her husband's case and a bail of NT$1 million set
The Special Investigation Division (SID) yesterday said it suspected former Executive Yuan secretary-general Lin Yih-shih (林益世) may have taken bribes from others besides the owner of Ti Yung Co (地勇選礦公司), a Kaohsiung-based business.
The suspicion arose after Lin's mother, Shen Juo-lan (沈若蘭), voluntarily handed in NT$18 million (US$603,000) that she had received from Lin to the SID on Wednesday.
According prosecutors, Lin, who is being held at the Taipei Detention Center, received bribes in US dollars worth NT$63 million from Chen Chi-hsiang (陳啟祥) to help Chen's company secure a slag treatment contract from a subsidiary of China Steel Corp (中鋼).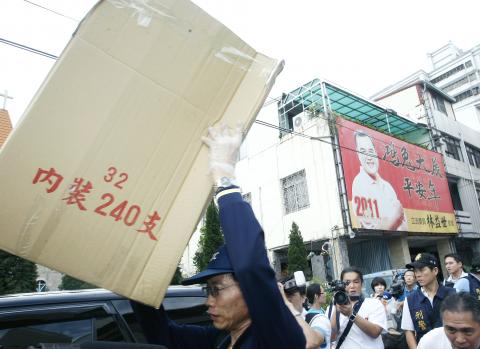 Investigators seize a box of material yesterday from former Executive Yuan secretary-general Lin Yi-shih's office in Fengshan District, Greater Kaohsiung.
Photo: CNA
An article published by Next Magazine on Wednesday last week alleged that Lin had taken NT$63 million in bribes to help facilitate a deal between Chen for slag and waste with iron contents from China Steep.
According to the magazine, as the contract with China Steel Corp was ending this year, Lin had asked Chen for NT$83 million to ensure a continuation of the contract, but when Chen did not pay, Ti Yung's supplies were cut off.
The SID said its investigations into the case discovered that Chen had paid Lin after converting the NT$63 million to US dollars.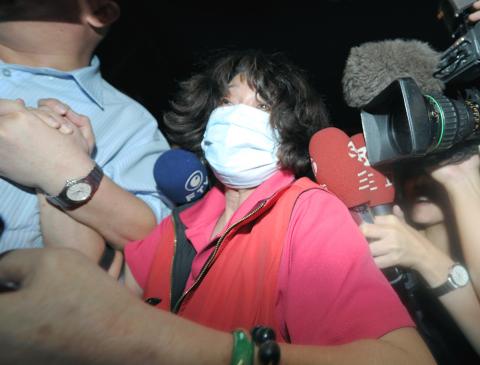 Shen Jo-lan, mother of former Executive Yuan secretary-general Lin Yi-shih, leaves the Special Investigation Division of the Supreme Prosecutors Office on Wednesday evening after having posted a NT$2 million bail.
Photo: CNA
SID officials said it would be illogical for Lin to convert US dollars back into NT dollars because the action would lead to exchange-rate losses as well as leaving records at banks.
Prosecutors therefore suspected the money Shen received from Lin might have come from other bribes.
"We don't know if the NT$18 million brought to us by Shen was funds related to the bribery case or if its funds from another case," SID officials said.
Investigators also opened a safety deposit box, rented under the name of an acquaintance of Shen's, on Tuesday, discovering a large stash of NT dollars and US dollars. The SID said it would investigation whether the money had anything to do with the Ti Yung bribery case.
Meanwhile, the SID summoned Lin's wife, Peng Ai-chia (彭愛佳), for questioning as a witness for the third time. After 11 hours of questioning, Peng was declared a defendant in the case and bail was set at NT$1 million.
The SID charged Peng with violating the Statute for the Punishment of Corruption (貪污治罪條例), the Money Laundering Prevention Act (洗錢防制法), and the Criminal Code, the same charges leveled against Shen.
Peng was the fourth person to become a defendant in the case after Chen, Lin and Shen.
SID personnel also visited Lin's Fengshan office and residence yesterday afternoon, taking away with them another box of material to help with the investigation.
In related news, Premier Sean Chen (陳冲) called a Cabinet meeting yesterday on anti-corruption issues and urged ministers to step up their efforts to stamp out corruption in the public sector.
The premier canceled his scheduled meetings to preside over the Cabinet session, which showed the importance he has placed on the issue, Executive Yuan spokesperson Hu Yu-wei (胡幼偉) said.
Hu said Lin's case was brought up at the meeting, and Cabinet members exchanged ideas on how to prevent a recurrence.
The premier demanded Cabinet ministers handle anti-corruption-related issues in their agencies themselves rather than designate another person to oversee the task on their behalf and report to the Cabinet effectiveness of anti-corruption measures on a regular basis, Hu said.
C.V. Chen (陳長文), former president of the Red Cross Society of the Republic of China, who attended the meeting as a representative of the civil sector, suggested that the KMT caucus whips and senior KMT officials participate in the ad hoc meeting to be held tomorrow to brief government officials about ethics and integrity rules, Hu said.
"The meeting is meaningful because it demonstrates the government's will to maintain integrity and continue efforts to fight corruption," Vice President Wu Den-yih (吳敦義) said.
Weighing in on the case, Taipei Mayor Hau Lung-bin (郝龍斌) expressed regret over the scandal and said the city government has adopted a strict personnel screening mechanism to avoid the appointment of officials with integrity problems.
Hau, a possible Chinese Nationalist Party (KMT) candidate for the 2016 presidential election, said the Lin scandal was a crisis for the KMT and said Lin's replacement should be someone with credibility and great negotiating skills, and someone who could build communication channels for the administrative and legislative branches.
"I've urged city officials to be vigilant and maintain integrity. The city government adopts strict personnel screening mechanism to avoid integrity problems, and I have instructed all departments to be extra cautious about integrity issue," he said while visiting a local coffee shop to promote the city's business loan program.
Lin's involvement in corruption allegations has seriously damaged President Ma Ying-jeou's (馬英九) reputation and raised public concerns about the personnel appointment mechanism of the Ma administration, he said.
"Personnel appointments are difficult. I have chosen officials who went through a thorough background check, but were later forced to leave the team because of integrity issues," he said.
Comments will be moderated. Keep comments relevant to the article. Remarks containing abusive and obscene language, personal attacks of any kind or promotion will be removed and the user banned. Final decision will be at the discretion of the Taipei Times.