Ma refuses to consider letting go of KMT helm
INTERNAL TENSIONS: Some prominent KMT members called on the president to concentrate on his official duties, but a KMT official said there was not a chance
The Chinese Nationalist Party (KMT) yesterday dismissed calls from some KMT members for President Ma Ying-jeou (馬英九) to step down as party chairman amid the scandal surrounding former Executive Yuan secretary-general Lin Yi-shih (林益世).
"The KMT is a party with a party-state system, and there are a lot of things that require communication and negotiation between the administrative branch and the party. It is necessary for the president to lead the party," KMT Culture and Communication director Chuang Po-chung (莊伯仲) said.
Some KMT members have urged Ma to step down as KMT chairman and focus on his presidential responsibilities after Lin, one of his favored officials, was detained for allegedly accepting a NT$63 million (US$2.11 million) bribe from Chen Chi-hsiang (陳啟祥), head of Kaohsiung-based Ti Yung Co (地勇選礦公司), a metal-recycling firm.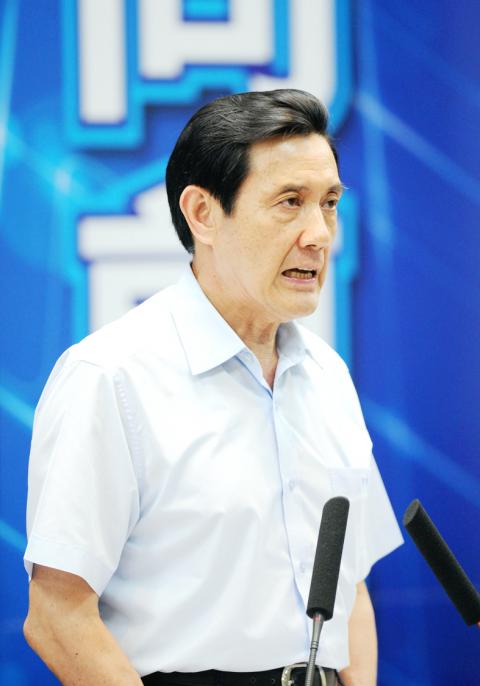 President Ma Ying-jeou speaks at a Chinese Nationalist Party (KMT) Central Standing Committee meeting in Taipei yesterday.
Photo: CNA
KMT Legislator Lo Shu-lei (羅淑蕾), who is also a KMT Central Standing Committee member, questioned Ma's choice of officials and urged him to focus on his presidential duties.
"President Ma should leave party affairs to others. He should take the time to re-examine his choice of personnel and stop trusting those with little talent. More importantly, he should stop trusting people who only say good words to him," she said.
Calls for Ma to step down as KMT chairman were made earlier, amid a public uproar over fuel and electricity price hikes in May, with some KMT Central Standing Committee members expressing concern about Ma's plummeting approval ratings because of his policies and suggested that one of the party's hopefuls for the 2016 presidential election should take over as KMT chairman.
In a poll released by broadcaster TVBS yesterday, Ma's approval rating dropped 5 percentage points from before the scandal to a record low of 15 percent, while 70 percent of respondents said they were not satisfied with his performance.
Ma served as KMT chairman from 2005 to 2007, but resigned after being indicted for alleged misuse of his special allowance fund as Taipei mayor. He was elected party chairman again in 2009 in an attempt to seek closer cooperation between the KMT and the government.
Lin's involvement in corruption allegations seriously damaged Ma's reputation as a politician with integrity. The president is having a hard time distancing himself and his administration from Lin as he had endorsed Lin and entrusted him with major posts in both the KMT and the government.
Chuang yesterday dismissed concerns about the KMT's election outlook in southern Taiwan after Lin, who has enjoyed solid support in Greater Kaohsiung, was removed from the party, adding that the KMT would work harder to consolidate voter support in central and southern areas.
Comments will be moderated. Keep comments relevant to the article. Remarks containing abusive and obscene language, personal attacks of any kind or promotion will be removed and the user banned. Final decision will be at the discretion of the Taipei Times.