MA'S RE-INAUGURATION: Thousands take part in anti-Ma rally
JUST RUMOR: Despite suggestions that People First Party Chairman James Soong might make an appearance at the protests to highlight cross-party support, he was a no-show
Tens of thousands of people called for President Ma Ying-jeou (馬英九) to apologize for his poor performance over the past four years on the eve of his re-inauguration yesterday in a mass protest in Taipei that took place amid intermittent rain.
The Democratic Progressive Party (DPP), which organized the rally, estimated that about 150,000 people took part in the protest, which marched under the banner: "Hard times: The president owes the public an explanation."
"We do not ask much. We are only asking for a responsible president who will defend Taiwan's sovereignty and democracy and an efficient government," former DPP chairperson Tsai Ing-wen (蔡英文) said at a rally held at the intersection of Beiping E Road and Linsen N Road to conclude the night.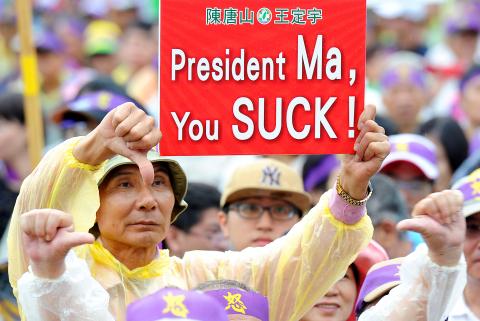 A supporter of the Democratic Progressive Party displays a placard during a protest against President Ma Ying-jeou in Taipei yesterday. Taipei police estimated that 38,000 people attended the protest on the eve of Ma's re-inauguration to voice their anger over a spate of controversial policies.
Photo: AFP
The former presidential candidate apologized to the supporters for losing the Jan. 14 presidential election, but asked them not to blame those who voted for Ma because "when a country sinks, we all go down together."
Taiwanese should unite and lift the nation up, she said.
Tsai also submitted a four-point statement in response to an impromptu press conference Ma held yesterday afternoon at which he acknowledged public discontent and promised to work to do better during his second term.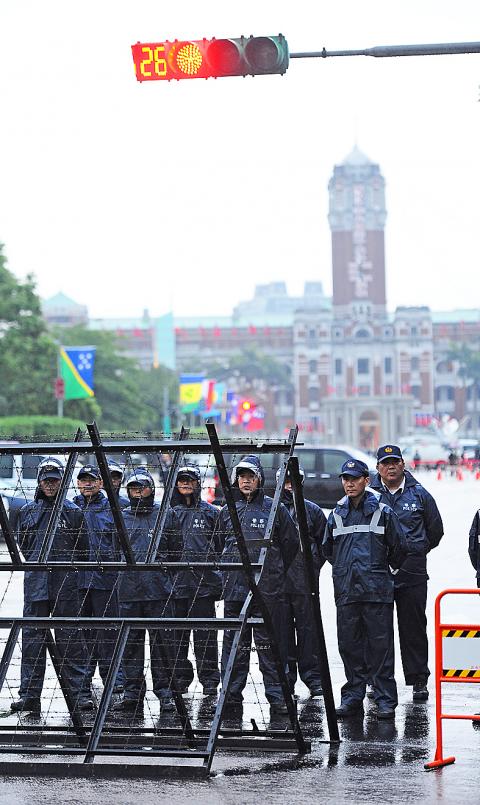 Police stand behind a barricade on Ketagalan Boulevard in front of the Presidential Office in Taipei yesterday.
Photo: Liu Hsin-de, Taipei Times
Tsai urged Ma to refrain from making unilateral decisions and using major policies, such as the government's cross-strait policy, as political tools. She said it was time for Ma to be a responsible leader and to carry out a comprehensive reshuffle of the Cabinet.
Yesterday's protest, which focused on a number of unpopular policy decisions made by the government since Ma was re-elected four months ago, made three demands: that the president freeze fuel and electricity prices, retain the ban on beef imports containing the animal feed additive ractopamine and disavow the description of cross-strait relations as being between "one country, two areas (一國兩區)."
The protests started in the afternoon, with protesters assembling at three different locations in the city: National Taiwan University (NTU), Wanhua Railway Station and the Songshan Tobacco Plant.
People First Party Chairman James Soong (宋楚瑜), who it had been hinted might make a surprise appearance, did not show up.
Instead it was Tsai, in charge of leading protesters from NTU, who attracted the most attention, despite not currently holding any position in the party.
Protesters had waited about 10 minutes at NTU when it began to drizzle and quickly turned into pouring rain that soaked everyone in seconds, but their spirits were soon lifted by Tsai's arrival.
Dozens of people chanted: "Hello, President" as the former party chairperson arrived, while dozens tried to get as close as they could to take pictures and shake hands with her.
Taiwanese should no longer be silent, Tsai said before the march began, urging people to make their voices heard.
"If you remain silent, what you are experiencing these days will become what you have to put up with for the next four years," she said.
Ma needed to do more than just apologize, Tsai said, adding that he needed to recognize the mistakes he had made and correct them.
The three groups of protesters converged at their destination point at about 5:30pm, with DPP Acting Chairperson Chen Chu (陳菊) and former premier Su Tseng-chang (蘇貞昌) leading the other marches.
Many of the protesters dressed in purple and yellow, the colors chosen for the rally, with purple representing the oppressed and yellow public anger.
Speakers representing students, pig farmers, academics and housewives spoke on stage about how their lives had changed for the worse under Ma before politicians from the DPP and Taiwan Solidarity Union (TSU) addressed the crowd.
Hsu Shih-jung (徐世榮), a professor at National Cheng Chi University, said the government had betrayed the people in many ways, particularly in its implementation of land expropriation.
The rally was the highlight of a string of anti-Ma protests over the past week, but the demonstrations did not end last night.
Some said they would stay overnight at Taipei Railway Station and then take part in a TSU-sponsored protest scheduled for today, in which protesters will march to the end of Chongqing S Rd and get as close as possible to the Presidential Office to throw eggs at a giant LCD screen showing Ma's inauguration.
Meanwhile, DPP branches nationwide are set to hold a number of activities today as a continuation of the party's protest against Ma.
According to the Taipei police, more than 1,500 police officers were deployed yesterday to maintain security during the protest, while another 1,960 police officers were on standby. Police estimated 55,000 people took part in the rally.
Additional reporting by Rich Chang and Chiu Chun-fu
This story has been updated since it was originally published.
Comments will be moderated. Keep comments relevant to the article. Remarks containing abusive and obscene language, personal attacks of any kind or promotion will be removed and the user banned. Final decision will be at the discretion of the Taipei Times.