Hundreds commemorate 228 victims
OUTRAGE: Families of the victims and rights activists condemned Hau Pei-tsun for questioning the number of people who died in the massacre
Hundreds of people marched in the streets of Taipei yesterday in memory of those who perished in the wake of the 228 Incident 65 years ago.
Representatives from various civic groups and victims' families joined the parade, which began at Yongle Market, to commemorate victims of the bloody suppression of anti-government uprisings that began on Feb. 27, 1947, resulting in the deaths of tens of thousands of civilians, including many Taiwanese leaders and intellectuals.
Among the crowd was 80-year-old Lee Rong-chang (李榮昌), a wheelchair-bound son of a victim of the 228 Massacre, who insisted on joining the march despite the cold and the rain.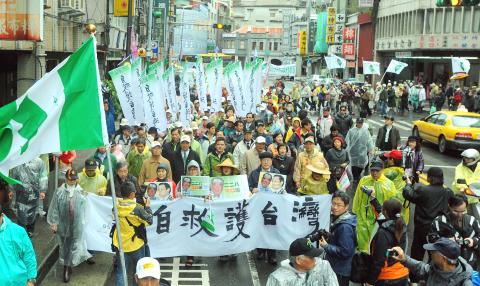 Members of the Taiwan Nation Alliance and Taiwan 228 Care Association march through Taipei's Datong District to commemorate the 228 Massacre, which was sparked by an altercation between government tobacco agents and a woman selling contraband cigarettes in the area on Feb. 27, 1947.
Photo: Wang Yi-sung, Taipei Times
Lee recalled the afternoon on March 10, 1947 — the day his father went missing.
"While my mother was cooking squid rice porridge in the afternoon for family guests, several military police and plainclothes officers showed up," Lee said.
After the uninvited visitors told his father that his presence was "requested by a superior," his father was taken away and never returned home.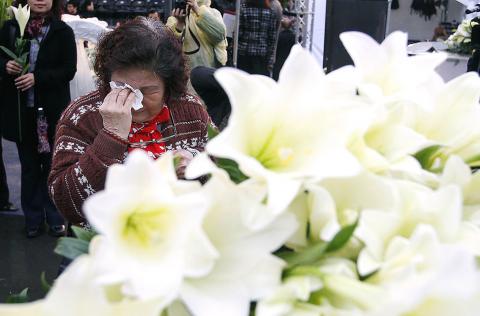 A woman wipes away tears after placing lilies on a monument during a memorial for the 65th anniversary of the 228 Incident in Taipei yesterday.
Photo: Pichi Chuang, Reuters
"We looked for my father for more than half a year, but still had no clue about his whereabouts," Lee said, "so we reported him as a missing person."
Because any individual who made any reference to the massacre was deemed a communist or a pro-independence advocate at the time, Lee said he was afraid to talk about how his father was taken away during the White Terror period.
Lee condemned former premier Hau Pei-tsun's (郝柏村) comment in an op-ed piece on Tuesday last week, in which he said no more than 1,000 people were killed in the massacre.
Hau was attempting to erase people's memories of the brutal massacre, Lee said.
At the Dadaocheng Wharf (大稻埕碼頭), where the march ended, Taiwan 228 Care Association chairman Chang Yen-hsien (張炎憲) told the crowd that the only way to prevent the brutal oppression from recurring was to keep Chinese influence from entering Taiwan.
"It is ironic that, 65 years ago, the KMT [Chinese Nationalist Party] accused those who were arrested and killed [in the massacre] of being incited by the Chinese Communist Party [CCP], and now it is collaborating with the CCP to coerce Taiwanese," he said.
Chang said all available research showed that Hau's estimate of the number of dead was inaccurate, adding that President Ma Ying-jeou (馬英九) has not offered a sincere apology over the Incident and that his appearances at the annual memorials were only "ceremonial."
Other speakers also accused Hau of "distorting history" and warned of growing Chinese influence in Taiwan, with Taiwan Solidarity Union Chairman Huang Kun-huei (黃昆輝) saying the commemoration of the massacre was even more meaningful 65 years later under Ma's pro-Beijing administration.
Taiwanese should not harbor false expectations about China as their predecessors did toward their "motherland" after the World War II era, Huang said.
Participants concluded the memorial march by releasing water lanterns to pay tribute to the dead.
Commemorative ceremonies were also held in other cities, including New Taipei City (新北市), Greater Tainan and Greater Kaohsiung.
Greater Tainan Mayor William Lai (賴清德) urged Ma to offer a clear explanation of the massacre, while Greater Kaohsiung Mayor Chen Chu (陳菊) called on Ma to "pay attention to the hate speech of KMT members to prevent Taiwan's society from deeper division."
Translated by Stacy Hsu, Staff writer
Comments will be moderated. Keep comments relevant to the article. Remarks containing abusive and obscene language, personal attacks of any kind or promotion will be removed and the user banned. Final decision will be at the discretion of the Taipei Times.