Tsai to step down on March 1
TRANSITION: The focus has now shifted to who will take over as party leader, with some supporting senior party forces, while others are calling for younger faces
The Democratic Progressive Party's (DPP) Central Executive Committee yesterday accepted the resignation of Chairperson Tsai Ing-wen, two days after she lost the presidential race.
Although she is stepping down, Tsai said she is a DPP member for life and that she would stay in the party.
Tsai's resignation will take effect on March 1, 50 days before her term as chairperson ends on May 20, DPP spokesperson Lin Chun-hsien (林俊憲) told reporters.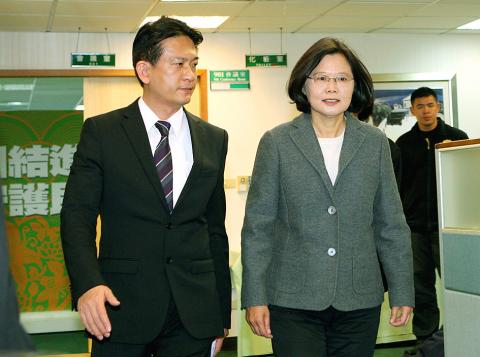 Democratic Progressive Party Chairperson Tsai Ing-wen, right, attends a Central Standing Committee meeting at the party's headquarters in Taipei yesterday.
Photo: CNA
The party will name an acting leader next month before holding an election for a new chairperson, Lin added.
The DPP's Central Standing Committee and Central Executive Committee held meetings yesterday morning after Tsai said during her concession speech on Saturday that she was resigning as chairperson — in line with the party's tradition of the leader stepping down to take responsibility for an election loss.
Tsai did not waver from her stance, despite calls by local chapters and several party heavyweights — including former premier Frank Hsieh (謝長廷), Greater Kaohsiung Mayor Chen Chu (陳菊) and Chiayi County Commissioner Helen Chang (張花冠) — for her to stay on.
After meeting with the Central Standing Committee at party headquarters, Tsai left and did not speak to the media.
The Central Executive Committee held a meeting immediately after to discuss her resignation. It eventually accepted Tsai's resignation, but asked her to stay on until the end of next month, Lin said.
Tsai plans to visit local constituencies to express her gratitude to legislative candidates, local campaigners and supporters after the Lunar New Year break and to present a full account of her loss, Lin said.
According to DPP regulations, the Central Executive Committee will name an acting chairperson before March 1.
As Tsai has served two terms, she can not stand for the chairmanship again, Lin added.
While some media reports said Tsai might head the DPP's think tank — the New Frontier Foundation — the 56-year-old has not said what she intends to do next, Tsai campaign spokesperson Hsu Chia-ching (徐佳青) said.
Tsai will return to her national campaign headquarters in Banciao District (板橋), New Taipei City (新北市), on Sunday to pack and sign copies of her autobiography that she did not have time to sign during the campaign, Hsu said.
Tsai will preside over the weekly Central Standing Committee meetings as usual before March 1, Hsu said.
With Tsai stepping down, focus has shifted to who will take over the party's helm.
DPP heavyweights, including former vice president Annette Lu (呂秀蓮) and former premiers Yu Shyi-kun (游錫堃), Su Tseng-chang (蘇貞昌) and Frank Hsieh, as well as Chen and Greater Tainan Mayor William Lai (賴清德), have all been tipped as possible contenders.
However, several DPP members said it was time for a "generational change" — allowing younger people to take over. Helen Chang said on the sidelines of the meeting yesterday that she voiced her support for the proposition.
She also said she did not think that Tsai, given her enormous popularity among DPP supporters, would be able to return to academia, as some have speculated, because "people still expect her to achieve great things in politics."
Tsai joined the DPP in 2004 and began her first term as party chief on May 20, 2008, two months after the DPP lost the presidential election by a large margin to then-Chinese Nationalist Party (KMT) candidate Ma Ying-jeou (馬英九). She was re-elected as the DPP head in 2010.
Comments will be moderated. Keep comments relevant to the article. Remarks containing abusive and obscene language, personal attacks of any kind or promotion will be removed and the user banned. Final decision will be at the discretion of the Taipei Times.