2012 ELECTIONS: Ma responsible for abuse of power: Tsai
'PLEADING IGNORANCE': 'Next Magazine' claimed that the KMT had asked government agencies to mobilize civil servants to attend a rally to support Ma Ying-jeou
President Ma Ying-jeou (馬英九) should "take full responsibility" and "stop pleading ignorance" over a series of recent events that show his administration has not remained neutral and has exploited the state apparatus in the run-up to the presidential election, Democratic Progressive Party (DPP) presidential candidate Tsai Ing-wen (蔡英文) said yesterday.
As the president and the chairman of the ruling party, Ma "cannot say he doesn't know about them [events] or say the opposition party is using smear tactics when it has presented evidence and it has good reason to voice its doubts" about the government, the DPP chairperson said at a campaign stop in Yilan County.
Tsai was referring to a series of reports on the Ma administration's alleged illegal practices, including monitoring of the DPP's campaign by intelligence services, as well as embedded advertisements and campaigning for Ma's re-election bid by government agencies and civil servants.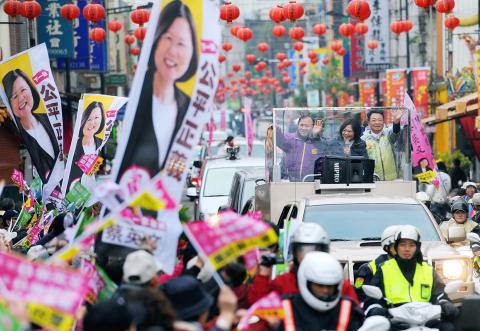 Democratic Progressive Party presidential candidate Tsai Ing-wen waves to bystanders while riding in a motorcade in Yilan County yesterday.
Photo: Lo Pei-der, Taipei Times
"The current administration's abuse of power is unprecedented. The president should step forward, offer a clear explanation and stop pleading ignorance," Tsai said.
The Chinese-language Next Magazine carried a report yesterday that claims the Chinese Nationalist Party (KMT) has asked eight government agencies to mobilize at least 4,000 civil servants to attend a rally organized by Ma's campaign on Sunday.
DPP spokesperson Chen Chi-mai (陳其邁) told a press conference in Taipei that the reported incident was "an obvious violation of administrative neutrality" and the DPP would report the case to the Control Yuan.
"The entire administrative branch has now become part of Ma's re-election campaign," DPP Legislator Tsai Huang-liang (蔡煌瑯) said.
Meanwhile, the DPP said Mainland Affairs Council (MAC) Minister Lai Shin-yuan (賴幸媛) should step down for ordering the destruction of documents to cover up the council placing embedded advertisements in a local news magazine.
The Chinese-language Liberty Times (the Taipei Times' sister paper) yesterday published a report that said Lai ordered that the documents be shredded after she was questioned in the legislature by then-DPP legislator William Lai (賴清德) about the advertisement — published in 2010 in the Chinese-language magazine The Journalist.
In response to William Lai's questioning, Lai Shin-yuan at the time pledged to step down if her council had authorized embedded advertising in the magazine.
Embedded advertising — -a paid advertisement appearing in publications as news — was legal at the time, but it had grown to such an extent that it drew widespread condemnation. As a result, embedded advertising was banned in May last year, with the Budget Act (預算法) specifying that "based on administrative neutrality and maintaining freedom of the press and the rights of the people ... policy advocacy should be clearly marked as advertising."
Even though the documents were not shredded because the employee responsible refused, Lai Shin-yuan should resign for lying and for violating the Archives Act (檔案法) and the Public Servants' Neutrality Act (公務人員行政中立法), DPP spokesperson Chuang Ruei-hsiung (莊瑞雄) said.
Lai Shin-yuan, at a separate setting yesterday, rejected the accusation that she ordered official documents destroyed.
"As you can see, documents No. 9900140 and No. 9900115 have been kept," Lai said, displaying the two original documents at a press conference.
Addressing the document that DPP lawmakers claim shows that Lai Shin-yuan authorized the destruction of the documents, the council said she did not have any intention of destroying the documents and only signed off on the document authorizing their destruction because she thought it was standard protocol.
"Lai [Shin-yuan] lacks knowledge of the details related to the case because it is not part of her duties as minister," Mainland Affairs Council Deputy Minister Liu Te-shun (劉德勳) said.
In related news, Tsai said the fact that more Taiwanese business leaders have pledged their support to Ma's campaign recently shows that the KMT is a political party which "chooses to stand on the same side as big business," rather than ordinary people.
She made the comment in response to a reporter's question about Evergreen Group chairman Chang Yung-fa's (張榮發) statement on Tuesday in which he said he "simply cannot agree with the denial of the [so-called 1992] consensus by a 'specific' presidential candidate."
Tsai said some business leaders made such comments because they have no alternative, given their business operations in China.
"However, some of them have told me they hope their employees will support me," she added.
Aside from Chang, Hon Hai Precision Industry chairman Terry Gou (郭台銘), Ruentex Financial Group chairman Samuel Yin (尹衍樑), Yulon Group chairman Kenneth Yen (嚴凱泰), Formosa Plastics Corp president Wang Wen-yuan (王文淵) and Delta Electronics chairman Bruce Cheng (鄭崇華) have also voiced their support for Ma.
Additional reporting by CNA
Comments will be moderated. Keep comments relevant to the article. Remarks containing abusive and obscene language, personal attacks of any kind or promotion will be removed and the user banned. Final decision will be at the discretion of the Taipei Times.