Tsai pledges solidarity, justice if she wins poll
NEW YEAR'S DESIRE: The DPP's presidential candidate wished all Taiwanese a happy new year and said she wanted to win the election to give the country new direction
In her New Year speech yesterday, Democratic Progressive Party (DPP) presidential candidate Tsai Ing-wen (蔡英文) said her wish was to win the Jan. 14 presidential election and promised to turn Taiwan into a country where solidarity and justice prevail.
"My fellow countrymen, I wish you a happy new year on the first day of 2012. I would also like to take this opportunity to offer my sincere pledge to make Taiwan a country of solidarity and justice," she said at a flag-raising ceremony in Greater Tainan.
A collective upward dynamic and cohesiveness are desperately needed in Taiwan as people have lost their hope for the future and their trust in any political promise in the past three-and-a-half years, during which the government has malfunctioned, she said.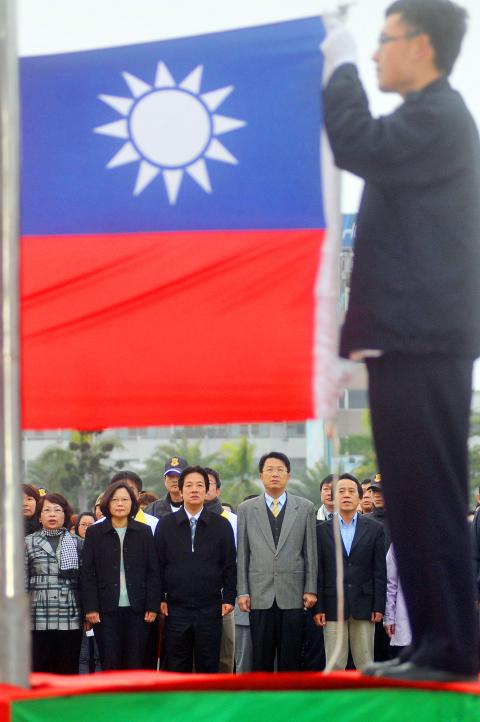 Democratic Progressive Party presidential candidate Tsai Ing-wen, second left, and Greater Tainan Mayor William Lai, third left, attend the flag-raising ceremony in front of Tainan City Hall yesterday morning.
Photo: CNA
That is why she is determined to win the presidential election so her administration would be able to strive to regain "a sense of direction, the strength to march forward and people's trust in politics," Tsai said.
"That is the responsibility of our generation. And every one of you will be able to play a crucial part in the change for the better," Tsai said.
With the presidential race moving into the final two weeks before the election, Tsai has been trying to consolidate support for her candidacy with extensive visits to various parts of the nation.
Meanwhile, at a press conference yesterday, former premier Su Tseng-chang (蘇貞昌), who serves as Tsai's campaign chairman and ran as vice presidential candidate in the DPP's failed bid in the 2008 presidential election, submitted the "three urges of respect."
These are a call on Beijing to respect Taiwan, on the government to respect the people and on voters to respect their own free will.
The presidential election is the highest form of demonstrating the people's collective will, Su said in Taipei, and China should refrain from any interference in the democratic process or threaten use of force against Taiwan.
In the lead-up to the election, Beijing officials have issued a number of official comments that made no secret of their support for President Ma Ying-jeou's (馬英九) re-election bid and have threatened that the stability of cross-strait relations could be undermined if the DPP were to re-enter the Presidential Office.
The government should respect its people by maintaining administrative neutrality and preventing the use of vote-buying, Su said.
Su also urged voters to respect their right to vote and say "no" to vote-buying to enable Taiwan's democracy to deepen.
Comments will be moderated. Keep comments relevant to the article. Remarks containing abusive and obscene language, personal attacks of any kind or promotion will be removed and the user banned. Final decision will be at the discretion of the Taipei Times.