2012 ELECTIONS: Candidates spar in final debate
THIRD WHEEL: Ma and Tsai locked horns over the Yu Chang case and Chen Shui-bian, leaving Soong to lay out his policies and question why his rivals did not do the same
Administrative efficiency and the wrangle over a biotechnology venture controversy took center stage yesterday as the three presidential candidates battled it out in the final televised debate.
President Ma Ying-jeou (馬英九) of the Chinese Nationalist Party (KMT), who is seeking re-election, in his opening statement rejected allegations that he was behind attempts to implicate Democratic Progressive Party (DPP) Chairperson Tsai Ing-wen (蔡英文) in a bid to manipulate next month's presidential election.
"Accusations that I instructed the prosecutors are unacceptable and they severely vilify and insult my character. I did not and would never do this. I would withdraw from the presidential election at once if I had," Ma said.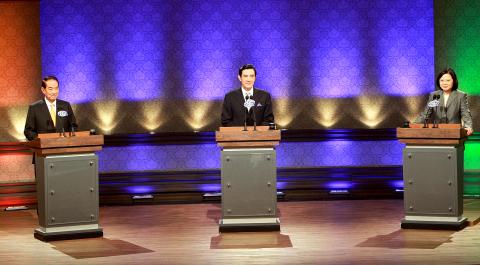 People First Party Chairman James Soong, left, President Ma Ying-jeou, center, and Democratic Progressive Party Chairperson Tsai Ing-wen face the cameras during the final televised debate between the three presidential candidates held in Taipei yesterday.
Photo provided courtesy of Taipei Photographers Association
Prosecutors this week started investigating claims of Tsai's alleged illegal involvement with a biotechnology start-up while she was the vice premier under the previous DPP government — claims she has flatly denied.
"I am saddened that Ma's campaign team uses government resources and his officials use false documents to smear me and to mislead the public," Tsai said in her opening statement, which followed Ma's.
She also accused the prosecution of violating administrative neutrality and judicial independence by "cooperating" with Ma's KMT in the investigation.
"I urge Ma not to jeopardize Taiwan's democracy for the sake of one election victory," she said.
Tsai said that the nation needs to change its leadership and elect a visionary if it is to revamp its economy and safeguard its sovereignty in the coming four years.
She said that "after nearly four years under President Ma's leadership, we have seen our economy lose growth momentum and our sovereignty erode. It's high time we change the ruling party and change the president."
She also took issue with Ma's repeated references to former president Chen Shui-bian (陳水扁), saying Ma only looked to the past and failed to offer a broad vision for Taiwan's future development.
"For our country's bright future, we must have a new president," she said.
People First Party (PFP) Chairman James Soong (宋楚瑜) highlighted the importance of national safety in his opening statement, saying that it is not just a matter of military security, but also applies to people's property and finances, land security and social welfare.
"A state leader's most important task is to keep the country safe," Soong said, adding that the biggest threat to the safety of Taiwanese is not China's missiles, but the nuclear power plants in the greater Taipei area — where 7 million people live — and frequent natural disasters such as typhoons and flooding.
Saying that potential threats include a rising national debt that could limit the government's ability to pay public servants' pensions and social welfare subsidies, Soong called on voters to cast their ballots for him, describing himself as an experienced candidate who has no political baggage, but has a comprehensive set of administrative policies.
In the third section of the debate, where the candidates posed direct questions to one another, Ma, in response to a question from Soong about government efficiency, said the efficiency of his administration has been globally competitive and he has worked to fight corruption and improve government capabilities since he took office.
"While [government efficiency] has fallen from sixth place last year to 10th place this year in the global competitiveness ranking of the International Monetary Fund, we were in the top 10 both years," Ma said.
Tsai responded by saying that the KMT has been copying the DPP's policies, including policies on nuclear power, social housing and the location of the establishment of Kuokuang Petrochemical Technology (國光石化) plants in recent years, showing that it lacked its own ideology and an ability to govern.
Ma appeared to ignore Soong's first question, which asked Tsai why she had left many questions — including queries about her connection to Chen and his aides, as well as her "Taiwan consensus" and China policy — unanswered in the first presidential debate two weeks ago.
Tsai said she had answered those questions in the previous debate, adding that the matter of granting Chen amnesty would be a decision to make after the final verdict and that the "Taiwan consensus" is a democratic process which could better withstand the test of time than the so-called "1992 consensus."
Regarding her connections with Chen and Ma's comment of "Chen Shui-bian behind your back," Tsai repeated what she had said in the Dec. 3 debate: "Ma stubbornly chooses to live in the past."
Tsai focused on rising housing prices and stagnant income growth and demanded Ma apologize to the public as she reminded Ma that he regarded rising housing prices as one of his major achievements when he served as Taipei mayor.
The rise of housing prices in northern Taiwan has been contained by a series of countermeasures, including the luxury tax and stricter tax inspection, Ma responded.
The most important thing for the government to do "was not to control or restrain the prices, but to make them reasonable," Ma said, adding that new legislation which ensures property taxation, registration of market prices and increased social housing would help solve the issue in the long run.
Housing prices in some areas outside Taipei City have actually fallen, Soong said, adding that both Tsai and Ma "have lived in Taipei for too long to realize what is happening in other places."
Soong echoed Ma when he said that it is imperative to restrain speculation rather than reduce housing prices.
Soong also raised concerns about the nation's worsening wealth gap during the cross-examination, and challenged both Ma and Tsai to offer solutions to the problem.
In response, Tsai promised to establish a solid social-welfare system with sufficient manpower and financial support to take good care of those who are in need.
She again raised the issue of skyrocketing housing prices in Taipei among other cities, and slammed Ma for failing to tackle the issue during his eight-year term as Taipei mayor.
"Without proper housing policy, many people are forced to leave Taipei or live in poor conditions. To solve the problem, it requires consistent attention from the government," she said.
Ma refuted Tsai's comments, arguing that he did not have enough authority to tackle the national issue as a former mayor.
"Therefore I immediately introduced the luxury tax and looked into property hoarding after taking over the presidency, solving the issues that I was not able to in the past," he said.
Ma defended his government's efforts in raising the budget on social welfare to more than NT$420 billion (US$13.8 million) while offering more than 350,000 job opportunities, promising to do more to promote social welfare measures through legislation and subsidies.
Ma again challenged Tsai on her alleged involvement in the investment deal of Yu Chang Biologics Co (宇昌生技股份有限公司), now known as TaiMed Biologics Co (中裕新藥股份有限公司), asking why Tsai invested in the firm even after leaving her government post and pressing her for a clear explanation.
"Don't you know that there are things you cannot do even after stepping down as a government official, and no matter how important the goal of promoting the biotech industry, you should never invest in the industry and profit from it?" he asked.
Soong said that Ma had skipped him when he should have posed him a question and lashed out at both the KMT and the DPP for engaging in smear campaigning and failing to discuss their policy platforms.
"The KMT and the DPP should step aside and let me take care of the people," he said.
Tsai went on to challenge Ma's integrity by questioning his allegedly taking a NT$15 million bribe from Fubon Bank in 2003 as Taipei mayor and his failure to address the KMT's illicit assets.
Tsai slammed Ma for failing to carry out his promises of dealing with KMT assets and eliminating negative campaign tactics, challenging the president to bring more positive changes to his party, taking the amendment of the Political Party Act (政黨法) as the first step.
Ma defended his efforts to place public bids on party assets and put profits from asset sales in a trust fund since he took over as KMT chairman in 2006, and refuted Tsai's accusations that the KMT uses negative campaigning tactics.
Ma questioned Tsai's use of aides once close to Chen, pressing her to apologize for the damage Chen caused to the nation.
"Chairperson Tsai, you questioned me about bringing up Chen all the time, and that's because I cannot avoid mentioning him as you are surrounded by his people. You did not try to separate yourself from his people, and yet refuse to take blame for his actions," he said.
"You only see Chen Shui-bian when there are millions of Taiwanese people standing behind me. You still live in 2008 and you choose to dwell on history. If that is the case, let Taiwanese people make you history with their votes," Tsai said.
Soong echoed challenges from Tsai on Ma's narrow circle of advisers in his decisionmaking process, saying Ma lacked communication with opposition parties.
"As the nation's president, is it appropriate to listen to only a small circle of advisers? Do you have the sincerity to talk to opposition leaders? " Soong said.
Yesterday's debate was the last in a three-part series — the first and final debates featuring the presidential candidates and the second debate featuring their running mates — in the run-up to the Jan. 14 presidential election.
A three-part series of televised presentations by the candidates is slated for Dec. 23.
Additional reporting by Agencies
Comments will be moderated. Keep comments relevant to the article. Remarks containing abusive and obscene language, personal attacks of any kind or promotion will be removed and the user banned. Final decision will be at the discretion of the Taipei Times.