2012 ELECTIONS: Tsai accuses Ma of using smear tactics
MUDSLINGING: Tsai Ing-wen said that her role in Yu Chang Biologics has been well scrutinized in the past three years and that no improper practices have been found
Democratic Progressive Party (DPP) presidential candidate Tsai Ing-wen (蔡英文) yesterday accused President Ma Ying-jeou (馬英九) and the Chinese Nationalist Party (KMT) of resorting to "character assassination" to win next month's presidential election by accusing her of profiteering from an investment deal when she served in the government.
At an impromptu press conference in Greater Tainan, Tsai said she and her family had never received improper benefits from Yu Chang Biologics Co (宇昌生技股份有限公司), a biotech start-up, and her integrity has always been unquestionable.
"I want to ask President Ma: Is it necessary for this kind of campaign? Is it necessary to do whatever it takes, including throwing mud at other candidates and resorting to character assassination to win the election and cover up the failures of your administration?" Tsai said.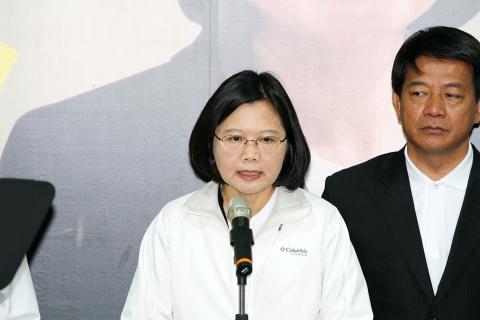 Democratic Progressive Party presidential candidate Tsai Ing-wen accuses President Ma Ying-jeou and the Chinese Nationalist Party (KMT) of resorting to smear tactics to win the election yesterday.
Photo: Taipei Times
KMT lawmakers on Thursday accused Tsai of a conflict of interest because of her involvement with Yu Chang after she left office in August 2007, which received investment from the state-owned National Development Fund (NDF).
The KMT said Tsai, who later served as chairperson of Yu Chang, received NT$100 million (US$3.3 million) when she sold her shares in the company in 2009.
Tsai yesterday said the case had been thoroughly scrutinized in the past three years and no inappropriate practices have been found, adding that while she promoted the biotech industry when she was vice premier, she was never involved with Yu Chang.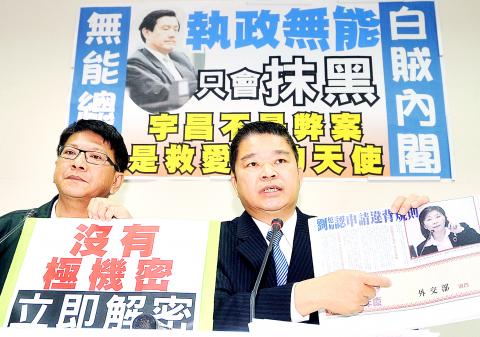 Democratic Progressive Party legislators Pan Men-an, left, and Tsai Huang-liang, right, accuse Ma of trying to smear Democratic Progressive Party presidential candidate Tsai Ing-wen by bringing up Yu Chang Biologics Co just before the presidential elections during a press conference in Taipei yesterday.
Photo: Fang Pin-chao, Taipei Times
Tsai said she agreed to be chairperson of Yu Chang after being invited by several scientists, who persuaded her that her expertise in negotiation and fundraising would help the company.
Her family businesses invested in Yu Chang because of a lack of funding in the initial stage, Tsai said, adding that she had promised to withdraw the investment once sufficient private funding was in place, which she did.
"Neither myself nor my family received extortionate profits from the investment. Instead, the government received a profit of NT$1 billion," she said.
The administrative branch, certain legislators and some media outlets have collaborated in a smear campaign that only disclosed selective information and made false accusations, she said.
Former Council for Economic Planning and Development chairperson Ho Mei-yueh (何美玥) offered her side of story in a separate press conference in Taipei.
Ho said the KMT had -misinterpreted some details. This included a document showing the NDF's investment in Yu Chang that was classified as top secret, Ho said. This was done because it involved information surrounding the company's negotiation with the US pharmaceutical company Genentech, which was seeking a foreign partner at the time, not because of secret maneuvers by Tsai, she said.
"The document can be declassified anytime after the collaboration agreement has been signed," she added.
The NFD had invested in several companies that held national strategic significance, such as Taiwan Semiconductor Manufacturing, Vanguard International Semiconductor, Chunghwa Telecom and Changhua Bank, through "special investment projects," DPP lawyer Hsu Kuo-yong (徐國勇) said.
This showed that the NDF's investment in Yu Chang was not a special case, Hsu said, adding that the government increased its investment in Yu Chang last year by NT$137 million.
"If [Yu Chang] was a bad investment, the Ma administration would not have increased its investment," Hsu said.
DPP spokesperson Chuang Ruei-hsiung (莊瑞雄) added that the DPP did not think Tsai had violated the "revolving-door" regulation when assuming the chair of Yu Chang after leaving office, according to the interpretation of the Executive Yuan's Legal Affairs Committee.
If the KMT's accusation is proved legitimate, Chuang said, there would be more than a few former government officials who were in violation of the regulation.
Additional reporting by Mo Yan-chih
Comments will be moderated. Keep comments relevant to the article. Remarks containing abusive and obscene language, personal attacks of any kind or promotion will be removed and the user banned. Final decision will be at the discretion of the Taipei Times.