2012 ELECTIONS: Candidates outline visions for Taiwan
IN THE SPOTLIGHT: With the whole nation watching, the three presidential candidates put forth their respective plans, hopes and fears for the country's future
The three contenders in the Jan. 14 presidential election faced off in a televised debate yesterday, crossing swords on issues ranging from cross-strait policy, the economy and social justice to matters of livelihood and national development.
President Ma Ying-jeou (馬英九) of the Chinese Nationalist Party (KMT), seeking re-election, touted himself as a competent and experienced helmsman who can lead the country to surmount the challenges of reviving the economy, implementing social justice and maintaining cross-strait peace.
Ma also tried to link Democratic Progressive Party (DPP) presidential candidate Tsai Ing-wen (蔡英文) with former president Chen Shui-bian (陳水扁) of the DPP, who is serving a lengthy prison term for corruption.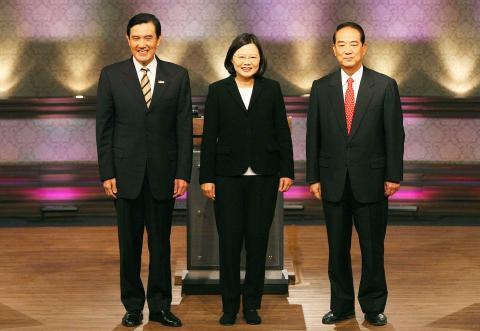 President Ma Ying-jeou, left, Democratic Progressive Party presidential candidate Tsai Ing-wen, center, and People First Party presidential candidate James Soong, right, face the cameras during the first televised debate in the presidential election campaign yesterday.
Photo: CNA
"Do we want to go back to the eight bad years of the DPP?'' Ma asked, describing the period as a time of rampant corruption and elevated tension with China.
Tsai said that she was running for president next year, not in 2008, and went on to accuse Ma of pursuing policies that had deepened Taiwan's economic inequality and opened the door for China to achieve its long-standing goal of bringing democratic Taiwan under its sway.
She said that if elected she would reach out to all parties to form a "Taiwan consensus" to deal with China on a unified basis.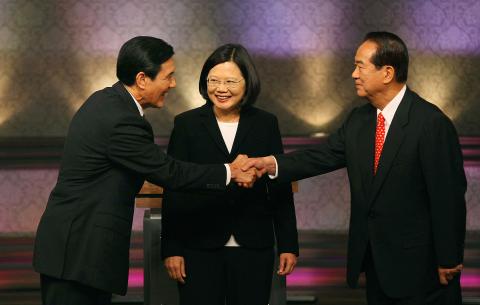 President Ma Ying-jeou, left, shakes hands with the other candidates in next month's presidential election, Democratic Progressive Party Chairperson Tsai Ing-wen and People First Party Chairman James Soong, prior to the first televised debate yesterday.
Photo: CNA
People First Party (PFP) presidential candidate James Soong (宋楚瑜) ridiculed Ma's claim of his administration's achievements over the past three-plus years as "self-exaggeration" and "complacency," while rebutting Tsai's claim that the financial stability the Ma administration enjoyed amid the 2008-2009 global credit crunch was based on banking reforms put in place by the previous DPP administration.
Yesterday's 2.5-hour debate opened with the three presidential candidates each giving an eight-minute introduction of their respective campaign platforms before taking questions posted by the representatives of the five media outlets, namely the Central News Agency (CNA), the China Times, the Liberty Times (the Taipei Times' sister paper), the United Daily News and Apple Daily.
In the third part of the debate, the candidates posed questions to one another before ending the debate with concluding remarks of five minutes each.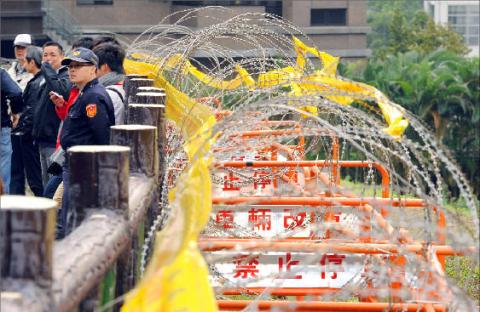 Police guard the entrance to the Public Television Service TV station where the first televised presidential debate took place yesterday.
Photo: Lo Pei-der, Taipei Times
In response to question posed by Apple Daily and United Daily News on cross-strait relations and the DPP's rejection of the so-called "1992 consensus," Tsai reiterated that while the 1992 meeting between the two sides of the Strait did take place, the consensus never existed, and even if it did, it was "a consensus reached between the KMT and the Chinese Communist Party (CCP) without going through a democratic process."
"President Ma Ying-jeou has hurt Taiwan's democracy by turning an inter-party consensus into a national consensus without transparency," she said.
She added she was confident that the people of Taiwan understand very well what they have to insist on and what they could be flexible on in Taiwan's dealings with China.
Contrary to what Ma has been telling the public, Tsai said, Beijing has never publicly said that the "1992 consensus" includes "one China, with different interpretations."
Ma, on the other hand, reiterated that the "1992 consensus" would be the best basis to create win-win situations for both Taiwan and China.
He added that his initiative of "no unification, no independence and no use of force" has successfully stabilized cross-strait relations.
Tsai's proposed "Taiwan consensus" is "an empty idea that nobody understands" and it could raise instability and place Taiwan in danger, he said.
The "three noes policy" he has been advocating and the institutionalized negotiations with China have all been mainstream public opinion recognized by most people, Ma said.
Soong said it was essential for China to deal with Taiwan peacefully, patiently and sincerely by allowing Taiwan to sign free-trade agreements (FTA) with other countries following the signing of the Economic Cooperation Framework Agreement (ECFA) with China in June last year.
Soong appeared to allow for the possibility of establishing a "Taiwan consensus," saying that he has always supported transparency and public monitoring of cross-strait policy.
"We do have some shared opinions on the cross-strait issues as to how we demand Beijing to respect the people of Taiwan to be their own masters and how not to be provocative toward China," he said.
On a question asked by CNA relating to Taiwan's foreign policy, Ma said his administration had made many efforts to achieve a wide range of international participation, such as participation in the World Health Assembly and the Government Procurement Agreement, and bidding and winning the right to host the 2017 World University Games.
Tsa said Taiwan's economic prowess should play a lead role in Taiwan's foreign relations and pledged that her administration would establish a strong negotiating team that is able to dominate agenda-setting in multilateral international organizations of which Taiwan is already a member or is trying to participate, such as the WTO, APEC and the proposed Trans-Pacific Strategic Economic Partnership Agreement.
The high-energy international participation of Taiwan's volunteers and non-governmental organizations could not be overlooked either, she added.
When asked by Liberty Times to outline her economic policies for the next four years, Tsai said that if she were elected, she would tackle the nation's financial deficit while expanding domestic demand to encourage the development of local industries and create more job opportunities.
"Only by handling the financial deficit can we use the money more effectively and help revive the economy. We also need to expand domestic demand and increase our global competitiveness by connecting local business with the global economy," she said.
Tsai proposed to set up an agricultural fund of NT$100 billion (US$3.32 billion) to provide financial assistance to farmers and promote the development of local business.
She also promised to invest NT$40 billion in the next four years to establish a long-term care mechanism that would offer better caretaking services to the elderly and the disabled, and ease the burden on their families.
In discussing his economic platform, Soong proposed developing strategic industries relative to lifestyle, ecology and production, and said it was imperative for the nation to enhance economic ties with China, the US and Europe through the ECFA.
Ma, when questioned by the Liberty Times over his capability of reaching his economic goals if he is re-elected, acknowledged his failure to carry out the "6-3-3" policy he laid out in his 2008 election campaign, but stressed the government's success in reviving the economy despite the global economic slowdown.
"I have already apologized in October for failing to carry out the '6-3-3' policy, but we will not give up our efforts to reach the goal," he said.
The "6-3-3" policy refers to Ma's promise to attain GDP growth of 6 percent, bring the unemployment rate to less than 3 percent and increase average annual per capita income to US$30,000 by next year.
The government's forecast of the nation's economic growth for this year is down from 4.81 percent in August to 4.51 percent, and per capita income is expected to reach about US$20,000 this year.
While stressing the government's efforts to continue lowering the unemployment rate and increase per capita income, Ma lauded Soong for his recognition of the ECFA as a platform to enhance economic ties with other countries while he defended his administration's achievement in signing an investment pact with Japan in September and the ongoing negotiations with Singapore to sign an FTA.
"The ECFA is not a cure-all, but it is a vitamin to help us connect with other countries in the Asia-Pacific region," he said.
He challenged Tsai to carry out her promise to lower the nation's debts within four years without increasing taxes if she is elected.
In addressing the issue of the growing wealth gap and the European debt crisis raised by CNA, Soong proposed education reform, including enhancing vocational education, as a long-term solution to the wealth gap and promised to make the taxation system fairer if he is elected.
He attributed the European debt crisis to a poor social welfare system and vowed to revise the nation's social welfare system to take better care of the disadvantaged, while promising to hold regular national conferences to address the nation's finances.
Ma, on the other hand, accused the DPP of being responsible for creating the biggest wealth gap in the nation's history in 2001 and cited government measures — including the revision of the Social Assistance Act (社會救助法) to include more recipients of social assistance and increasing the social welfare budget to NT$407 billion next year — while defending his efforts to take care of the disadvantaged.
On the European debt crisis, Ma said his government has approved a stimulus package to maintain the nation's economic performance and prevent the European debt crisis from causing damage to Taiwan.
Tsai dismissed Ma's accusations that the DPP was responsible for the wealth gap and said the biggest wealth gap was created under the Ma administration. She proposed creating more job opportunities to narrow the gap, while reiterating her promise to take control of financial deficits as a damage-control measure in light of the European debt crisis.
The three candidates also addressed nuclear policy and electricity fees. When asked by Apple Daily whether the government would raise electricity fees if he is re-elected, Ma said it was unlikely that his government would raise fees by a large margin in the next four years, because it would push for the development of "green" energy, including wind energy and solar power, while gradually phasing out nuclear power and ensuring nuclear security.
Tsai questioned the success of the Ma administration's performance in promoting energy-saving measures over the past three years and promoted her proposal to achieve a "nuclear-free homeland" by 2025 if she is elected.
She said the initiative — which aims to phase out nuclear power by 2025 by decommissioning the three nuclear power plants currently in operation and preventing the commercial operation of the Fourth Nuclear Power Plant — would not cause an energy crisis because the nation would develop other energies in the interim. She dismissed Ma's emphasis on nuclear energy as an important source of energy.
Soong agreed with Ma and Tsai that the nation would not have to raise electricity fees by a large amount, although low electricity and water fees contributed to the waste of electricity and water, he said.
He promised to push for the development of "green" energies through legislation, among other measures, if elected, and defended his capability of reaching such goals.
In response to a question posed by United Daily News on whether she would pardon jailed Chen, Tsai said the matter was "not an issue to think about at this moment" because the case was still pending a judicial ruling.
"As the trail is ongoing, what needs to be done, especially for a president, is to ensure fairness during judicial review proceedings, which has already been called into question. I hope the flaws can be rectified afterward. What is most important is having a fair trial," Tsai said.
Ma criticized Tsai's answer, saying: "You could have answered yes or no now," instead of delaying deciding about the matter until the trial is over.
Tsai was also asked how she would handle a hypothetical situation in which the DPP's rejection of the so-called "1992 consensus" harmed cross-strait relations and led to the termination of the ECFA.
Tsai dismissed the concerns, saying she was certain that China would like to maintain a peaceful relationship with Taiwan if she is elected, because "this is where mutual benefits for both sides lie."
"For China, a stable cross-strait relation means that it needs not worry whether alternating political parties in government will lead to changes in cross-strait policy," she said.
Soong, asked why he sided with several different political parties during different stages of his political career, said: "It's true that I had interactions with the KMT, the DPP and the Chinese Communist Party to a great extent in the past. This is because I put people's interests first. I never pursue my personal interests."
Soong added that he had been with the KMT because of his deep belief in the "Three Principles of the People" and that he followed former president Lee Teng-hui (李登輝) to pursue democracy, cooperated with former KMT chairman Lien Chan (連戰) to try to maintain Taiwan's position as the leader of the four "Asian Tigers," and met with former president Chen to avoid a possible war in the Taiwan Strait and bring cross-strait peace.
In response to a question by the Liberty Times on ways to help young people who do not have wealthy fathers, like the three candidates have, to realize their dreams, Ma said he was "sorry" that he failed to deliver his 2008 campaign pledge to keep the unemployment rate under 3 percent, but added that his administration did a better job than the previous DPP government in this regard.
Over the past three years and five months, the KMT created 2.5 times as many job opportunities than the DPP achieved in the same period and the number of people who became unemployed was one-third of when the DPP was in power, he said.
Tsai said that considering that a large part of the job opportunities created by Ma were short-term jobs, the unemployment rate was much higher than 4.3 percent and the rate for young people without jobs was much higher.
Tsai proposed developing local industries so that economic development would create jobs in Taiwan rather than in China, to build rent-only social housing and to provide state-run high-quality childcare centers to help reduce the burden on young people.
Soong agreed with Tsai on the social housing proposal, but added that the ability to carry out the policy was more important.
"Indeed, I had a good father. He left me no property, but a very good reputation and three important lessons and I would like to pass them on to young people here. They are: Be impartial, be responsible and be industrious," he said.
Yesterday's debate was the first of two televised presidential debates jointly organized by the five media outlets.
The second presidential debate, scheduled to take place from 2pm to 4:30pm on Dec. 17, will be moderated by representatives of non-governmental organizations.
Comments will be moderated. Keep comments relevant to the article. Remarks containing abusive and obscene language, personal attacks of any kind or promotion will be removed and the user banned. Final decision will be at the discretion of the Taipei Times.