2012 ELECTIONS: PFP's Soong vows to run for president
MORE THAN ENOUGH: PFP Vice Chairman Chang Chao-hsiung said 355,589 signatures in support of Soong had been delivered to the Central Election Commission in Taipei
People First Party (PFP) Chairman James Soong (宋楚瑜) yesterday pledged that he would run in the presidential election, following the announcement that the number of signatures for his presidential petition had passed the threshold and reached 355,589.
Standing with running mate Lin Ruey-shiung (林瑞雄) in front of several dozen supporters, Soong vowed to reach beyond bipartisan politics and improve the lives of Taiwanese if elected, saying the signatures reflected expectations for a prosperous society in which people could determine their own future without being manipulated by political parties, while dismissing Chinese Nationalist Party (KMT) criticism of his presidential bid.
"The signatures could be seen as a black list [by the government] 30 or 50 years ago. Things are better now and [for the government] this is a troublemaking list ... The nation is divided because of partisan confrontations and it is time to let Taiwanese be their own masters. What Taiwanese want is a government that takes care of its people," he told a press conference held at Taipei City Council.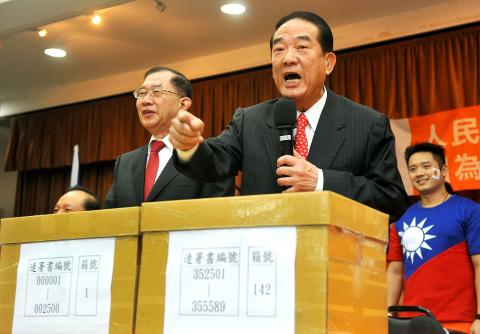 People First Party Chairman James Soong officially announces his presidential bid after delivering 355,589 signatures in support of him to the Central Election Commission yesterday.
Photo: Taipei Times
PFP Vice Chairman Chang Chao-hsiung (張昭雄) said the 355,589 signatures in 142 boxes had been delivered to the Central Election Commission's (CEC) Taipei branch. The PFP would deliver a second batch of signatures to the commission on Saturday, he said.
The first batch of signatures passed the threshold of 257,695 required under the Presidential and Vice Presidential Election and Recall Act (總統副總統選舉罷免法), which stipulates that presidential and vice presidential hopefuls gather signatures amounting to 1.5 percent of voters in the previous election.
The commission's Taipei branch said it would examine the petition forms, before sending them to the CEC for a final review. Soong and Lin would obtain formal candidacies if the petitions pass the reviews, it said.
Soong expressed interest in joining the presidential election and started his petition in September, despite calls from the KMT for pan-blue unity.
Soong and Lin originally pledged not to join the race unless they collected 1 million signatures to prove their popularity, but Soong later said he would enter the race if the petition passed the legal threshold.
The PFP chairman said his aim was not to knock any candidate out of the race, although he said President Ma Ying-jeou (馬英九) had failed to revive the nation's economy and reduce the unemployment rate.
He also challenged Democratic Progressive Party (DPP) Chairperson Tsai Ing-wen (蔡英文) to declare Taiwan independent if she is elected in January.
"I am not targeting any specific candidates. Besides, I will have to knock two candidates out of the race to win the election. People are worried about one of them and they are dissatisfied with the other, so let's knock both of them out of the race and make things right," Soong said.
Attending the press conference in support of Soong's bid, former legislator Li Ao (李敖) condemned the government for setting high thresholds for participation in presidential elections and accused Ma of being a dictatorial leader.
"The key to Ma's problems do not lie in his incompetence, but in his dictatorship," Li said.
Li and Chang criticized the role of Ma's top aide, his re-election campaign executive director King Pu-tsung (金溥聰), in the policymaking process and shared their concerns about the future of Taiwan under the "Ma-King mechanism."
"Under the Ma-King mechanism, King is the decisionmaker and Ma is the terrible executor — a soulless scarecrow — and such a mechanism is dangerous for Taiwan," Chang said.
At a separate setting yesterday, KMT Culture and Communications Committee Director Chuang Po-chun (莊伯仲) said the party respected Soong's decision, but that it would continue its efforts to seek KMT-PFP cooperation.
Tsai, meanwhile, said Soong's entry was a norm and a protected right of any democratic country.
"He will be a respectable and formidable opponent," she said.
Additional reporting by Chris Wang
Comments will be moderated. Keep comments relevant to the article. Remarks containing abusive and obscene language, personal attacks of any kind or promotion will be removed and the user banned. Final decision will be at the discretion of the Taipei Times.