United farmers face down land seizures
'IN SOLIDARITY': A farmer from Hsinchu County said the government was taking away farmers' rights as it continues to expropriate land for development projects
With some laughter, but mostly anger and other emotions, thousands of farmers from across the country, as well as academics and farmers' rights activists, rallied yesterday evening on Taipei's Ketagalan Boulevard in pouring rain, to call for an immediate revision to the Land Expropriation Act (土地徵收條例).
"We the farmers have to stand united to fight against forced land takeovers — I am in my 80s and I would be willing to defend my land with my life," Hsieh Chien-hsiang (謝見祥), a farmer from Jhubei City (竹北), Hsinchu County, said to the demonstrating crowd last night, which responded with cheers and applause. "The government is lawless, as the Constitution protects our right to survival, to property and to work, yet the government is taking all these rights away from us and we have no other choice but to stay in solidarity!"
He added that while all humans would eventually die, the land would always be there, "therefore we have to fight to keep the land that has been passed down by our ancestors."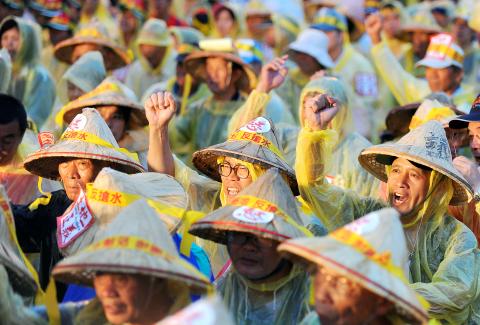 Farmers raise their fists and chant slogans on Ketagalan Boulevard in Taipei yesterday. The protesters demanded that laws regulating land expropriation be amended so that politicians and business interests would not be allowed to take land away from farmers.
Photo: Liu Hsin-de, Taipei Times
Participants in the rally last night included the farming community of Donghai (東海) in Jhubei, which is one of 12 farming communities either facing forced land expropriation for various development projects or unequal distribution of water resources.
Other affected communities include: Dapu Borough (大埔) in Miaoli County's Jhunan Township (竹南); Siangsihliao (相思寮) in Erlin Township (二林) and Sijhou Township (溪洲), Changhua County; Tianliaoyang (田寮洋) in Gongliao District (貢寮), New Taipei City; Wurih District (烏日) in Greater Taichung; and Meinong District (美濃) in Greater Kaohsiung.
Liu Ching-chang (劉慶昌), a farmer from the Erchongpu (二重埔) farming community in Jhudong Township (竹東), Hsinchu County, said farmers staged a second overnight rally in front of the Presidential Office because the government had failed to respond positively to the first one last year despite promises by President Ma Ying-jeou (馬英九), Premier Wu Den-yih (吳敦義) and Minister of the Interior Jiang Yi-huah (江宜樺).
"They promised that proposals to revise the Land Expropriation Act would be sent to the Legislative Yuan by May, but it didn't happen," Liu said. "Not only that, the government never stopped or slowed down existing expropriation projects."
"My friends, it's raining heavily now, but we will not be discouraged; rather, we will be even more brave in the pouring rain and if the government does not amend the law, we will continue with our fight," he said.
Several academics supporting land expropriation victims spoke at the rally, while several bands performed in support of the campaign.
Demonstrators stayed overnight and will end the rally with a news conference at 8am today.
At a separate setting yesterday, the premier, in response to the demonstration, said the government understood the demands of the protesters, promising to protect the rights of farmers when implementing government policies.
"We will follow the principles we used to handle the Dapu farmland controversy last year to preserve houses that are legally built and to centralize dispersed farmland," he said.
Wu said that the measures employed to handle the Dapu farmland controversy met the expectations of all concerned and added the government would follow the same approach when dealing with issues related to land seizures in the future.
ADDITIONAL REPORTING BY MO YAN-CHIH
Comments will be moderated. Keep comments relevant to the article. Remarks containing abusive and obscene language, personal attacks of any kind or promotion will be removed and the user banned. Final decision will be at the discretion of the Taipei Times.