Military accepts opposition poll win in Thailand
Thailand's powerful military will respect a landslide election win by allies of former prime minister Thaksin Shinawatra, who it toppled five years ago, the defense minister said yesterday, easing fears of another coup.
Thaksin's sister, Yingluck Shinawatra, a 44-year-old political novice now set to become the kingdom's first female prime minister, announced a coalition deal with four smaller parties to bolster her hold on power.
Thailand's outgoing defense minister, himself a retired general, said that the army accepted the election outcome, easing fears of fresh military intervention in a country that has seen almost as many coups as elections.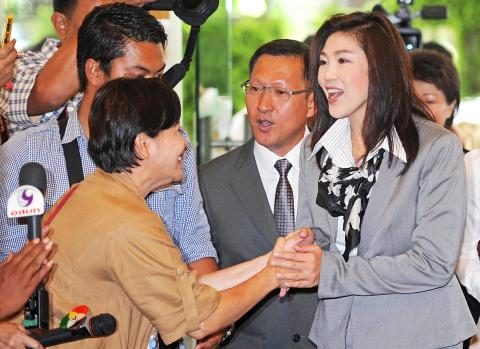 Yingluck Shinawatra, right, who is set to become Thailand's first female prime minister, shakes hand with supporters prior to a meeting with possible coalition partners at hotel in Bangkok yesterday.
Photo: AFP
"I have talked to military leaders. We will allow politicians to work it out. The military will not get involved," Thai Defense Minister Prawit Wongsuwon said. "The people have spoken clearly, so the military cannot do anything. We accept it."
Thaksin has vowed not to seek revenge over a deadly military crackdown on his "Red Shirt" supporters in Bangkok last year that claimed the lives of more than 90 people and left major downtown buildings in flames.
However, in a sign of the difficult balancing act he faces, the Red Shirts urged their political allies to establish the facts behind the army operation, which saw soldiers firing live ammunition storm the Red Shirts' rally camp.
"During the election campaign, political parties have to present their policies to people, but once they become the government, it's the government's job to find the truth," a Red Shirt leader Nattawut Saikuar said.
The Puea Thai Party — masterminded by Thaksin from his self-imposed exile in Dubai — won 265 seats out of 500 in the lower house, the election commission said yesterday after the vote count was completed.
That was well ahead of the 159 secured by outgoing Thai Prime Minister Abhisit Vejjajiva's -establishment-backed Democrats, who conceded defeat after two-and-a-half years in power. Abhisit resigned as party leader after the results.
Puea Thai was quick to reach out to potential partners, partly to protect against possible future defections or the disqualification of some of its winning candidates in Sunday's vote.
Together the five coalition partners hold 299 of the 500 seats.
Thaksin said yesterday that he had no plan to return to office himself and that setting foot back in Thailand was not a priority.
"I've been with the party too long and I really want to retire," Thaksin told reporters in Dubai where he lives to avoid a jail term for corruption.
A more important factor may be whether the new government pursues legal or other steps against the generals over the bloody crackdown against last year's mass opposition demonstrations in the heart of Bangkok.
"I believe the military leaders are more concerned about their fates ... than about Thaksin's return," said Thongchai Winichakul, a professor at the University of Wisconsin-Madison. "The Thaksin issue is a smoke-screen to hide their real concern — whether they would be investigated and possibly punished."
TRAVEL ALERT
Meanwhile, the Ministry of Foreign Affairs raised its travel alert for Thailand from "gray" to "yellow" on Sunday amid possible political uncertainty following the election.
The yellow alert — the second-lowest ranking in the ministry's four-color-coded travel advisory system — reminds travelers to heighten vigilance over their personal safety and suggests visitors reconsider their travel plans.
Taiwanese travelers should stay away from political rallies and keep themselves informed of developments while traveling in Thailand, the ministry said, adding that in the case of an emergency, travelers should contact Taiwan's representative offices in Bangkok.
ADDITIONAL REPORTING BY CNA
Comments will be moderated. Keep comments relevant to the article. Remarks containing abusive and obscene language, personal attacks of any kind or promotion will be removed and the user banned. Final decision will be at the discretion of the Taipei Times.