Snakes, crocodiles threaten flood-hit Australian town
Australian residents fled their homes and sandbagged properties yesterday as a major town was threatened by a worsening flood disaster that unleashed a plague of snakes and crocodiles.
Tens of thousands of people in Rockhampton braced for complete isolation as waters that have inundated an area bigger than France and Germany, and closed the town's airport and railway, lapped at the last remaining road link.
Rumors of crocodile sightings swept the besieged cattle-farming center northeast of Brisbane, population 75,000, while snakes up to 2m long were spotted around the town center.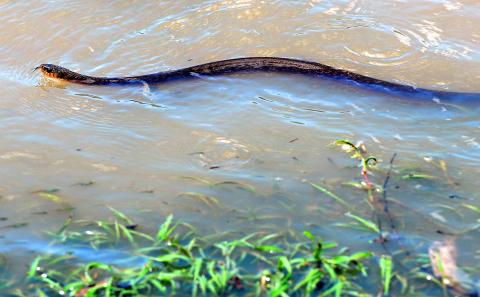 A venomous brown snake is carried by flood waters after the Fitzroy River broke its banks and inundated much of Rockhampton, Australia, yesterday.
PHOTO: AFP
The snakes, including highly venomous taipans, brown snakes and red-bellied blacks, are climbing trees and hiding in people's houses as they search for dry refuge, residents said.
"The snakes are a massive problem, I've shut all the doors because they're coming in," said Suzanne Miller, owner of the Pioneer Hotel pub, adding that her mother was "almost killed" by a brown snake.
"She is living on a boat near here and it was curled round the rope," Miller said. "She could feel the tongue flicking on to her face to test how far away it was, ready to bite, and then it jumped into her lap."
Miller said her mother's husband used a stick to flick the snake into the water, adding that the boat almost capsized as the pair leaped around and screamed in panic.
Emergency officials warned that the snakes were aggressive, while crocodiles flushed from rivers by the rising floods could easily be mistaken for debris.
"[Snakes are] in their mating season and they've been flushed out of their environment ... snakes are very, very cranky right now," State Emergency Service (SES) operations director Scott Mahaffey said.
"[And] the problem with crocodiles now is it's very, very hard to pick [them out] with the amount of debris," he said.
One SES volunteer told reporters he had seen "two cops hightailing it out of the water with a croc going past."
Thousands of poisonous cane toads were also spotted around Rockhampton, while authorities say the town will also be hit by sandflies and disease-carrying mosquitoes breeding in the standing water.
About 200 people have evacuated on foot or by boat, including two pregnant women who went into labor. Some 200 homes are already flooded, with the Fitzroy River bisecting the town expected to peak at 9.4m today and tomorrow.
"I know people around here are pretty tough, but if your house gets smashed up pretty bad and you have lost all of your kids' presents [it's difficult]," Mahaffey said.
Rockhampton, 500km from Brisbane and a hub for the farming and coal-mining region, is now the focus for what officials call "biblical" floods affecting 200,000 people across Queensland state.
Weeks of heavy rains have swollen rivers to record levels, deluging mines and farms, washing away bridges and forcing military evacuations of entire towns by helicopter.
Ten people have died trying to negotiate fast-running waters in vehicles, swimming or on foot over the past month, while the disaster is expected to cost several billion US dollars.
Flooded mines and railways and closed ports have hammered Queensland's all-important production of hard coking coal, much of it bound for urbanizing Asia's steel mills.
US Secretary of State Hillary Rodham Clinton expressed condolences on Monday for the dead and offered aid, while New Zealand promised to send an emergency response team.
In Rockhampton, the military trucked in supplies and police frog-marched one reluctant resident from his home after the dwelling was considered too dangerous to remain in as the waters rose.
Other parts of the state are already cleaning up after the worst of the flooding passed, but officials say relief and recovery operations could last for weeks.
Comments will be moderated. Keep comments relevant to the article. Remarks containing abusive and obscene language, personal attacks of any kind or promotion will be removed and the user banned. Final decision will be at the discretion of the Taipei Times.