Chen Yunlin visits Flora Expo amid tight security
China's Association for Relations Across the Taiwan Strait (ARATS) Chairman Chen Yunlin (陳雲林) visited the Taipei International Flora Expo early yesterday morning amid tight security, sparking concerns over alleged preferential treatment.
Accompanied by Straits Exchange Foundation (SEF) Chairman Chiang Pin-kung (江丙坤) and Taipei Mayor Hau Lung-bin (郝龍斌), Chen spent two hours touring the Expo Dome, two outdoor gardens designed by China's Shanghai City and Xian City in the expo's Yuanshan area, the Pavilion of Dreams in the Xinsheng Park area and the Dajia Riverside Park area.
Security agencies dispatched about 100 police officers to guard the expo venues, with police squads surrounding each entrance and exit point to prevent possible protests.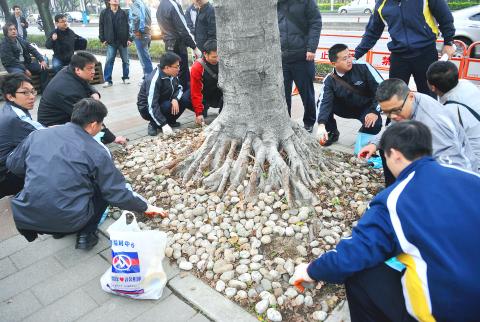 Police remove stones surrounding a tree near the Taipei International Flora Expo yesterday in preparation for a visit by Association for Relations Across the Taiwan Strait Chairman Chen Yunlin. No stone was left unturned to ensure protests against Chen did not turn violent.
PHOTO: CHIEN JUNG-FONG, TAIPEI TIMES
Plainclothes police were also spotted along the roads leading to the expo and police prepared two ambulances in the Yuanshan area. Taipei City's Police Department dismissed concerns about possible disproportionate use of police resources to protect Chen.
Arrangements for Chen to tour the expo an hour prior to the normal opening hours also attracted criticism. While denying having given Chen special treatment, Hau described him as a "national leader" who received the same VIP treatment as other foreign guests. The city government later issued a text message correcting Hau's remarks, saying that "the mayor said Chairman Chen received the same treatment as other guests."
Hau also stressed that the organizers did not remove any Republic of China (ROC) national flags hanging inside or outside of the expo venues.
"The expo maintained its normal operations and no national flags were removed. Chairman Chen was actually able to see the flags during the visit," Hau said.
Chen's tour arrangements meant he avoided having to pass directly in front of the entrance where a set of ROC flags are displayed.
When asked whether he had seen the ROC flags and whether he had any thoughts, Chen didn't remark, but laughed as he turned and whispered something to his wife.
The tight security successfully prevented protests inside the expo site.
About 30 pro-independence activists planned a protest near the expo site on Zhongshan N Road yesterday morning, but Chen's motorcade did not pass through the area.
Chen praised the expo after his visit, saying he was impressed with the creativity and advanced technology on display.
ADDTIONAL REPORTING BY STAFF WRITER
Comments will be moderated. Keep comments relevant to the article. Remarks containing abusive and obscene language, personal attacks of any kind or promotion will be removed and the user banned. Final decision will be at the discretion of the Taipei Times.