Commissioner threatens probe protest
EQUAL TREATMENT? The Tainan County commissioner, who was questioned about alleged bribes, said that prosecutors targeted DPP officials, but spared KMT politicians
Outgoing Tainan County Commissioner Su Huan-chih (蘇煥智) of the Democratic Progressive Party (DPP) yesterday accused prosecutors of discriminating against politicians in the pan-green camp and threatened to launch a protest if they abuse their power.
Su's remarks came after Tainan prosecutors searched his residence, the county government and a construction company on Friday as they investigated alleged irregularities relating to a development proposal for a special zone in the Southern Taiwan Science Park. They summoned Su at 8pm on Friday to answer -questions about allegations that he had solicited NT$100 million (US$3.34 million) in bribes from the construction company.
The director of the county government's Urban and Rural Development Department, Wu Hsin-hsiu (吳欣修), was also questioned and released without bail on Friday evening. Su was released without bail after two hours of questioning.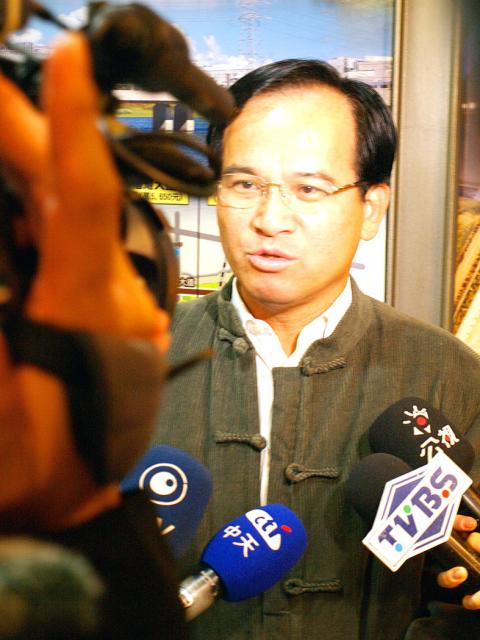 Tainan County Commissioner Su Huan-chih comments on an investigation into -alleged irregularities relating to a development proposal for a special zone in the Southern Taiwan Science Park.
PHOTO: CNA
Prior to the questioning, Su said that the investigation was political persecution and he threatened to stage a hunger strike in front of the Tainan District Prosecutors' Office.
"I can not tolerate prosecutors choosing DPP politicians as their targets, but sparing Chinese -Nationalist Party (KMT) officials," he said, referring to a previous investigation into the Taipei City Government's involvement in the Xinsheng Overpass scandal.
"We didn't see prosecutors search Taipei Mayor Hau Lung-bin's (郝龍斌) office or summon him for questioning, nor have we seen prosecutors search the Taipei County Government when Taipei County Commissioner Chou Hsi-wei's (周錫瑋) secretary was suspected of taking bribes," Su said.
He also accused the administration of President Ma Ying-jeou (馬英九) of persecuting pan-green politicians to boost Ma's chances of re-election in 2012.
Denying that it targeted pan-green politicians for investigation, the prosecutors' office released a statement yesterday saying that it is concerned with whether there are irregularities and finding solid evidence, rather than with the political affiliation of those involved.
The office said that it considered the truth to be black or white, not green or blue, and it urged Su not to overreact.
The prosecutors said the probe stemmed from their suspicion that the Yu-li Construction Co (友力營造公司) had planned to bribe county government officials.
The Taipei-based company had been interested in a county government construction proposal in the special zone, but in the end did not win the bid.
Following Friday's questioning, Yu-li's president Lin Cheng-fu (林正富) and a board member surnamed Liang (梁), were detained by Tainan judges after prosecutors filed a request with the judges to have them kept in custody.
According to Su, Yu-li Construction eventually gave up its bid and consequently did not win.
"Given that, how could a company be involved in an alleged scandal without any business contract with the county government?" Su asked.
Commenting on the case, the DPP said Su has a good reputation and was known as a person of integrity and that the party believed he is a clean politician. Su is to step down from his county commissioner post on Dec. 24 as Tainan County officially merges with Tainan City and is upgraded to a special municipality on Dec. 25.
ADDITIONAL REPORTING BY STAFF WRITER
Comments will be moderated. Keep comments relevant to the article. Remarks containing abusive and obscene language, personal attacks of any kind or promotion will be removed and the user banned. Final decision will be at the discretion of the Taipei Times.