2010 ELECTIONS: Hau Lung-bin wins in Taipei
RE-ELECTION SWEET: Taipei's mayor won another term in office by taking 10 out of 12 districts, losing only in the traditional pan-green stronghold of Datung
Taipei Mayor Hau Lung-bin (郝龍斌) won re-election last night with a decisive victory over his Democratic Progressive Party (DPP) rival, Su Tseng-chang (蘇貞昌), continuing the Chinese Nationalist Party's (KMT) decade-long hold over a traditionally pan-blue stronghold.
Hau took an immediate lead as vote counting began at 4pm, winning 55.65 percent of the vote to Su's 43.81 percent. Hau received 797,865 votes, against Su's 628,129.
Although Su tried to attract younger voters with the use of online social networking and threatened Hau throughout the campaign with growing support, he lost in almost all 12 districts, securing the traditional DPP stronghold of Datung District (大同), where he beat Hau by more than 10,000 votes and and Shihlin District (士林).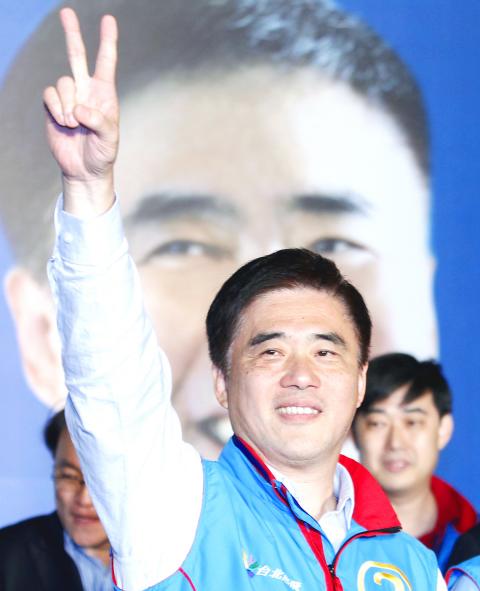 Taipei Mayor Hau Lung-bin of the Chinese Nationalist Party (KMT) celebrates his re-election at his campaign headquarters in Taipei last night. He won 10 out of the city's 12 districts.
Photo: Nicky Loh, Reuters
However, the mayor failed to substantially increase his margin of victory, winning 169,736 more votes than Su, a slight improvement compared with the December 2006 election, in which he won 166,000 more votes than the DPP candidate Frank Hsieh (謝長廷). Hau defeated Su by 12 percentage points, 1 percentage point less than against Hsieh.
This was far from the record set by President Ma Ying-jeou (馬英九) in 2002 when he won re-election as Taipei mayor by a 28-percentage-point margin against the DPP's Lee Ying-yuan (李應元).
About four hours after the polls closed, the 58-year-old Hau announced his victory and gave a speech from his campaign headquarters, thanking his supporters for giving him four more years to serve the city as hundreds of supporters cheered in celebration.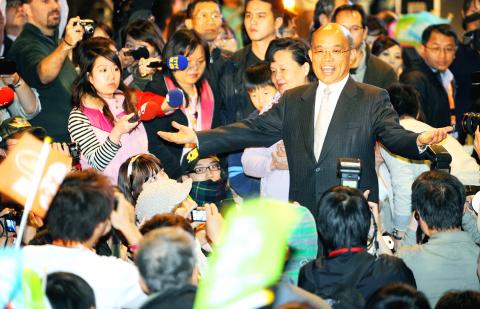 Democratic Progressive Party candidate Su Tseng-chang talks to supporters and reporters after conceding defeat last night in the Taipei mayoral election.
Photo: Chang Chia-ming, Taipei Times
"Taipei residents, I love you all! Tonight's election result is a solid endorsement of me and the city administration … This election was not a choice between Hau and Su, nor a choice between the KMT and the DPP. It's about making a choice for Taipei's future," he said.
Accompanied by KMT officials, including former KMT chairman Wu Poh-hsiung (吳伯雄), members of his municipal team and his wife, Hau promised to make use of advice he received during the campaign, including some from Su, and use the next four years to turn Taipei into a "first class" city that is passionate, friendly and prosperous.
"Mr Su has highlighted many municipal problems. I will accept his opinions with humility and include his suggestions in planning municipal projects. I will do my best to make Taipei a better city," Hau said.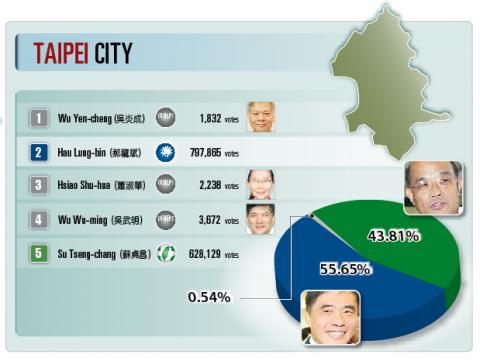 GRAPHIC: TT
Describing the election as "the most difficult battle ever," Hau promised that during his second term, he would promote technology development in Shilin and Beitou, and develop low-lying Shezi Island (社子島) and the Tamsui River.
A shooting at a KMT campaign rally in Taipei County on Friday night, in which Sean Lien (連勝文), the son of former KMT chairman Lien Chan (連戰), was shot in the face, is believed to have prompted more pan-blue supporters to come out and vote, thereby giving Hau an easier win than had been expected, given the race had turned into a neck-and-neck battle.
"It feels great to celebrate the victory with the crowd. Besides, we cannot let Sean Lien bleed in vain," said Wang Cheng-an (汪承安), a Hau supporter.
Hau led supporters in prayers for Sean Lien, but declined to comment on whether he thought the shooting had influenced the election.
Meanwhile, Su apologized for failing to win, but pledged to "move forward as long as we are walking in the right direction."
"Throughout the campaign, I always insisted on engaging in conversation with residents and avoiding negative campaigning. Although the result is not ideal, I believe that one day this fresh campaign strategy will set an example and become a mainstream value," the former premier said as he was surrounded by a crowd that included his wife.
Pan-green supporters waved Su's flags and cheered his every word, with some shouting "Go for the presidency!"
Su, a likely DPP presidential hopeful for the 2012 election, did not respond to the call, but urged supporters not to be discouraged by his defeat.
He also congratulated Hau on his victory.
Comments will be moderated. Keep comments relevant to the article. Remarks containing abusive and obscene language, personal attacks of any kind or promotion will be removed and the user banned. Final decision will be at the discretion of the Taipei Times.