A golden day in Guangzhou for Taiwanese athletes
Taiwanese athletes raced their way to four gold medals and two silvers yesterday, wining the women's cycling road race and dominating the inline skating events at the Asian Games in Guangzhou, China.
Hsiao Mei-yu (蕭美玉) was victorious in the women's road cycling race, becoming the first Taiwanese rider to claim a road cycling medal in the history of the Asian Games.
She managed to out sprint Indonesia's Santia Tri Kusuma and China's Zhao Na (趙娜), who was disappointed to come home third after a grueling 100km ride.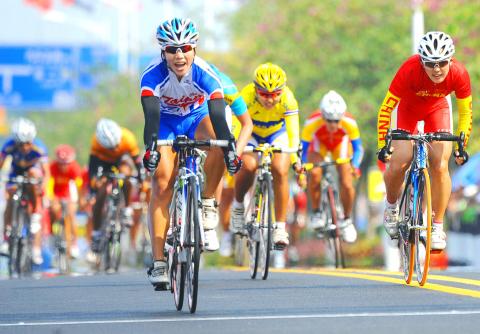 Taiwan's Hsiao Mei-Yu, center, smiles as she arrives at the finish line yesterday ahead of Zhao Na of China, right, to win the cycling women's individual road race event at the 16th Asian Games in Guangzhou, China. The race gave Hsiao her second gold medal of the Games, and brought Taiwan's haul of gold to 10.
Photo: AFP
"I'm too excited to say anything. I didn't expect to win a medal, I thought I'd just be in the top 10," said Hsiao, who was in tears as she stood on the podium to receive her gold medal.
However, it was Hsiao's second medal of the Games. She won Taiwan's first medal at the competition on Nov. 13 by taking bronze in the women's 500m time trial.
Hsiao finished yesterday's five laps in two hours, 47 minutes, 46.12 seconds, with Kusuma finishing 0.4 seconds behind and Zhao 0.51 seconds back.
Hong Kong's Diao Xiaojuan (刁小娟) dislocated her shoulder in one of two spectacular pile-ups and was unable to finish the race, while Japan's defending champion and pre-race favorite Mayuko Hagiwara came a disappointing 14th.
Zhao, silver medalist four years ago in Doha, stood glumly on the winners' podium after her bronze.
Taiwanese inline skaters won two gold and two silver medals in the men's roller sports 300m time trial and 500m sprint races.
Sung Ching-yang (宋青陽) won gold in a time of 24.777 seconds and teammate Lo Wei-lin (駱威霖) took silver with a time of 25:026 seconds in the 300m time trial. The two beat two South Korean competitors for the top spots.
The duo then went on to finish 1-2 in the 500m sprint to cap a terrific afternoon.
Taiwan's Huang Yu-ting (黃郁婷) also took the gold in the women's roller sports 500m spint race.
Hsiao's win increased Taiwan's gold medal haul in Guangzhou to 10, surpassing the number won at the 2006 Asian Games in Doha, Qatar and equaling the total won at the 2002 Asiad in Busan, South Korea.
Comments will be moderated. Keep comments relevant to the article. Remarks containing abusive and obscene language, personal attacks of any kind or promotion will be removed and the user banned. Final decision will be at the discretion of the Taipei Times.