Typhoon slams into Vietnam leaving 22 dead
NATURAL DISASTER Nearly 170,000 people were evacuated from six provinces in Vietnam, while 320,000 were sheltering in centers in the Philippines
Typhoon Ketsana slammed into Vietnam yesterday, killing at least 22 people during floods and landslides that forced almost 170,000 people to flee their homes, officials said.
The death toll in Vietnam added to at least 246 who died in the Philippines when Ketsana, then a weaker tropical storm, devastated Manila at the weekend.
"According to our official count as of Tuesday afternoon from the local authorities, the typhoon killed 22 people," said an official with Vietnam's national flood and storm control committee. He declined to be named.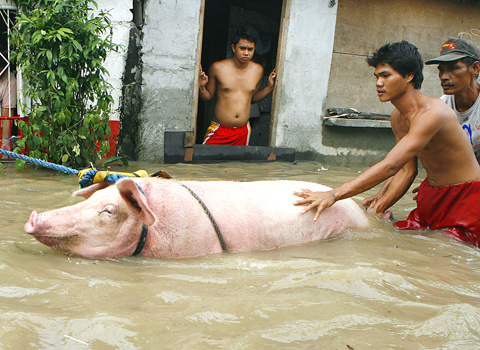 Residents wade with their pig yesterday in floodwaters brought on by Typhoon Ketsana in Binan, Laguna, in the Philippines. Authorities braced yesterday for another storm as the death toll from rain and floods from the weekend typhoon, now bearing down on Vietnam, rose to 246.
PHOTO: REUTERS
Nine of the dead perished in Kon Tum, a mountainous inland province, because of landslides and the collapse of their houses during the vicious winds and heavy rains, said Le Trong Chien, a local official in charge of storm relief.
The typhoon made landfall around 0700 GMT about 80km south of Vietnam's fourth-largest city, Danang, the national flood and storm committee said.
"What worries us is that the flooding could worsen because of heavy rain raising water levels in the rivers, in particular, rising sea water, which threatens coastal residents," said Duong Van Ngoc, vice president of Phu Vang District in Thua Thien-Hue Province.
Flooding hit parts of Danang as well as Hue, the former capital and a UNESCO World Heritage site. Fallen trees littered the streets and the Perfume River, which winds through the ancient city, had risen considerably.
Ketsana hit the coast between the two fishing provinces of Quang Nam and Quang Ngai, an official from the flood and storm committee said. Hoi An town, another World Heritage site, is located in Quang Nam.
Authorities had lost contact with Ly Son, an island in the South China Sea, state television reported.
Authorities mobilized several thousand police and military personnel with armored cars to help residents escape the typhoon's path, said Nguyen The Hung of the flood and storm control committee.
The agency said 168,585 people in six coastal provinces had been evacuated.
They were moved to schools, military camps and newly built high-rise apartments, Voice of Vietnam radio reported.
Meanwhile, hundreds of thousands of exhausted Philippine flood survivors crammed into schools, gymnasiums, churches and other makeshift shelters yesterday.
Three days after Ketsana pounded Manila and surrounding regions, officials said they were unable to cope with the enormous number of victims pouring into evacuation centers.
The government said 320,000 survivors of the devastating rains on Saturday were sheltering in hundreds of centers, while nearly 250,000 others were receiving some form of aid elsewhere.
Philippine President Gloria Arroyo described the floods as a "once-in-a-lifetime" event, and in an extraordinary move opened the Malacanang presidential palace to flood survivors.
After word of the offer spread, hundreds of people converged on the palace and received plastic bags filled with noodles and canned sardines.
"We just heard it in the news that they are giving relief goods at the palace so we walked for one hour," said street sweeper Rosette Serrano, 31, who lost everything except her clothes when her house was submerged on Saturday.
Also See: Clouds and rain might mar Moon Festival on Saturday
Comments will be moderated. Keep comments relevant to the article. Remarks containing abusive and obscene language, personal attacks of any kind or promotion will be removed and the user banned. Final decision will be at the discretion of the Taipei Times.