MORAKOT: THE AFTERMATH: Hsueh, defense minister offer to resign
NO DECISION Premier Liu Chao-shiuan said he would not consider the pair's resignations until an overall review of the Cabinet is conducted early next month
Executive Yuan Secretary-General Hsueh Hsiang-chuan (薛香川) and Minister of National Defense Chen Chao-min (陳肇敏) offered to resign yesterday after becoming magnets for criticism over the government's response to the destruction wrought by Typhoon Morakot.
Chen was criticized for the ministry's slow deployment of troops and equipment to evacuate stranded villagers, while Hsueh came under fire after he admitted attending a Father's Day dinner at a five-star hotel in Taipei on Aug. 8 while southern Taiwan was being pummeled by torrential rains.
Premier Liu Chao-shiuan (劉兆玄) confirmed that Chen and Hsueh had given him their verbal resignations.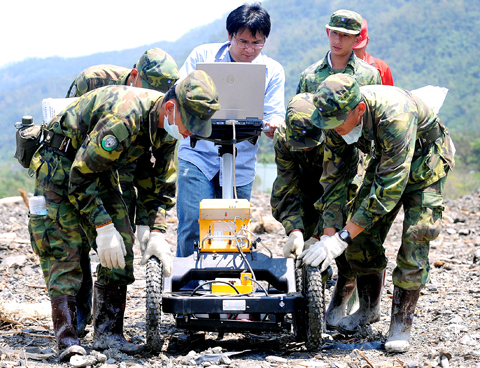 Soldiers and staff from Chaoyang University of Technology use a ground penetrating radar provided by the university yesterday to look for people buried by the landslides in Xiaolin Village, Kaohsiung County.
PHOTO: LIAO CHEN-HUEI, TAIPEI TIMES
Liu said he would not make a decision about the two men until an overall review of the Cabinet is made early next month.
"The August 8 flooding was a great trauma for the country. We devoted ourselves wholeheartedly to disaster relief and reconstruction, but what we did was perceived negatively by the public," Liu said.
I care about that very much. I feel bad, guilty and sad," the premier said.
"I wish all the people in the country could trust us and believe that we understand your sufferings and will continue to spare no effort until reconstruction is accomplished and done well," he said.
Liu, however, did not elaborate on what he saw as his responsibilities.
The premier also did not respond when asked if he would follow Ma in offering an apology to the people and skirted the question of what he might have done wrong.
Liu said he had reached an agreement with Ma that Cabinet members need to do their jobs well at this stage and that any decision on a reshuffle would be made early next month after an overall review of the Cabinet's performance.
"Of course I will be included in the overall review," Liu said.
Chinese Nationalist Party (KMT) Legislator Lo Shu-lei (羅淑蕾) yesterday urged Ma to keep his promise to reshuffle the Cabinet next month, adding that if the party was unable to empathize with the public, it should be "toppled" as well.
"The [Cabinet] team led by Liu Chao-shiuan is problematic. This is evident given its approval ratings in public opinion polls conducted by organizations at home and abroad," Lo said.
Ma would never regain the trust of the people if he only found a few scapegoats to take the blame for the government, Lo said.
Meanwhile, the Democratic Progressive Party (DPP) said the government must upgrade its compensation plan and repeated its demand that the Cabinet be reshuffled immediately.
DPP spokesman Cheng Wen-tsang (鄭文燦) criticized Liu for not offering to resign, saying the premier and the Cabinet were the main reason the typhoon escalated into a crisis and that Liu must take responsibility.
Speaking at the party's Central Executive Committee meeting, DPP Chairperson Tsai Ing-wen (蔡英文) urged the government to quickly implement the Typhoon Morakot reconstruction resolution initiated by the DPP caucus and increase its compensation offers.
The DPP has proposed that each household that was under 50cm of floodwater should receive NT$50,000 instead of the NT$20,000 set by the Ministry of Interior. The Council of Labor Affairs should also increase the hourly wage payable for victims who have lost their jobs from NT$100 to NT$150 or NT$1,200 a day, it said.
The DPP asked the government to issue interest-free loans to help victims pay their mortgages.
The DPP committee also agreed to postpone the party's annual national convention from Sept. 19 to Oct. 17.
ADDITIONAL REPORTING BY FLORA WANG
Comments will be moderated. Keep comments relevant to the article. Remarks containing abusive and obscene language, personal attacks of any kind or promotion will be removed and the user banned. Final decision will be at the discretion of the Taipei Times.