Japan's Aso dissolves parliament
Unpopular Japanese Prime Minister Taro Aso dissolved parliament yesterday, paving the way for an election late next month seen as likely to end his party's more than half-century of almost unbroken rule.
Aso, who is lagging badly in opinion polls and has struggled to quell internal party revolt, offered a rare apology to his conservative Liberal Democratic Party (LDP) lawmakers for the government's sagging support.
"My statements and what have been characterized as my changing policy positions have led the Japanese people to worry about and grow distrustful of politics," the gaffe-prone Aso said before the lower house was dissolved.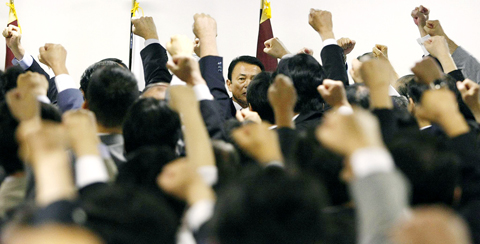 Japanese Prime Minister Taro Aso, center, raises his fist as he shouts slogans with fellow Liberal Democratic Party members at the end of the party lawmakers' meeting in Tokyo yesterday.
PHOTO: EPA
"As a result, the approval rating for the Liberal Democratic Party has fallen. I am deeply sorry," the 68-year-old prime minister said.
Several recent surveys have put support for Aso in the high teens, and most pundits expect the main opposition group, the as yet untested Democratic Party of Japan (DPJ), to win the general election on Aug. 30.
Aso's LDP lost 4 percentage points to 20 percent from two weeks ago while support for the DPJ rose by six points to 31 percent, according to the latest poll, conducted by the Asahi Shimbun newspaper at the weekend.
A succession of local election defeats, most recently in key Tokyo assembly polls this month, has prompted rebel members of the LDP to try to push Aso out of power so that the party can face the election under a new leader.
Party leaders and Aso allies have tried to ease the internal dispute, and Aso on Tuesday vowed to stay on as party chief, but discontent is simmering among many ruling party lawmakers who are likely to lose their seats.
Aso — a political blueblood from a top industrial family, known for his gruff demeanor — tried his best to rally the troops yesterday.
"My sole wish is that all of our candidates here for the lower house election shall return to this place," he told lawmakers. "To achieve this goal, there is no other way but to form a united front and fight together."
The LDP has governed Japan continuously since the party's foundation in 1955, except for one 10-month stretch in the early 1990s.
Comments will be moderated. Keep comments relevant to the article. Remarks containing abusive and obscene language, personal attacks of any kind or promotion will be removed and the user banned. Final decision will be at the discretion of the Taipei Times.