Palestinian state speech receives mixed reaction
Israeli Prime Minister Benjamin Netanyahu's conditional acceptance of a Palestinian state for the first time came under fire yesterday, with the Arab world and Palestinians saying it killed chances of a peace deal.
Netanyahu's move was welcomed by the US and EU but slammed by many at home.
After months of pressure from the US, the prime minister broke with his Likud party's ideology and endorsed the two-state solution.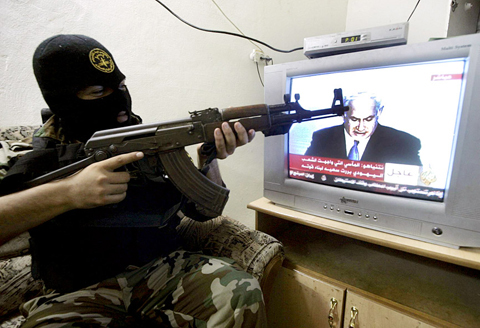 A Palestinian Islamic Jihad militant points his rifle at Israeli Prime Minister Benjamin Netanyahu as he delivers a major policy speech on television on Sunday.
PHOTO: EPA
But he set a slew of conditions — Palestinian recognition of Israel as a state of the Jewish people, their state will have to be demilitarized, have no control of its air space, no ability to forge military pacts and Israel must have ironclad security guarantees.
"Then we will be ready in a future peace agreement to reach a solution where a demilitarized Palestinian state exists alongside the Jewish state," Netanyahu said in a speech laying out peace policies of his 11-week-old government.
Palestinians blasted the address, saying the Israeli prime minister was torpedoing all hopes of a peace deal.
"He spoke of a demilitarized state, but he also stripped it of all sovereignty attributes, transforming it into a protectorate of isolated cantons," said Yasser Abed Rabbo, a senior aide to Palestinian President Mahmud Abbas.
"Netanyahu is defying the world. The international community should reply by pressure to isolate Netanyahu and his policies and force Israel to submit to the peace process," he said.
Egyptian President Hosni Mubarak said the demand that Palestinians recognize Israel as a Jewish state in a final deal "scuppers the possibility for peace."
Meanwhile, several key Likud members of parliament (MP) responded furiously to Netanyahu's endorsement of a Palestinian state.
"The prime minister caved in to American pressure. He will have to explain to his coalition why he was ready to go so far," Likud MP Danny Danon said.
"We oppose a Palestinian state and do not believe it will happen. If he moves from words to actions, he will encounter a wall of resistance," Danon said.
Netanyahu's speech followed massive pressure by US President Barack Obama's administration to renew negotiations with the Palestinians in order to reach a peace agreement.
But in his speech the prime minister rejected a key US demand to freeze settlement construction in the occupied West Bank.
Likud Minister Beni Begin told public radio he did "not accept the idea of creating a sovereign Arab state in Samaria and Judea," referring to the Jewish name of the West Bank.
The 59-year-old prime minister won strong backing from Israeli Defense Minister Ehud Barak, who faces a mutiny within the ranks of his center-left Labour party for joining the Likud-led coalition.
"This is an important step in the right direction and I have to say that Prime Minister Netanyahu showed seriousness, responsibility and courage," Barak said in a statement.
But opposition left-wing MPs slammed Netanyahu's peace overtures as not nearly enough.
"So much preparation for nothing. The prime minister proved again that he is the No. 1 peace refusenik. Bibi chose to serve the needs of the settlers and the extreme-right rather than those of Israel," Meretz MP Ilan Gil-On said.
Also See: Most Israeli Jews do not fear nuclear strike by Iran
Comments will be moderated. Keep comments relevant to the article. Remarks containing abusive and obscene language, personal attacks of any kind or promotion will be removed and the user banned. Final decision will be at the discretion of the Taipei Times.