China, Hong Kong confirm influenza cases
INCOMING ILLS In China, a 19-year-old student traveling from Canada contracted the illness. In Hong Kong, a 24-year-old man with the swine flu arrived from the US
China and Hong Kong yesterday both reported their second confirmed cases of swine flu.
In China, a 19-year-old student identified only by the surname Lu reported his symptoms to health authorities by telephone on Monday night while he was aboard a train from Beijing to his home province of Shandong, the Health Ministry said.
Lu, who arrived in Beijing from Canada on Friday aboard Air Canada flight AC029, recorded a temperature of 39˚C, a sore throat and headache.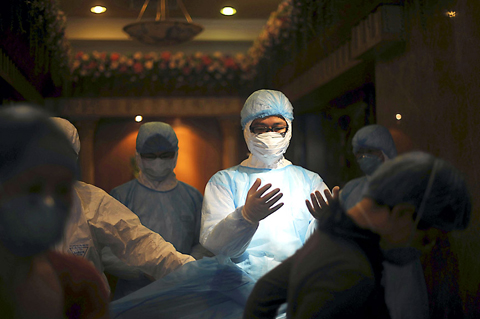 Medical workers wait to be disinfected before entering a quarantine area in Chengdu in China's Sichuan Province on Tuesday. Chinese officials monitored a suspected swine flu case — a 19-year-old man who returned from Canada last week — and searched yesterday for passengers who may have come into contact with him.
PHOTO: AP
He was isolated at a hospital in the Shandong provincial capital of Jinan. Test results yesterday ­morning confirmed Lu's infection with the H1N1 virus, the ministry said.
In Hong Kong, a 24-year-old man who recently returned from the US was put into an isolation ward in the city's Princess Margaret Hospital and was confirmed as having the H1N1 virus after his admission, a Department of Health spokesman said.
China's first confirmed H1N1 patient was recovering in the southwestern province of Sichuan after falling sick following his return from the US via Tokyo and Beijing.
More than 350 passengers who traveled on the same two flights as the 30-year-old man were placed in seven-day quarantine, the ministry said.
Chinese authorities also put 103 guests and employees at a Beijing airport hotel where the swine-flu patient stayed for a few hours on Saturday under quarantine.
At least nine foreigners are among the isolated guests, the China News Service said.
The Civil Aviation Administration of China has begun requiring air travelers to fill in health declarations before boarding domestic flights.
Airports must now check the temperatures of transiting passengers who arrive on international flights, the authority said in a statement.
It was not clear if the government would also strengthen checks on domestic train travelers.
HONG KONG
A 24-year-old patient in Hong Kong was being held in isolation in hospital, Thomas Tsang, the controller of the Centre for Health Protection, told reporters.
A further six people who sat near the man on his flight from San Francisco were also being held in quarantine, along with the man's family members who met him at the airport on Monday evening, Tsang said.
A further 45 people who sat near him on his journey had already left Hong Kong.
"He consulted a clinic at the airport and was taken to hospital. This patient did not enter the city," Tsang said.
The man was in a stable ­condition, Tsang said.
Around 300 hotel guests and staff were quarantined for a week beginning May 1 when Hong Kong's first swine-flu patient was found to have stayed at the Metropark Hotel in the city's Wanchai district. Officials said they would not take such extreme quarantine measures again.
The World Health Organization (WHO) said yesterday that 33 countries were reporting laboratory confirmed human cases of infection with the new A(H1N1) influenza virus.
The three countries included since Tuesday were Cuba, with one case, and Finland and Thailand, each reporting two cases.
There were 5,728 confirmed cases worldwide and 61 deaths, according to the latest figures posted on the WHO's Web site yesterday.
Mexico had 2,059 infections, ­including 56 deaths.
The US has reported 3,009 cases, including three deaths. There was one death in Canada from 358 instances and Costa Rica has reported eight cases, including one death.
There were no deaths from the virus outside of North America, which is also the only region to have confirmed cases of sustained human-to-human transmission of the disease.
In Europe, the hardest hit countries were Spain with 98 cases and Britain, which reported 68.
Also See: Foreign ministry to probe WHO's map color choice
Also See: CDC to test passengers on flu flight
Comments will be moderated. Keep comments relevant to the article. Remarks containing abusive and obscene language, personal attacks of any kind or promotion will be removed and the user banned. Final decision will be at the discretion of the Taipei Times.