Vouchers ready for distribution today
GET THEM NOW A total of 14,202 distribution stations will be open across the country for Taiwanese and qualified foreign nationals to pick up their vouchers
Taiwanese nationals and foreigners married to Taiwanese can pick up their consumer vouchers — worth NT$3,600 each — at designated locations today.
Taiwanese aged 20 and above who have a valid household registration can claim their vouchers by bringing their Taiwanese identity cards, personal seals and voucher notices to the designated locations, the Ministry of the Interior said.
Parents or legal guardians can claim the vouchers on behalf of minors. If the minor hasn't reached the legal age to get a national ID card, a household registration card will suffice.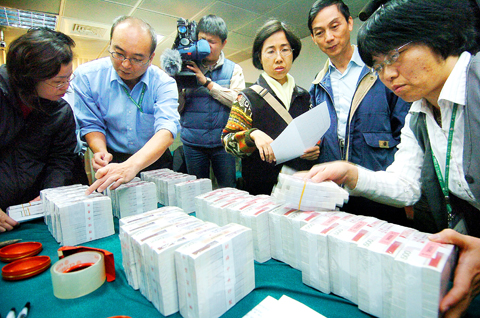 Staffers at a consumer voucher distribution station pick up consumer vouchers at a Taipei post office yesterday. Distribution of the vouchers begins today.
PHOTO: LIU HSIN-DE, TAIPEI TIMES
FOREIGNERS
Qualified foreign residents married to Taiwanese should bring their alien resident certificate (ARC) and claim their vouchers at the foreign spouse counters, the ministry said.
People who cannot claim their vouchers in person can fill out a power of attorney statement, attach it to the voucher notice and hand the documents, their national ID card or ARC to any Taiwanese who has a valid ID and household registration to claim the vouchers on their behalf.
A total of 14,202 voucher distribution stations will be open across the country from 8am through 5pm to serve Taiwanese nationals.
They will also house 485 special counters to serve foreign spouses and residents around the country.
SUPERVISORS
The ministry has asked all mayors and country commissioners, as well as 49 district directors and 319 township heads, to personally supervise the stations and make sure the distribution process runs smoothly.
In Taipei, each of the 12 districts in the city will have at least one foreign spouse counter.
Eight of these districts — Shilin (士林), Da-An (大安), Zhongzheng (中正), Neihu (內湖), Wenshan (文山), Beitou (北投), Xinyi (信義) and Wanhua (萬華) — will have three foreign spouse counters each, said Chang Wu-chang (張五常), a division chief at Taipei City's Department of Civil Affairs.
Taiwanese and qualified foreign nationals who are unable to pick up their vouchers today may still claim them at the post offices designated on the voucher notices between Feb. 7 and April 30.
More information on claiming vouchers is available at 3600.moi.gov.tw or the 0800-88-3600 toll-free hotline.
Meanwhile, the Environmental Protection Administration (EPA), which is launching a Green Product Fair at the World Trade Center in Taipei today, called on the public to spend their money on environmentally friendly products.
To attract visitors to the 220-booth fair — which is part of the Executive Yuan's "Made in Taiwan is Best" series — businesses have donated hundreds of raffle prizes, said Hsiao Hui-chuan (蕭慧娟), director-general of the EPA's Department of Supervision, Evaluation and Dispute Resolution.
"Green products are those that bear the EPA's Green Mark and include electronics products that are energy or water saving, building materials that are eco-friendly and cleaning products that do not harm the environment," she said.
A wide range of products will be sold at the fair, including paper and plastic products, eco-friendly printer ink, energy-saving lighting fixtures, soaps made from recycled oil and toys.
Although every product — from its manufacturing process to waste treatment — affects the environment, Hsiao said consumers could make a big difference if they opted for products that are recyclable.
"By spending the consumer vouchers on green products made in Taiwan, not only can they boost the local economy, but they can also promote environmental conservation," she said.
JOINING IN
From now until Feb. 28, people who spend more than NT$3,600 on Green Mark products can join its raffle draw. Prizes include a 52-inch flat screen TV, printers and bicycles, she said.
To promote the green concept, the fair will also include a section that introduces environmental policies observed in the country, and a section where children can sit and listen to volunteers tell stories, she added.
ADDITIONAL REPORTING BY CNA
Comments will be moderated. Keep comments relevant to the article. Remarks containing abusive and obscene language, personal attacks of any kind or promotion will be removed and the user banned. Final decision will be at the discretion of the Taipei Times.