Student sit-in protest enters 10th day
MOVEMENT As the number of signatures on a three-point petition grew to more than 58,000, the president invited the Wild Strawberries to negotiate this week
The student sit-in protest against alleged police brutality during a recent visit by Association for Relations Across the Taiwan Strait Chairman Chen Yunlin (陳雲林) drew more than 500 students from around the nation to Liberty Square in Taipei yesterday.
Visitors signed a three-point petition written by the students, bringing the total number of signatures backing the Taiwan Wild Strawberries Movement to more than 58,000, spokesman Hsu Jen-shou (?? said.
The petition called for apologies from President Ma Ying-jeou (馬英九) and Premier Liu Chao-shiuan (劉兆玄) over police brutality during Chen's visit, resignations of National Security Bureau Director-General Tsai Chao-ming (蔡朝明) and National Police Agency Director-General Wang Cho-chun (王卓鈞), as well as reform of the Assembly and Parade Law (集會遊行法).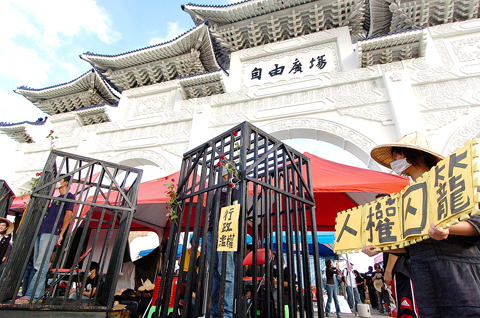 Participants in a student sit-in protest lock themselves in cages at Liberty Square in front of National Taiwan Democracy Memorial Hall in downtown Taipei yesterday. They said they would remain in the cages for 24 hours.
PHOTO: LIAO CHEN-HUEI, TAIPEI TIMES
"We will continue our protest, as we haven't received any positive response to the petition from the government," Hsu said, adding that they were considering how to increase pressure on the government as the sit-in entered its 10th day.
One student suggested the group file a lawsuit against the police based on videotapes that allegedly show police cracking down on protesters who were waving national flags.
"No abuse of power! The president and premier must apologize," the students shouted during the intervals between speeches and other protest activities.
A student from National Cheng Kung University and a student recently returned from the UK, both of whom wished not to be named, and Lin Yu-hsuan (林邑軒), a sociology graduate student at National Taiwan University, sat inside a prop that was designed to look like a cage to symbolize the repression of freedom of speech and human rights in the country under the Ma administration, Lin said, adding that they planned to sit inside the cages for 24 hours starting at 3pm yesterday.
Yen Chueh-an (顏厥安), a law professor at National Taiwan University, and Hsu Szu-chien (徐斯儉), an assistant research fellow at the Institute of Political Science at Academia Sinica, played Ma and Liu in a satirical skit to represent the politicians' "arrogant" attitude toward the students.
"I don't think we need to offer an apology. Things like this will be over in a day or two if [I] hang in there," Hsu mimicked Liu as saying.
Liu made a similar remark on Monday during a break in an ETTV interview.
Students who couldn't join the Taipei rally staged sit-ins in Hsinchu, Taichung, Chiayi, Tainan and Kaohsiung.
Lee Li-wei (李立偉), a student representative, said they hadn't been told that Ma would like to communicate with the students on condition that the students give up the first two petitions, as was reported in yesterday's Liberty Times (the Taipei Times' sister paper).
The students asked three questions of Ma — whether he agreed with criticism of excessive police force made by professor Jerome Cohen, Ma's mentor during his studies at Harvard University; what laws and regulations were police actions were based on when stifling demonstrations against Chen; and whether Ma would like to apologize for the police intrusion into rooms booked by protesters against Chen at the Grand Hotel, where Chen stayed during his visit.
At a separate setting yesterday, Ma reiterated his willingness to reform the Assembly and Parade Law. Ma lauded the students for showing their concern for the country through a sit-in protest and invited them to negotiate the issue this week.
"Democracy is something we need to learn. People should respect one another's freedom, otherwise democracy will be compromised," Ma said yesterday during an interview with M-Radio Station in Taichung City.
ADDITIONAL REPORTING BY MO YAN-CHIH
Comments will be moderated. Keep comments relevant to the article. Remarks containing abusive and obscene language, personal attacks of any kind or promotion will be removed and the user banned. Final decision will be at the discretion of the Taipei Times.