Government says no to debate with DPP leader Tsai
The Presidential Office yesterday rejected Democratic Progressive Party (DPP) Chairwoman Tsai Ing-wen's (蔡英文) invitation for a debate on cross-strait policy and national sovereignty, saying the election was over and the opposition should work together with the government to improve the economy.
Presidential Office Spokesman Wang Yu-chi (王郁琦) told a press conference that voters made a choice on March 20 to support Ma's cross-strait policies.
"There is no need for a debate because the election is over," Wang said. "However, we would still like to exchange views with Chairwoman Tsai on the issues that concern the public, not just cross-strait issues."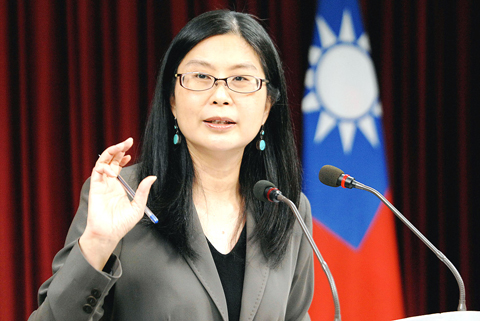 Mainland Affairs Council Chairwoman Lai Shin-yuan speaks during a press conference in Taipei yesterday. Lai defended forthcoming talks with Beijing, pledging that any agreements with China would be transparent and that Taiwan's sovereignty would not be jeopardized.
PHOTO: AFP
Wang said the office had invited Tsai for talks on several occasions but Tsai had been unable to attend, adding that she was the one who had ignored their invitations, not the other way around.
Wang emphasized that the government would continue to invite Tsai for talks about issues concerning people's livelihoods and the economy. Other possible issues that could be discussed include fighting corruption and violence, Wang said.
He said the administration would like to work with the opposition to address economic issues.
If Tsai responded positively to the request, Wang said, Ma would be happy to exchange views with her on other issues of public concern.
While Tsai has questioned whether Ma's reluctance to address the sovereignty issue might be because he has struck a deal with Beijing, Wang dismissed the allegation as "groundless" and "erroneous."
Wang said Ma had upheld the Republic of China's (ROC) status as a sovereign state and that his words and actions show he means to protect its sovereignty.
Tsai said on Sunday that Ma's initial response to her invitation was an attempt to shift the focus away from public discontent about his policies.
When asked for comment yesterday, Tsai said: "I think the most important thing Ma should do right now is to answer the questions the crowd raised at the rally."
Meanwhile, Mainland Affairs Council (MAC) Chairwoman Lai Shin-yuan (賴幸媛) yesterday said that she would like to discuss cross-strait policy face-to-face with Tsai and that she did not understand why Tsai, who once served as MAC chairwoman, had doubts about the administration's cross-strait policies because they were no different from those of the previous administration.
As the council is a communication platform between the government and the public, Lai said she was duty bound to communicate with Tsai, adding that public opinion was a reference for the formulation of government policies.
"The principle of the government's cross-strait policy is to protect national dignity and safety and preserve Taiwan's identity," Lai said. "We would like to seek consensus with the opposition under the premise that it serves the public interest. We would also like to put in place a foundation for cross-strait peace and stability."
DPP Spokesman Cheng Wen-tsang (鄭文燦) said Lai's office had called yesterday afternoon, but did not speculate on whether Tsai would accept the invitation.
Lin Cheng-wei (林成蔚), head of the DPP's Department of International Affairs, said that Lai should report to the DPP legislative caucus on cross-strait policy.
ADDITIONAL REPORTING BY RICH CHANG
Comments will be moderated. Keep comments relevant to the article. Remarks containing abusive and obscene language, personal attacks of any kind or promotion will be removed and the user banned. Final decision will be at the discretion of the Taipei Times.