PRC official receives 'special welcome'
HECKLED After a protester interrupted a planned speech by the vice chairman of China's ARATS, Tainan National University canceled his activities for two days
One of China's top negotiators yesterday experienced firsthand a "special welcome" from Tainan residents as a group of protesters disrupted his speech at an academic forum.
Zhang Mingqing (張銘清), vice chairman of China's Association for Relations Across the Taiwan Strait (ARATS), arrived in Taiwan on Sunday at the head of a 21-member Chinese academic delegation to attend the 2008 Cross-Strait Academic Symposium on Mass Communications and Image Arts at Tainan National University of the Arts in Guantian Township (官田), Tainan County.
Before Zhang was to speak at the auditorium, a man holding a banner reading in English "Taiwan is independant [sic], not a part of China," sprinted up to the podium and began shouting slogans. The man, surnamed Chang, was escorted away with two other protesters, one man and one woman.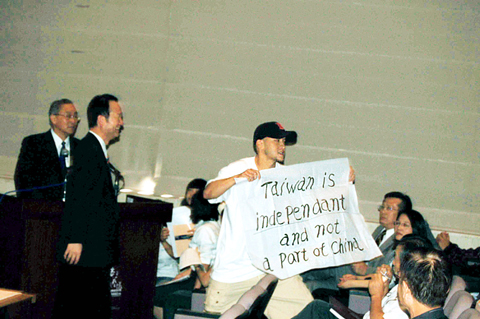 A protester holds up a sign in front of Zhang Mingqing, vice chairman of China's Association for Relations Across the Taiwan Strait, at an academic forum at Tainan National University yesterday. Zhang's speech was canceled after the protest.
PHOTO: LIU WAN-CHUN
Chang later told reporters he was just a normal Taiwanese and that he was not a member of the Democratic Progressive Party (DPP).
The graduate student from National Cheng Kung University said he was born in the US to Taiwanese parents and came back eight years ago to learn Hoklo (also known as Taiwanese) and Taiwanese culture.
"There are many people around the world who have deep respect for Taiwan," he said in Hoklo. "I don't want to see Taiwan bullied."
Chang said he and the other protesters hid the banners in their bags to pass through the security check. Security personnel reluctantly let them in after they failed to show identification cards.
Outside the venue, protesters demanded that Zhang apologize to Taiwanese for China's export to Taiwan of dairy products and food ingredients that were tainted with the toxic industrial chemical melamine.
They demanded that Zhang either meet them to apologize and hear the voices of Taiwanese or cancel all his activities in Taiwan.
"If our demands are not met, we'll follow him and protest wherever he goes during his stay in Taiwan," the activists said
In response, university staff said that Zhang was attending the symposium in his capacity as dean of Xiamen University's School of Journalism and Communication and the seminar was an academic gathering that had nothing to do with politics.
Zhang did not give his speech and after discussions, the university authorities canceled all his appearances for the next two days.
The other Chinese experts and academics, however, maintained their schedule at the symposium. They are scheduled to make field trips to other universities in southern Taiwan today.
Visibly amused by the protest, Zhang told the audience that the organizer told him that Tainan residents were very "hospitable" and that they would welcome him and the delegation in a "special" way.
"I did not expect to see the special welcome happen so suddenly," he said. "I think we see some things very differently."
Asked about a comment from President Ma Ying-jeou (馬英九) about reaching a peace accord during his term in office, Zhang said: "It's hard to say" and that it would depend on negotiations.
In addition to the protest at the auditorium, about 20 protesters gathered outside the university and clashed with police as they tried to enter the campus.
Chanting "Taiwan does not belong to China," they held banners reading "Red China, get out!"
Protesters dispersed after Tainan City Councilor Wang Ding-yu (王定宇) of the DPP announced that they had "scored a victory" because Zhang's activities had been canceled.
In related news, the DPP caucus said yesterday that the party would protest against ARATS Chairman Chen Yunlin (陳雲林) if he failed to offer an apology and compensation for allowing contaminated products to be exported to Taiwan.
Chen is scheduled to visit Taiwan later this month or early next month for a second round of negotiations with his Taiwanese counterpart, Straits Exchange Foundation Chairman Chiang Pin-kung (江丙坤).
DPP caucus whip William Lai (賴清德) told a press conference that while Chinese Premier Wen Jiabao (溫家寶) had said the Chinese government was partly responsible for the tainted milk scandal, the DPP caucus would demand that Chen represent his country in offering an apology and compensation for the contaminated food products.
"If Chen refuses to do so, will President Ma Ying-jeou (馬英九) dare to represent Taiwanese and demand an apology from Chen?" Lai asked.
The DPP would pressure the government to be tougher when handling the matter, Lai said.
DPP Legislator Yeh Yi-ching (葉宜津) said more than 200 food products have been withdrawn because of toxic chemicals, resulting in losses of NT$4 billion (US$122.7 million) and shaking consumer confidence in the country's food market.
Meanwhile, the DPP has decided to postpone its nomination of candidates for next year's local government elections until next month to focus on the impact of Chen Yunlin's visit, a DPP official said on Sunday.
Su Jia-chyuan (蘇嘉全), a former interior minister, made the remarks in his capacity as head of the party's strategic task force for the city and county chief elections late next year.
"The DPP has decided to postpone the nomination of the first batch of its candidates for the elections in view of the upcoming visit by Chen Yunlin and will set a date depending on the consequences of Chen's visit," Su said.
This time around, the DPP will field its candidates for next year's local government elections through internal consultations rather than a primary vote within the party, in a bid to maximize its chances of victory in the polls.
Comments will be moderated. Keep comments relevant to the article. Remarks containing abusive and obscene language, personal attacks of any kind or promotion will be removed and the user banned. Final decision will be at the discretion of the Taipei Times.