Economy needs government help: Bush
12INTERVENTION NECESSARY In a nationally televised address before the US markets opened, Bush said the US Congress must act or face 'painful' consequencesUS
US President George W. Bush said the US economy was depending on decisive action from the gov-ernment or the economic damage to the US would be "painful and lasting" if Congress fails to pass a US$700 billion bailout bill.
"I assure our citizens and citi-zens around the world that this is not the end of the legislative pro-cess," Bush said yesterday as he sought to calm jittery world mar-kets a day after the US House of Representatives voted narrowly to defeat the massive relief measure that his administration and leading members of Congress had agreed was necessary.
He pledged that his economic advisers would press ahead this week with talks with key lawmak-ers aimed a formulating legislation to deal with what analysts have called the worst US fi nancial crisis since the Great Depression.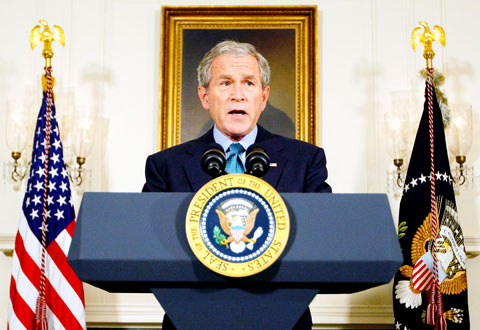 US President George W. Bush talks about the economic bailout bill and fi nancial crisis yesterday in the Diplomatic Reception Room of the White House in Washington.
PHOTO: AP
"Congress must act," Bush said at the White House.
He also said "it matters little what path a bill takes to become law. What matters is that we get a law. We're at a critical moment in our economy."
Bush said he acknowledges "this is a diffi cult vote for members of Congress" and that many are uncomfortable with what's trans-piring in the economy.
But he also declared: "We're in an urgent situation and consequences will grow worse each day we do not act. If our nation continues on this course, the economic damage will be painful and lasting."
"We're facing a choice between action and the real prospect of economic hardship for millions of Americans," Bush said. "For the fi nancial security of many Ameri-cans, Congress must act."
The Dow Jones industrial aver-age was up 1.73 percent in early trade after Bush's speech, and the Standard & Poor's 500 Index ad-vanced 2.2 percent. The dollar rose 1 percent against the yen and oil rebounded by more than US$2 a barrel as fears about a worldwide fi nancial meltdown eased.
The House's rejection of the bail-out had sent shockwaves around the world earlier yesterday, hitting European banks, putting global markets into a new spin and policy-makers on the edge of despair.
World leaders expressed alarm at events in Washington and on international markets.British Prime Minister Gordon Brown said he had sent a message to the White House to underline "the importance that we attach to taking decisive action."
Japanese Prime Minister Taro Aso said: "We should not let the world fi nancial system collapse."Australian Prime Minister Kevin Rudd said that he and other US allies would press Washington to take action after what he called the "bad development" of the vote in the House.
French President Nicolas Sar-kozy began talks on the crisis with fi nance executives yesterday. He has said he will meet this week with offi cials from Europe's G8 member states.
US Treasury Secretary Henry Paulson warned US lawmakers they had to act fast after his plan was dramatically rejected.
"Markets around the world are under stress," said Paulson, archi-tect of the proposal under which the US government would buy up to US$700 billion of bad mortgage-related assets from banks, wiping dodgy debts from their balance sheets to free them up to start lend-ing again.
Many lawmakers blamed the Nov. 4 general election for the fail-ure of the plan, which has proved unpopular with the public.
Central banks again pumped out huge sums to keep global banking liquid with the European Central Bank renewing one-day loans of US$30 billion and the Japanese central bank injecting ¥3 trillion (US$28.8 billion).
France and Ireland reassured people with deposits in banks that their money was safe, while Japa-nese ministers voiced hope the US would take quick action.
Also See: House deals death blow to bailout bill、Things may be bad, but we've seen far worse、Global shares slide on rejected bailout
Comments will be moderated. Keep comments relevant to the article. Remarks containing abusive and obscene language, personal attacks of any kind or promotion will be removed and the user banned. Final decision will be at the discretion of the Taipei Times.