Community Compass: French Canadian touts his organic dream in Taiwan
'REVOLUTIONARY AGRICULTURE' Saying 'you are what you eat,' the expat farmer tells people everywhere they should eat healthy produce grown with kitchen scraps
Most people might be known for one accomplishment in their lives, but Pierre Loisel is known for five before he turned 60.
He has been a computer "whiz kid" who helped the Apollo II reach the moon, a young Jesuit missionary who traveled to China to help the poor, and a Taiwan-lover who inadvertently influenced computer giant Hewlett-Packard (HP) in its decision to set up their Asian headquarters here.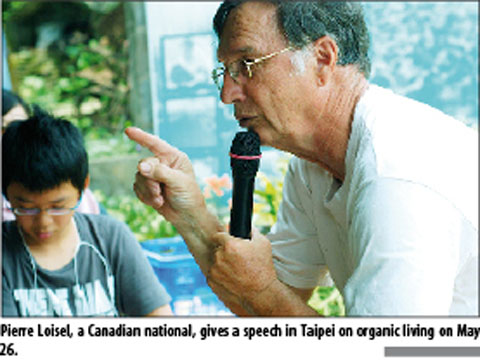 Pierre Loisel, a Canadian national, gives a speech in Taipei on organic living on May 26.
PHOTO COURTESY OF ASKA LIN
He also launched the Chinese computer interface, and was one of the few foreigners to have the Taiwanese security clearance of a three-star general.
But now, tucked away in Taipei County's Sanjhih Township (三芝), the 68-year-old Canadian native grows organic bok choy and eggplants that are so beautiful they make you want to weep.
"Organic farming is the future in agriculture ... If developed into a field, it could be one of Taiwan's biggest sources of income," Loisel said, sipping Taiwan Beer on a wooden picnic chair on his patio.
A firm believer of "you are what you eat," the farmer calls his method "revolutionary agriculture," and says that people should eat good food to stay healthy, adding that his produce, grown with kitchen scrap compost fertilizers, is unique.
After spending six hours in Loisel's company, you realize that his "switch" from being a businessman to a farmer — he is the former vice president of MiTac and HP-Taiwan — was not a drastic one. In fact, it was perfectly natural.
Loisel was motivated by many things, but what prompted him to trade in his suit for farming overalls was the love he felt for his family.
"One day, when my son was seven, he said, 'Father, why don't I ever see you' — I retired that same day," Loisel said.
Loisel, speaking of how his priorities have changed, said: "I was turning to the family, and I wanted to give it time; I [also] wanted a successful life in marriage."
One thing led to another.
When the retired Loisel served on the parent-teacher association of his daughter's school, he had to clean a dirty school toilet to get his daughter to use the bathroom, he said.
"Then we realized that the beach [around us] was a dump ... We thought that it was time to move back to Canada, but we really liked Taiwan, so [instead], I pushed for the construction of Taiwan's first incinerator," he said.
As time went on, the incinerator produced more problems than it solved. When garbage was burned, kitchen waste would clog the incinerator or emit toxic gas such as dioxins.
"We needed to compost," Loisel said.
"I paid a visit to [former] environmental protection minister Tsai Hsun-hsiung (蔡勳雄) and he told me that the government had already spent NT$200 million on composting Chinese table scraps in the past eight years [to no avail] ... However, I never gave up. There was no reason for that," he said.
Loisel spent 78 hours doing Internet research, and found that dairy, meat and seafood could not be composted, he said.
"I searched for experts in the field ... After speaking to National Taiwan University professor Wu San-he (吳三和), I learned that previous efforts failed because they could not meet the heat transfer needs — your start-up pile of 'dump' needs to be at least seven tonnes for bacterial activity to heat the pile to 60ºC, which is the 'magic number' for making it compost," he said.
For five days a week, Loisel went to Jiantan Elementary School, which was next to his wife's office, and collected kitchen waste to start his compost pile, he said.
Though he had never spent a day farming, Loisel worked out the kinks and now runs a half-hectare farm that produces a wide range of vegetables.
During the interview, he was interrupted at least a dozen times to take calls for orders.
"Chinese table scrap compost is the most nutritious in the world. The vegetables grown with it develop defensive capabilities against bugs. So there is less work with spraying pesticides, and the vegetables are healthier. Also, [though many say salt in the soil is a barrier] my compost has bacteria that takes salt and makes it accessible to plants," Loisel said.
The net result, Loisel said, "is that I come up with a product unique to the world."
Loisel's vegetables sell for up to NT$180 for roughly 600g, about five or six times the price of produce in the country, and about twice that of organic vegetables grown by other farmers, Loisel said.
"I want to increase the price for good quality produce in Taiwan, since Taiwanese are not paying enough for good quality," he said.
In the organic market, the most expensive vegetables sell for NT$96 per 600g, but farmers would get about NT$48 out of that, he said, adding: "This is not enough to cover cost, especially if you take into consideration natural disasters like heat or typhoon."
If the organic farmer cuts out the middleman and sells directly to customers as Loisel does, he can earn higher profits and maintain a buffer to stay honest without cheating with pesticides, Loisel said.
"With my farming model, a couple can earn a good living ... Farming is never easy, but it is not slave work," Loisel said.
But money is not the most important thing on Loisel's mind when it comes to expanding his organic empire, he said.
"If a person eats whatever is available, the chance of him getting cancer by the age of 60 is near 100 percent," Loisel said, adding, "The only way to fight that trend is to eat good food."
"This is sustainable farming — you pick up kitchen waste locally, compost it, and turn it into food," he said.
The model is already working, Loisel said, adding that his next step is to open up a school to teach his method of "revolutionary agriculture," he said.
So far, his list of potential pupils has exceeded 50, he said.
Comments will be moderated. Keep comments relevant to the article. Remarks containing abusive and obscene language, personal attacks of any kind or promotion will be removed and the user banned. Final decision will be at the discretion of the Taipei Times.