Broker adds new twist to fund scandal
MAN ON THE RUN Wu Shi-tsai said that his partner, Ching Chi-jiu, may be hiding in China and that he met him in Shanghai during the Lunar New Year holiday
More questions over the missing US$30 million foreign affairs scandal emerged yesterday after Wu Shi-tsai (吳思材), one of the brokers involved, accused the deputy defense minister of being a key handler in the deal and claimed that Papua New Guinea had only asked for US$20 million, or US$20 million less than the offer Taiwan received from the brokers.
Wu, who made his first public appearance after the scandal broke on Thursday, said he believed his missing partner, a US citizen whom he accused of siphoning off the entire fund, was on the run in China.
In August 2006, the 56-year-old Wu, a Singaporean, and his partner, Ching Chi-jiu (金紀玖), were commissioned by the Taiwanese government — or more specifically the Ministry of Foreign Affairs (MOFA) and then-National Security Council secretary-general Chiou I-jen (邱義仁) — to act as intermediaries in attempts to forge diplomatic relations with Papua New Guinea. Chiou is now vice-premier.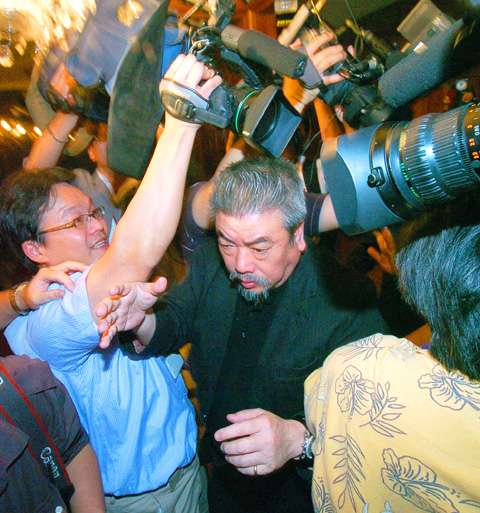 Wu Shih-tsai, one of the key men in the Papua New Guinea fund scandal investigation, makes his way through a group of photographers in Taipei yesterday.
PHOTO: WANG MIN-WEI, TAIPEI TIMES
MOFA later agreed to wire US$30 million into Wu and Ching's joint account at Singapore's OCBC Bank. The money, Minister of Foreign Affairs James Huang (黃志芳) said, was meant to "secure the interests" of the Papuan government and would have been transferred to its government after both countries had signed a diplomatic communique.
However, when the two countries failed to form official ties in December that year, Ching allegedly refused to give back the money and has since been incommunicado. However, Wu said he saw Ching in Shanghai during the Lunar New Year holiday this year and urged him to explain himself to Taipei.
"He [Ching] said he would take care of it, but also told me not to return to Taiwan. I believe he is still somewhere in China," Wu said.
Throughout the affair, Ching was his only contact from the Taiwan side, Wu said. It had been arranged so that Wu would represent the Papuan side while Ching would act on behalf of Taiwan.
Wu was told by Ching that all instructions had to come from Chiou, whom he called "the boss."
His role, Wu said, was to relay messages from the Papuan government on the terms and conditions for the South Pacific island to sever relations with Beijing and bring Papuan officials to Taiwan for formal meetings.
"I told Ching the Papuans asked for US$20 million," Wu said. But after a few days, Ching allegedly came back to Wu and instructed him to request US$40 million from MOFA.
The foreign minister reportedly disagreed with the amount and insisted on bringing it down to US$30 million.
Despite the agreed US$30 million, the deal fell through when Taiwan changed its mind on the relationship because the Papuan government was unable to deliver on the demands made by Huang.
Wu said that shortly after the fallout, Ching contacted him in Singapore and told him that the US$30 million had to be transferred to Ching's personal account and that Ching would then bring the money back to Taiwan.
Wu said he met deputy defense minister Ko Cheng-heng (柯承亨) in a meeting and that Chiou had been the one who had introduced him to Wu.
Chiou confirmed yesterday that Ko had introduced him to Ching, but said that Ko "had no role" in the government's attempt to establish diplomatic relations with Port Moresby with Ching and Wu's help.
Chiou denied it was his idea to ask Huang to withdraw from the negotiation with the Papuan government and that he had instructed Ching to transfer the money from the joint account to Ching's personal account.
Commenting on Wu's claim that he had been threatened, Chiou said the government would provide for Wu's security if needed.
"Othersise, things could get worse," he said.
Chiou was questioned by prosecutors on Friday night.
Premier Chang Chun-hsiung (張俊雄) said yesterday: "I don't think Chiou and Huang should step down for this."
Chiou and Huang have not offered to resign over the matter.
Also See: 標題
Comments will be moderated. Keep comments relevant to the article. Remarks containing abusive and obscene language, personal attacks of any kind or promotion will be removed and the user banned. Final decision will be at the discretion of the Taipei Times.