Search for missing divers continues
An extensive search and rescue effort continued yesterday for eight scuba divers missing in waters off Kenting National Park, but none had been found as of press time.
The Coast Guard Administration has been searching for the missing divers since Saturday afternoon.
Yesterday morning six cutters searched eight areas near where the group went missing. Four helicopters from an airborne police unit and six coast guard patrol boats scoured waters near Chihsingyen (Seven Star Rock), a popular diving spot off Kenting National Park.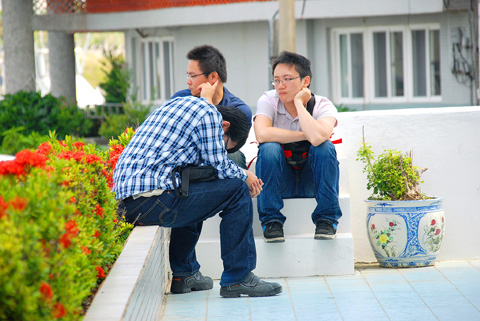 Friends of Wang Shun-ping, one of eight divers missing in the waters off Kenting National Park, wait for news about the rescue mission yesterday.
PHOTO: TSAI TSUNG-HSIEN, TAIPEI TIMES
Coast guard official Hsu Yung-kang (徐永康) told reporters that the search would last at least 72 hours.
The anxious families of the missing divers have been gathered in a small seaport near Kenting since Saturday evening. Yesterday they hired several tourist boats so they could personally join the search along with more than 20 fishing boats that also volunteered.
Hsu said the coast guard was focusing on waters off Taitung County in particular, because the strong current might have carried the missing divers to the northeast.
The seven divers — five men and two women — plus a diving coach were reported missing while scubadiving in waters near Chihsingyen, 22km southwest of Kenting, Pingtung County.
They left for Chihsingyen along with four other people aboard a yacht early on Saturday morning. The 12 began diving in waters between Oluanbi and Chihsingyen at 10:30am and were supposed to return to the yacht at 11:30am.
However, eight of them failed to return to the yacht on schedule. The yacht's skipper could not locate the missing divers and reported the case to the Hengchun coast guard.
The yacht's skipper Liu Chung-yu (劉中裕) returned to Kenting in the evening.
He told the officers that he had located the divers near his yacht by the bubbles produced by their exhaled breath but the bubbles suddenly disappeared and the divers did not return.
The coast guard said the eight are all experienced divers.
In an accident in the same area nine years ago, six divers were washed away by strong ocean currents, but four were rescued after 30 hours.
Premier Chang Chun-hsiung (張俊雄) yesterday ordered an all-out effort to find the missing divers.
Government Information Office Minister Shieh Jhy-wey (謝志偉) said that Chang urged rescue workers not to give up.
He also called on the general public to be careful when taking part in outdoor activities, particularly refraining from diving in dangerous waters, Shieh said.
Comments will be moderated. Keep comments relevant to the article. Remarks containing abusive and obscene language, personal attacks of any kind or promotion will be removed and the user banned. Final decision will be at the discretion of the Taipei Times.