Inter-Korean rail service resumes after five decades
North and South Korea began regular cargo train service across their heavily armed border yesterday for the first time in more than a half century, in another symbolic step in their reconciliation.
The 12-car train carried construction materials to a North Korean border station, and then returned home carrying shoes, underwear and other items produced at a South-North joint industrial complex in Kaesong.
The service is one of the tangible results of an October summit between North Korean leader Kim Jong-il and South Korean President Roh Moo-hyun that outlined a series of joint projects. It comes months after the two sides conducted a one-time test run of passenger trains on two reconnected tracks on the western and eastern sides of the Korean Peninsula.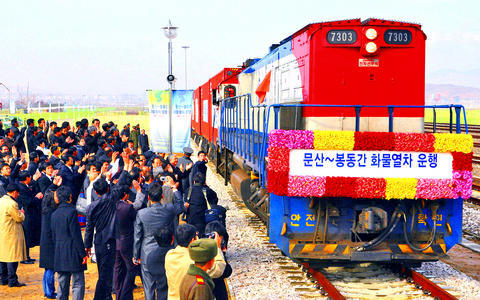 North Koreans wave as the first South Korean cargo train arrived at Panmun Station in the North Korean border city of Kaesong yesterday, the first regularly scheduled cargo service across the border in more than a half-century.
PHOTO: AP/YONHAP
The cargo train is to make a 16.5km round trip every weekday to North Korea. It remains unclear whether regular passenger train service will start anytime soon, but one of the train's engineers was hopeful yesterday.
"I expect a day will come when South Koreans visit North Korean tourist attractions freely by train," Shin Jang-chul, whose parents are from what is now North Korea, told reporters before departing.
South Korea hopes the inter-Korean railway will ultimately be linked through North Korea to Russia's Trans-Siberian railroad and allow an overland route connecting the peninsula to Europe.
"Though we start with a cargo train, it will lead to a passenger train service and will soon be linked to the continental trains," Lee Chul, president of Korea Railroad, told reporters. "The economic benefits are countless."
The cargo rail service is likely to give a further boost to the sprawling Kaesong complex, which marries South Korean technology and management expertise with the North's cheap labor.
Currently, 64 South Korean companies operate factories there, employing about 21,600 North Korean workers and producing a range of goods including watches, clothing and shoes.
Meanwhile, South Korea's navy rescued five North Korean fisherman who drifted for 27 days after their ship's engine failed and ended up in Southern waters, Yonhap news agency reported yesterday.
The five were being treated for hypothermia and malnutrition, and would be allowed to return to the North if they so wished, Yonhap quoted a South Korean navy official as saying.
In other news, Pyongyang accused the US yesterday of being reckless criminals trying to stir up war with its recent deployment of fighter jets and other armaments in and around South Korea.
"Such moves are a part of the US conservative hardliners' invariable hostile policy toward the DPRK [North Korea] and a reckless criminal act of chilling the denuclearization process in the Korean Peninsula and driving the situation into the brink of war," said the communist party mouthpiece, Rodong Sinmun.
The report comes just days after US President George W. Bush made his first direct appeal to Kim Jong-il in a letter delivered last week. Bush urged Kim to make good on his country's pledge to disable its nuclear arms complex and declare all of its nuclear activities.
Comments will be moderated. Keep comments relevant to the article. Remarks containing abusive and obscene language, personal attacks of any kind or promotion will be removed and the user banned. Final decision will be at the discretion of the Taipei Times.