Final `Potter' saga hits bookshelves worldwide
At midnight, like magic, Harry Potter appeared.
Bookstores across Britain and as far away as Singapore and Sydney threw open their doors to sell Harry Potter and the Deathly Hallows, the seventh and final volume of the boy wizard's adventures.
Eager readers, many of whom had lined up for hours, rushed from the tills, opening their thick hardback books to take in the opening words: "The two men appeared out of nowhere, a few yards apart in the narrow moonlit lane."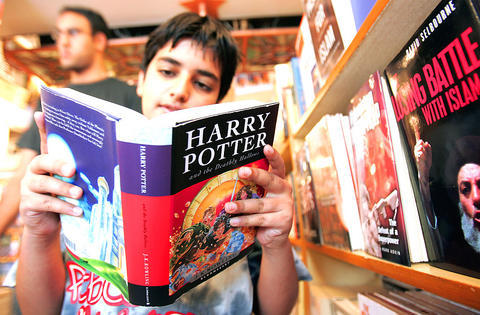 A boy reads a copy of Harry Potter and the Deathly Hallows at a bookstore in Islamabad, Pakistan, on Friday.
PHOTO: AFP
Inside were answers readers have eagerly waited for -- and that J.K. Rowling and her publishers have labored, with mixed results, to keep secret. Will Harry kill evil Lord Voldemort, or die in the attempt? Who will be slain in the battle between the good guys and the wicked Death Eaters? And what are deathly hallows, anyway?
"It's all that matters to him, to get this book -- he couldn't eat or sleep," mother Laura Helmy said of her 15-year-old son, Bobby, who purchased the novel at midnight in central London.
The family, from the US, had been vacationing in Paris but hopped on the Eurostar to London for the day.
Shops throughout the world were putting the book on sale at the same time -- 12:01am. Readers in the US had to wait until midnight struck in each time zone.
Rowling, who created the boy wizard in Harry Potter and the Philosopher's Stone a decade ago, gave a midnight reading to 500 competition-winning children in the grand Victorian surroundings of London's Natural History Museum.
Rowling sat in a large wing-backed chair and read the opening pages -- a description of a mysterious assignation, a clandestine meeting and important news for Voldemort.
For many Potter-maniacs, the place to be was Waterstone's bookstore on Piccadilly in central London. More than 5,000 people lined up for hours before the midnight opening, in a festive, colorful line stretching around the block.
Among the fans from as far afield as Finland and Mexico were dozens of witches and wizards, a couple of house elves, a pair of owls and a woman dressed as Hogwarts castle.
US citizen Ken Zwier, 42, grew and bleached his hair to achieve the golden tresses of villain Lucius Malfoy.
"Tomorrow I'm buzzing it all off. It's been a couple of years," said Zwier, who was lining up with his wife and two daughters -- all in costume.
The family planned to read the book aloud to one another on their flight back to the US yesterday. They said anyone who complained would be offered ear plugs.
Comments will be moderated. Keep comments relevant to the article. Remarks containing abusive and obscene language, personal attacks of any kind or promotion will be removed and the user banned. Final decision will be at the discretion of the Taipei Times.