Robbers make off with pricey bags in Taichung
Thieves stole 50 handbags worth an estimated NT$3 million (US$91,730) from a Louis Vuitton store in Taichung City early yesterday morning.
"Footage from surveillance cameras in the shop shows four men wearing overcoats committing the crime," Taichung First Precinct Police Chief Wu Chien-ling (吳建麟) said.
Wu added that the incident took place at 3:48am and that the perpetrators also wore masks and gloves.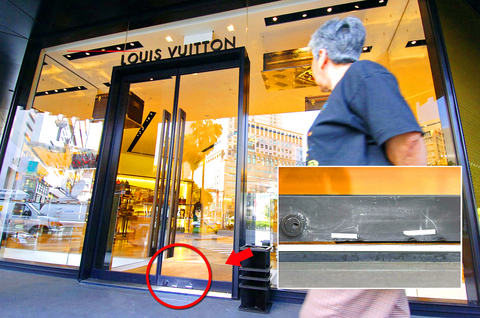 A woman walks past a Louis Vuitton store in Taichung City where 50 designer handbags were stolen early yesterday morning. Thieves gained entry to the store by breaking the locks at the bottom of the glass door (inset).
PHOTO: CHAN CHAO-YANG, TAIPEI TIMES
Speedy
The men took only two minutes to complete their heist, hastily stuffing the Louis Vuitton handbags into sacks, Wu said.
It was apparent from the surveillance footage that the thieves knew what they were looking for, because one of the men made directly for the most expensive bags.
Wu said the robbers gained entry to the shop by breaking the locks on the bottom of a glass door.
Lax
This triggered the store's alarms, but when security personnel arrived at the scene, the robbers had already fled and a cursory examination failed to turn up any evidence that something was amiss.
It was only later that the theft was discovered.
Police have not yet identified any suspects, but advised the store's owners to install security gates.
The three-story Louis Vuitton shop is located on Taichung Harbor Road and opened in February.
The shop's owners declined to comment on the break-in.
This is not the first time a luxury goods store has been targeted by thieves. A Gucci store in Taipei was broken into during a typhoon in July last year and 86 pieces of designer merchandise worth more than NT$1 million (US$30,500) were stolen.
Police failed to identify any suspects in the case.
Comments will be moderated. Keep comments relevant to the article. Remarks containing abusive and obscene language, personal attacks of any kind or promotion will be removed and the user banned. Final decision will be at the discretion of the Taipei Times.