Philippine military camp standoff ends peacefully
A potential threat to President Gloria Macapagal Arroyo's leadership ended peacefully after disgruntled marine officers agreed to end a five-hour standoff that started when their commander was relieved of duties.
The Marine colonel who holed up at a military camp with a small group of armed followers yesterday after being implicated in a coup plot has agreed to stand down, his superior said.
Newly installed Philippine Marine commandant Brigadier-General Nelson Allaga and Colonel Ariel Querubin emerged together from the Marine headquarters after the standoff, with Allaga doing all the talking.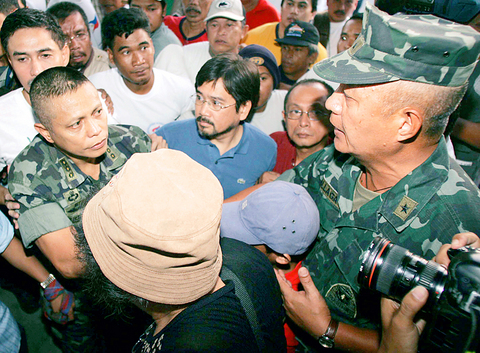 Marines Colonel Ariel Querubin, left, speaks with his superior Brigadier General Nelson Aliaga at the Marine headquarters in Manila yesterday. Querubin was named by the military on Friday as a key figure in plans by marine officers and their troops to withdraw support for Philippine President Gloria Macapagal Arroyo.
PHOTO: AP
"I am now the commandant. We talked inside. Ariel is not the authority here. I am the authority. The Philippine Marine Corps is intact," Allaga told reporters.
"We follow the chain of command. We follow the duly constituted authority," the general said.
The standoff came two days after Arroyo imposed a state of emergency, saying that a coup plan had been quashed but that "treasonous" elements remained.
The officers appeared to back down when their appeal for people to defy a ban on rallies and turn out to protect them "from aggression" drew only about 3,000-4,000 opposition figures, leftist leaders and their followers, including former vice president Teofisto Guingona and Senator Ramon Magsaysay.
Allaga would not spell out the punishment to be imposed on Querubin and his men, who had earlier called for civilian support and admitted they planned to join an opposition rally demanding Arroyo's resignation.
"That's among us soldiers," the general said. "You don't have to know about that."
"This is an agreement among men. We are professional soldiers," Allaga said.
After he spoke, armored troop transports that ringed the building during the standoff were seen pulling out.
Earlier in the day riot police had tried twice to disperse about 100 opposition leaders and their backers, who gathered outside the Marines headquarters.
But the protesters resisted, and the police backed off each time, apparently on orders not to worsen the situation with violence.
Comments will be moderated. Keep comments relevant to the article. Remarks containing abusive and obscene language, personal attacks of any kind or promotion will be removed and the user banned. Final decision will be at the discretion of the Taipei Times.