Marchers rally for defense of Taiwan
DETERMINATION Independence supporters protested against pan-blue legislators who have obstructed the purchase of US arms, and vowed to defend the nation
Thousands of pro-independence marchers took to the streets in Taipei yesterday afternoon to demonstrate their will to defend the nation, and protest against the pan-blue opposition's ongoing obstruction of the special budget for US arms.
A policeman at the scene estimated the crowd at 20,000, but there was no official count given. Event organizers gave much higher estimates.
The march was organized by the World Federation of Taiwanese Associations and the Hand-in-Hand Taiwan Alliance. Joining them were members of the World United Formosans for Independence, the Taiwan Solidarity Union (TSU), the Democratic Progressive Party (DPP) and social groups.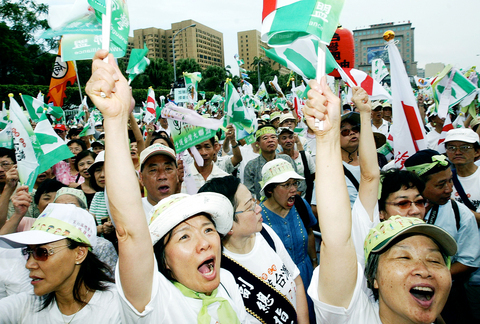 Thousands of protesters hold up and flags and banners and shout slogans as they march in a parade yesterday in Taipei to voice their objection to the opposition parties' boycott of the arms-procurement package and show their resolution to resist an invasion by China.
PHOTO: LIN CHENG-KUN, TAIPEI TIMES
Participants assembled at 2pm at Chiang Kai-shek Memorial Hall and began streaming into the streets at 3pm, marching down Xinyi Road, Hangzhou S Road and Zhongshan S Road. The protesters ended up on Ketagelan Boulevard in front of the Presidential Office, where a succession of speeches was delivered by pro-independence leaders. The march was peaceful and no trouble was reported.
"All participants want to let the world know that Taiwanese hope that their country can possess advanced weapons to resist China and that they are determined to defend themselves. This is why we stand here today," Ng Chiau-tong (黃昭堂), the head of the alliance and chairman of World United Formosans for Independence, told the crowd.
Yesterday's parade was marked by less energy and passion than past pro-independence rallies, and important political figures such as President Chen Shui-bian (陳水扁), the DPP chairman, TSU chairman and former president Lee Teng-hui (李登輝) were all absent from the event. Many of those are currently with President Chen on a tour of the nation's allies in Central America and the Caribbean. The Council of Labor Affairs' Lee Ying-yuan (李應元) made a low-key appearance with his wife, and Examination Yuan President Yao Chia-wen (姚嘉文) also showed up.
Northern Taiwan Society chairman Wu Shuh-min (吳樹民), the executive chief of the march, suggested recalling opposition lawmakers who have boycotted the arms procurement bill.
"The Legislative Yuan has degenerated into the opposition parties' political arena since the pan-blues lost power in 2000," Wu said. "Bills concerning people's livelihood and welfare have been detained in the legislature, and the arms bill that is crucial to national security did not even obtain the rational discussion it deserves, and was vetoed 29 times because of the pan-blue lawmakers' malicious boycott."
"Such a legislature is worthless and should be recalled, because [opposition lawmakers] don't even know which country is their real motherland," Wu said.
Most of the march participants were pro-independence stalwarts who joined in the 228 Hand-in-Hand rally held last year and the large-scale march against China's "Anti-Secession" Law held on March 26.
A 53-year-old clothing factory owner, who only gave his family name, Lin (林), attended the march with his wife. He said he hasn't missed a pro-independence activity in 20 years, and that he was happy to see more people than ever having a clear national identification as well as the courage to speak out.
Lin said that although the turnout yesterday seemed rather light, "I think most Taiwanese agreed that we need adequate arms to resist China and protect ourselves."
A 25-year-old man surnamed Chang (張) and his girlfriend, surnamed Kang (康), were among a few younger marchers. Chang, who makes music for TV programs, said they attended the march because they don't want the nation to be unified with China, a country that has persistently been hostile to Taiwan.
"I support Taiwan's independence and I think Taiwan will be independent in the long run. But first and foremost, Taiwan has to have the power to protect itself," said Chang, who has taken part in pro-independence activities since college.
"Although I don't think every purchase listed in the arms sales bill is necessary, the reality is that the US will not assist in Taiwan's defense if we don't buy them," he said.
Kang, an elementary school teacher who is also 25, said that although yesterday's parade might not sway pan-blue lawmakers, through media reports of the event, the world would know that many Taiwanese are strongly committed to defending Taiwan.
Comments will be moderated. Keep comments relevant to the article. Remarks containing abusive and obscene language, personal attacks of any kind or promotion will be removed and the user banned. Final decision will be at the discretion of the Taipei Times.