Rally urges CCP members to resign
DENUNCIATION Thousands marched in Taichung in support of China's democratization and human rights in an event whose organizers are linked to the Falun Gong
Nearly 10,000 people turned out for a rally in Taichung City yesterday supporting those "wishing to renounce their membership" in the Chinese Communist Party (CCP).
Ever since the Falun Gong-backed Epoch Times newspaper published a denunciation of the CCP called the Nine Commentaries on its Web site, the number of withdrawals from the party had accelerated and was expected to top 4 million soon, said Chen Chang-hui (陳昌輝), a spokesman for the Global Alliance to Say Goodbye to the CCP, the organizer of yesterday's rally.
It was not immediately clear how the alliance gathered that information.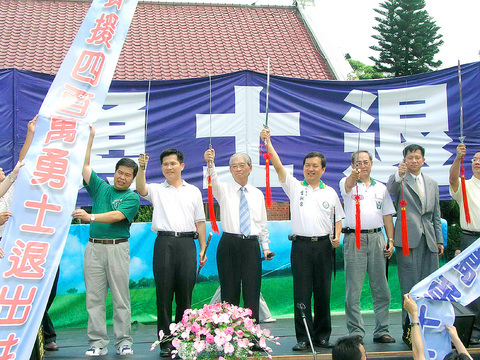 Hwang Kun-hu, president of the Taiwan chapter of the Friends of Lee Teng-hui group, third left, Lin Chia-lung, the Democratic Progressive Party's candidate for Taichung mayor, second left, and other participants hold up ``swords'' at a rally in Taichung yesterday in support of members of the Chinese Communist Party who want to renounce their party membership.
PHOTO: CHU CHUN-YEN, TAIPEI TIMES
The group is a private organization based in Washington and was established by 91 smaller Chinese groups across the US last December.
Waving banners and shouting slogans, the marchers encouraged CCP members to give up their party membership and accelerate China's democratization.
Other participants were former Government Information Office minister Lin Chia-lung (林佳龍) and Hwang Kun-hu (黃崑虎), chairman of the pro-independence Friends of Lee Teng-hui (李登輝) group.
Lin and Hwang said that communism was no longer viable in today's world and that it was detrimental to human rights.
They added that it was a meaningful act for Chinese people to denounce communism and turn their back on the party.
Chen Rongli (陳榮利), a Chinese dissident and democracy activist who also appeared at the rally, announced that he canceled his membership of the Chinese Communist Youth League yesterday.
Chen Rongli said the CCP was continuing to jeopardize human rights and hinder the progress of democratization in China, neither of which was conducive to China's development.
He said he would also continue to encourage other Youth League members to leave the party.
Comments will be moderated. Keep comments relevant to the article. Remarks containing abusive and obscene language, personal attacks of any kind or promotion will be removed and the user banned. Final decision will be at the discretion of the Taipei Times.