Wang collects second win for Yankees
He did not exactly have the best start, giving up two first-inning runs to a scrappy Seattle lineup that greeted him with four solid hits in front of nearly 40,000 screaming fans.
But Taiwan's second -- and latest -- major league star Wang Chien-ming (王建民) quickly settled down and retired the next 17 batters he saw in a row, to help the New York Yankees win their ninth straight game in a 6-3 decision against the Seattle Mariners on Monday night.
The 25-year-old native of Tainan who made his major-league debut on April 30 in a no-decision against the Toronto Blue Jays, won his second consecutive start after suffering his first career loss against the Tampa Bay Devils on May 5.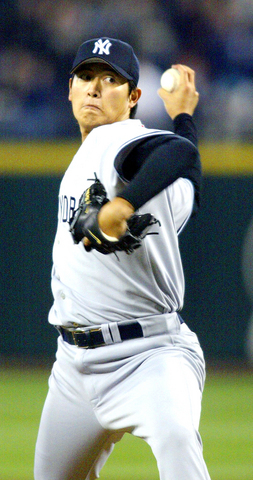 The New York Yankees' Wang Chien-ming pitches against the Seattle Mariners during the second inning in Seattle on Monday.
PHOTO: AP
strong case
Wang made a strong case to Yankee skipper Joe Torre that he belongs in the big league with another quality performance, allowing three runs on six hits with four strikeouts and no walks over six-and-a-third innings of work.
Fifty-four of the 87 pitches he threw went for strikes, in addition to an excellent 11-to-4 ground ball-to-fly ball ratio that would put a smile on any manager's face.
"He [Wang] is making it a tough decision for Torre when the man for whom he was called up to fill in [Jaret Wright] comes off the disabled list later on," local baseball commentator Dean Yuan told the Taipei Times.
He noted that the veteran righty who signed with the Yankees during the offseason for US$5 million-plus per season could be in danger of losing his spot on the rotation should Wang keep up the good work.
huge break
Trailing the Mariners 2-1 for the better part of the game, Wang caught a huge break in the seventh when the Mariner defense failed to turn a potential inning-ending double play on a bobbled catch by first baseman Richie Sexson.
This left the bases loaded for Yankee centerfielder Bernie Williams' game-turning grand slam on the ensuing play.
The four-run seventh put the Yankees up 5-2 to put Wang in position for the win.
Even though he would give up another run one out into the seventh after surrendering back-to-back doubles to the Mariners' Brett Boone and Jeremy Reed, the cushion that the Yankee offense had built was plenty for Wang to secure his second win.
Comments will be moderated. Keep comments relevant to the article. Remarks containing abusive and obscene language, personal attacks of any kind or promotion will be removed and the user banned. Final decision will be at the discretion of the Taipei Times.