Chastened Blair reshuffles Cabinet for third term
OLD AND NEW FACES The chancellor of the exchequer and foreign ministers kept their jobs, the defense portfolio changed hands and ally David Blunkett is back
British Prime Minister Tony Blair was putting the finishing touches on his new team yesterday, as observers studied changes in the Cabinet for hints about his political future.
Blair won a third consecutive term in Thursday's national election, but voter disillusionment after eight years of Labour government and lingering anger over the Iraq war slashed Labour's majority and undermined Blair's once unassailable authority.
"He's prime minister, but the message is: time is running out," said the front-page headline in the Guardian newspaper.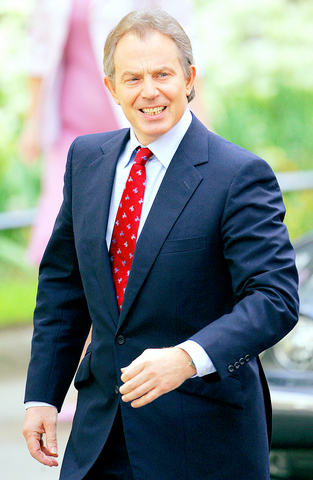 British Prime Minister Tony Blair is seen outside No. 10 Downing Street in London on Friday. Blair said that he had ``listened and learned'' from the British people.
PHOTO: AFP
The Daily Telegraph, noting the resignation of defeated Conservative leader Michael Howard, asked: "How long before Blair goes too?"
A chastened Blair said on Friday: "I have listened and I have learned."
"I think that what both the prime minister and everybody else in the Cabinet ... is focused on is doing a good job to tackle and deal with the priorities of the British people," Environment Secretary Margaret Beckett told British Broadcasting Corp radio yesterday. "That is what people are focused on."
Hours after being confirmed as prime minister by Queen Elizabeth II on Friday, Blair unveiled his Cabinet, changing leadership in defense and health, boosting the prominence of his Europe minister and bringing ally David Blunkett back into government.
Blair is expected to unveil changes to junior and middle-ranking government posts tomorrow.
As expected, Blair kept powerful Chancellor of the Exchequer Gordon Brown -- his key ally, rival and presumed successor -- by his side. Brown's strong stewardship of the economy played a key role in securing Labour's re-election.
Labour Member of Parliament (MP) Donald Anderson said the government's new agenda "will be a joint agenda of Tony Blair and Gordon Brown."
Blair's official spokesman said the shuffle showed "that he and the chancellor are working closely together."
Foreign Secretary Jack Straw, who has staunchly defended the government's decision to back the US-led invasion of Iraq, also kept his job in the Cabinet shuffle.
Blunkett, the hard-nosed former home secretary who was forced to quit last year after he was embroiled in a messy affair with a married American publisher, was brought back as Work and Pensions Secretary -- a key role as the government tries to cope with Britain's looming pensions crisis.
Blair is the first Labour leader to win three consecutive elections. But his triumph was tarnished, as the government's majority in the 646-seat House of Commons was slashed from 161 to 66.
In a final result declared yesterday after three recounts, Labour's junior foreign minister, Bill Rammell, retained his Harlow seat north of London by fewer than 100 votes. Voting in one other constituency was postponed because a candidate died.
Blair said his third term would see "radical" legislation on health, education and law and order, in response to voters' wishes.
But Labour's reduced majority could loosen Blair's grip on power and embolden those who want him to step down in favor of Brown before he has served a full term.
Blair's weakened authority could make it harder for him to push through planned changes in public services and secure a yes vote in a referendum on the EU constitution.
In an indication of how seriously the government takes that challenge, the new Europe minister, Douglas Alexander -- a key ally of Brown -- will also be allowed to sit in on the weekly Cabinet meetings.
In other changes, John Reid, Blair's gritty, tough-talking health minister, was moved to defense, replacing Geoff Hoon, who becomes the government's leader in the House of Commons. Former House of Commons leader Peter Hain replaced Paul Murphy as Northern Ireland secretary.
Conservative chief Howard, who led his once-mighty party to a third successive defeat, announced he would step down once party leaders decide on a successor, expected to happen in the next six months.
"I have said that if people don't deliver they go, and for me, delivering meant winning the election. I didn't do that," Howard said.
Despite the defeat, many Tories were emboldened by the party's improved showing -- up by more than 30 Commons seats -- and credited Howard with restoring order in the party.
Comments will be moderated. Keep comments relevant to the article. Remarks containing abusive and obscene language, personal attacks of any kind or promotion will be removed and the user banned. Final decision will be at the discretion of the Taipei Times.