Chen and world leaders mourn Pope
President Chen Shui-bian (陳水扁) yesterday joined more than 200 state and religious leaders and a multitude of mourners in St. Peter's Square to bid a final farewell to Pope John Paul II.
Unlike seating arrangements at other international events, where heads of state are seated in alphabetical order by country, world leaders attending the ceremony yesterday were to be seated according to the number of years the country had diplomatic ties with the Holy See.
Chen therefore sat in one of the front rows for heads of state. His attendance at the pontiff's funeral gave Taiwan a rare opportunity to raise its visibility on the world stage.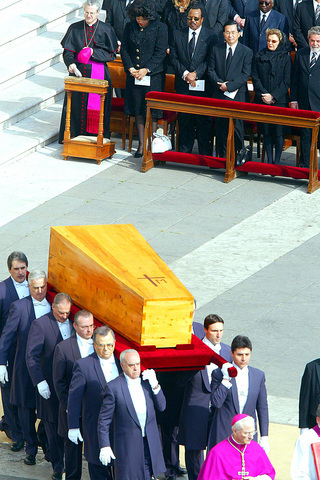 President Chen Shui-bian (fourth left at rear of picture) and other world leaders pay a final tribute to John Paul II yesterday as pallbearers carry the Pope's coffin.
PHOTO: CNA
According to a list compiled by the BBC of world leaders who attended the papal ceremony, Chen was listed as "Taiwan's President" among the heads of state from the Asia-Pacific region.
Four kings, five queens, at least 70 presidents and prime ministers and more than 14 leaders of other religions were to take part in the ceremony alongside the faithful.
Chen had a brief exchange with US President George W. Bush and former US president Bill Clinton prior to the ceremony, according to Ministry of Foreign Affairs spokesman Michel Lu (呂慶龍).
Chen arrived at Leonardo da Vinci Airport in Rome at about 2am yesterday after a 15-hour flight from Taipei.
Taiwan's ambassador to the Holy See Tou Chou-seng (杜筑生) greeted Chen aboard the plane.
Upon his arrival, Chen expressed his gratitude to the Italian government for issuing visas to his delegation that made the trip to the Vatican possible.
"The Italian government's assistance highlights the historical significance of this trip, which is characterized by peace and the giving of condolences," he said.
Chen and other members of the delegation were then led to a VIP room at the airport before being escorted by a police motorcade to Rome's Westin Excelsior Hotel.
After the funeral, Chen shook hands with Clinton once more before leaving for his next stop at the nation's embassy in the Holy See.
Chen was to complete his stay with a quick sightseeing tour in the vicinity of Vatican City before heading for the airport.
Chen is due to return to Taipei today at 3pm.
Chen's brief attendance at the papal funeral yesterday marked the first time a president from Taiwan has visited the Holy See since the establishment of diplomatic ties in 1942.
The visit also marked Chen as the first president from Taiwan to ever set foot in a European country.
Comments will be moderated. Keep comments relevant to the article. Remarks containing abusive and obscene language, personal attacks of any kind or promotion will be removed and the user banned. Final decision will be at the discretion of the Taipei Times.