Argentine nightclub fire kills 174
MAN-MADE DISASTER Young people attending a rock concert trampled over each other after a flare set the ceiling on fire, resulting in a stampede
Fire roared through a Buenos Aires nightclub packed with youngsters attending a rock concert, killing at least 174 people and injuring some 410 in one of Argentina's worst disasters in decades, officials said yesterday. \nInvestigators said they were looking into survivor accounts that some people found the building's emergency exit doors locked as they tried to flee the blaze. \nGrieving parents crowded the city's morgues to identify the dead -- many of them teenagers -- after the blaze swept late Thursday through the club, setting off a stampede for the emergency exits, witnesses said. \nThe fire unleashed thick clouds of black smoke, choking many inside and blocking out emergency lighting, survivors said. Hours after the blaze was brought under control, dozens of bodies were laid out in a nearby parking lot, their faces covered by T-shirts. \n"You couldn't see anything, the air was thick with smoke," said one survivor who identified himself only as Juan. \n"People were pushing and jumping over each other trying to get out," another concert-goer, Jose Maria Godoy, said. "It was like a human wave. As people fell down running for the door, others just simply ran over them or pushed them down." \nOvernight, relatives gathered outside Buenos Aires hospitals, seeking information about missing loved ones. Hospital officials shouted out the names of the injured as large crowds swarmed hospital entrances. \nCity officials said it wasn't immediately clear what caused the fire, but several survivors said they saw a flare hit a foam lining on the roof of the concert hall, triggering a fire. \nRock concerts in Argentina are frequently punctuated by fireworks set off by people in the crowd. \n"Someone from the crowd tossed a flare and there were immediately flames," said Fabian Zamudeo, a 22-year-old in the crowd to see a popular Argentine rock band, Los Callejeros. \n"Parts of the roof started falling down in flames and people started running, knocking over the speakers and light stands," he added. "People were choking on smoke and I tried to push as many people out as I could." \nMinutes after the fire broke out, shirtless concert-goers charged out of the building, many carrying people on their shoulders or grouped to help ferry to safety. \nAlfredo Stein, an official in the Buenos Aires health department, told reporters at least 174 had been killed and more than 410 people injured. \nMany of the dead were believed to have suffered from smoke inhalation, said Mariano Tili, a Buenos Aires city official helping in the rescue effort. \nHundreds of bystanders and relatives stood outside the building as rescue workers carried the wounded away on stretchers. Others could be seen treating the injured on the street in front of the Republica de la Cromagnon disco in the Argentine capital, which is popular with teenagers. \nRescue workers turned a nearby parking lot into a temporary morgue, lining up dozens of bodies. \nAs firemen battled the flames, some kids -- many dazed and covered in soot -- lingered outside the building after rushing out, screaming out the names of friends, hoping to find them. \nAmbulances packed with six or seven people deep ferried the injured to nearby hospitals and officers converted police vans into makeshift ambulances as the number of injured and dead climbed. \nStreets outside the nightclub in downtown Buenos Aires were lined with stray pairs of tennis shoes and strewn with blackened clothes -- remains of a chaotic scene that saw hordes of people barreling their way out of the building. \nArgentine media reported as many as 1,500 people were believed to have been in the building at the time, with some saying the number could be almost twice as many. \n"This is a true disaster ... particularly with so many young people and kids inside," said Interior Minister Anibal Fernandez.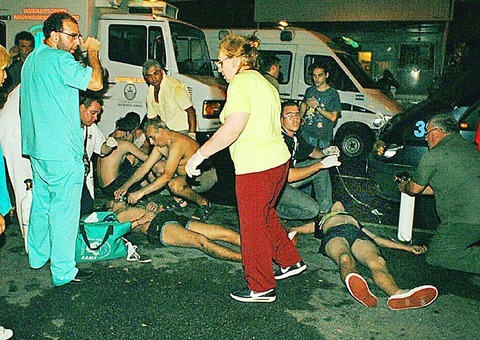 People injured in the nightclub fire are treated outside the club in Buenos Aires, Argentina, yesterday.
PHOTO: AP
Comments will be moderated. Keep comments relevant to the article. Remarks containing abusive and obscene language, personal attacks of any kind or promotion will be removed and the user banned. Final decision will be at the discretion of the Taipei Times.