A-mei blasted for not taking a stand
Pop star Chang Hui-mei (張惠妹), who was once labeled a "green singer," probably never guessed that she would one day be lambasted for not standing up for Taiwan firmly enough. \nThe Taiwanese pop diva, better known as A-mei, again found herself at the center of political controversy yesterday. But unlike last time, when China enforced a media blackout and she received threats from Chinese ultra-nationalists, A-mei is now under fire from those who champion Taiwanese pride. \nThe Puyuma Aboriginal singer said she was shocked that some TV talk show hosts urged a boycott of her upon her return from her concert in Beijing last Saturday. Wang Ben-hu (汪笨湖) and Chou Yu-kou (周玉寇), for instance, said that A-mei had flinched before China's surging nationalist sentiment, when she said in an interview with China's state-run CCTV that it was not her own decision to sing the national anthem in Chen Shui-bian's (陳水扁) 2000 presidential inauguration. \nA-mei was quoted in by CCTV as saying "I had to suffer the consequences of a decision that was not made by me ... I should have been more discreet in my behavior, which impacts so many people." \nVice President Annette Lu (呂秀蓮) also questioned A-mei's loyalty yesterday. In a TV interview, Lu said the popular singer needed to choose between her singing career in China and defending Taiwan's national interests in the face of China's military threats. The vice president urged A-mei to stand up to political oppression from China. Lu said she enjoyed A-mei's performances, but disagreed with the pop singer's recent comment that she doesn't have any "political consciousness" -- a comment which was widely taken as A-mei's attempt to wriggle free of the pro-green label China has stuck on her. \n"How could anyone not have any political consciousness?" Lu said. "If A-mei's being oppressed by China resulted from her performance of the national anthem, A-mei should say out loud [to China]: `It is my right to sing the Republic of China's national anthem. You Chinese people can sing your national anthem, why can't I sing mine?'" \nLu added, "I can understand why A-mei didn't say it, because she is still young. But if the two governments were at war, would it be more important for A-mei to sing in Beijing or to defend the 23 million people [of Taiwan]?" \nThe vice president and others' comments prompted the 31-year-old singer to make a brief response yesterday afternoon at a press conference. \n"I am just a singer," the diva said. "I am not capable of dealing with politics. Many things are out of my control ... The world of grown-ups should be left to grown-ups. We all know that singers should not be involved in politics." \nThe singer made it clear that she has no intention of engaging in anything irrelevant to her profession. A-mei also called on the media to cease its sensational reporting and stop distorting her words. "What we really need is more peace and love in our society," said the singer. \nAs for her questioned patriotism, A-mei said she will be a representative for the Tourism Bureau and that her goal is to introduce the country's beauty and the goodwill of its people to a wider international audience. \nMeanwhile, Premier Yu Shyi-kun yesterday offered a clarification of his own previous remarks about the singer. Local media had reported Yu as making critical remarks about A-mei. But yesterday, he explained that his remarks were intended to criticize China, and that he had not intended to criticize the singer herself. He said local media had misquoted him.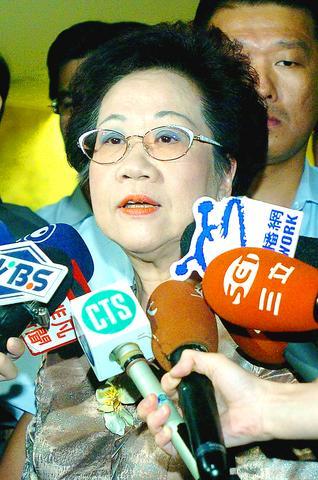 Vice President Annette Lu yesterday questioned the patriotism of pop diva Chang Hui-mei, also known as A-mei, asking the singer which is more important: holding concerts in China or defending the people of Taiwan?
PHOTO: LIAO CHENG-HUEI, TAIPEI TIMES
Comments will be moderated. Keep comments relevant to the article. Remarks containing abusive and obscene language, personal attacks of any kind or promotion will be removed and the user banned. Final decision will be at the discretion of the Taipei Times.