Silence on Filipino hostage as Iraq asks troops to stay
UNWELCOME DECISION It was unclear what Philippine officials were going to do with their troops in Iraq, even as the foreign secretary confirmed that they would leave
An Iraqi official yesterday warned against bowing to kidnappers amid deepening confusion on whether Manila intended to bring its troops home early from Iraq to save the life of a Filipino hostage.
Any Philippine decision to advance the scheduled departure date of Aug. 20 for the 51-strong humanitarian force would be unwelcome to the US and to Iraq's interim government.
Mowaffaq Abboud, an adviser to Iraqi Foreign Minister Hoshiyar Zebari, declined to comment on Manila's stance, but said the government opposed concessions to kidnappers.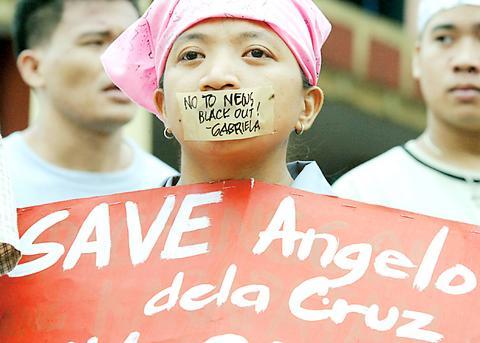 A Filipino protester with lips sealed by masking tape takes part in a protest in Manila yesterday over a suspected ``news blackout'' about Filipino truck driver Angelo de la Cruz, who was taken hostage by Iraqi insurgents.
PHOTO: REUTERS
"We think it is not a wise idea to give in to the demands of hostage-takers," he said. "This would encourage the terrorists to continue these practices."
The government, trying to enhance its authority after taking over from US-led occupiers on June 28, remains dependent on a 160,000-strong, mostly American, multinational force.
It has promised to wield a "sharp sword" against diehard insurgents and foreign militants, but also plans to offer an amnesty for Iraqi fighters who lay down their arms.
Interim Prime Minister Iyad Allawi has called a news conference for tomorrow, but it was not immediately clear if he intended to use it to announce the long-expected amnesty.
The Philippine army was awaiting word from the government on whether it would withdraw from Iraq by July 20 as demanded by kidnappers threatening to behead hostage Angelo de la Cruz.
Foreign Secretary Delia Albert repeated a statement by her deputy that the Philippines would withdraw its troops "as soon as possible."
But Albert did not clarify what this meant.
Deputy Foreign Minister Rafael Seguis had made the offer in an appeal to the captors which aired on al Jazeera television.
The kidnappers had extended an execution deadline for de la Cruz to Monday night.
They then said they had moved him "to the place of implementing the punishment," al Jazeera said.
A senior Philippine army officer said it would take only three days to withdraw the troops, with US logistical help.
Bulgaria, which has vowed not to withdraw its troops from Iraq, said its two nationals held hostage in Iraq were alive despite the expiry of an execution deadline on Friday.
"The only thing I can confirm ... is that our two compatriots are really alive," Foreign Minister Solomon Passy said. "But the situation is tense and we are concerned because we cannot guarantee a positive outcome."
A group led by Jordanian militant Abu Musab al-Zarqawi had threatened to kill drivers Georgi Lazov, 30, and Ivailo Kepov, 32, unless Iraqi prisoners were freed.
In other Iraq developments yesterday, British Prime Minister Tony Blair and senior government officials received a report on the quality of prewar British intelligence on Iraqi weapons programs, a day before the potentially embarrassing findings were to be released to opposition politicians and the public.
Asked at a news conference whether he believed he had been given "duff intelligence" before the war, Blair said: "I'm afraid I don't accept that at all."
But Blair, speaking at a joint news conference with Italian Premier Silvio Berlusconi, offered no comment on the report.
Also see story:
Comments will be moderated. Keep comments relevant to the article. Remarks containing abusive and obscene language, personal attacks of any kind or promotion will be removed and the user banned. Final decision will be at the discretion of the Taipei Times.